HES FinTech is proud to introduce the HES Core, an AI-based digital engine for lending software. With its help, we develop customized loan management solutions faster.
HES Core configurable platform is a pure harmony between out-of-the-box lending software and custom development. Take the advantage of these two in your digital lending software and combat downsides, such as time and costs.
As a result, your digital lending system 100% meets your unique needs and enters the market within 90 days.
What is HES Core?
HES Core is a codebase that covers functionality for the entire loan management lifecycle. From origination to underwriting, collection, and credit portfolio analysis.
20+ pre-built loan modules configure your solution with the necessary level of customization. The best match for lenders and financial companies with unique business models, complicated business processes, or extra focus on impeccable customer experience.
HES CORE
Looking for unique software for lending?
Explore the HES Core modules to build your lending platform.
HES Core Modules
We created insightful content to help you learn more about HES loan modules:

Configurable Software for End-To-End Loan Management
For instance, HES software is an automated digital lending solution developed in full accordance with your business processes.
Whether we develop for a large bank or a fintech startup, microfinance lending or factoring, delivering an end-to-end solution or integrating at the middleware level, we do it equally well.

From this perspective, utilize HES Core modules as part of either an online loan application portal with personal accounts for individual borrowers, or a back-office system with a rich set of tools for financial company employees.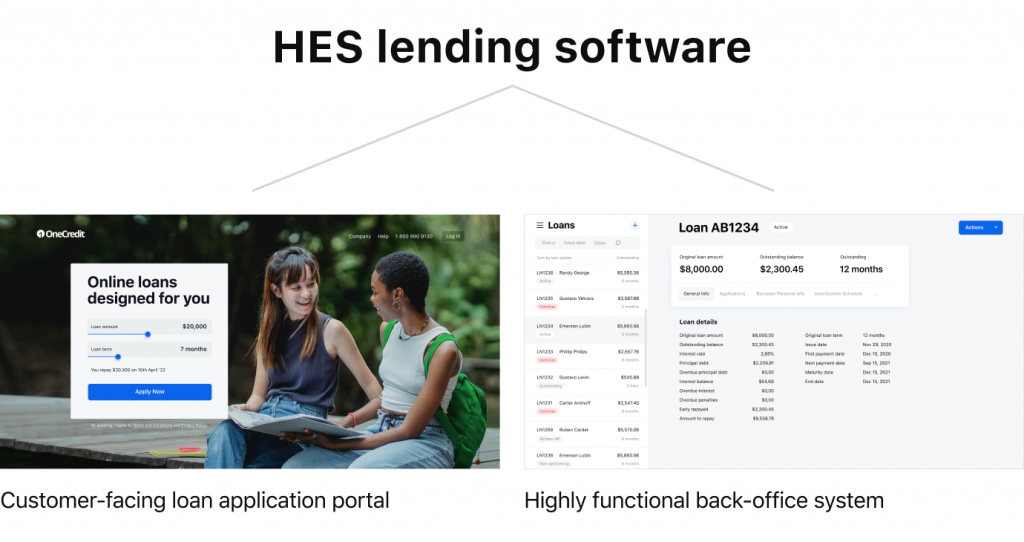 Yet, to illustrate the full range of capabilities that HES Core provides, let's group the modules into the following categories:
Customer onboarding
Credit portfolio
CRM
Back-office operations and automation
As a result, HES Core takes away the hurdle of massive upfront investment and operational overheads of in-house custom software development.
Customer Onboarding in Lending
Customer acquisition | Loan origination | Underwriting
These modules offer extensive functionality for frictionless digital loan origination that extends to disbursement and repayment schedule tracking. Also, HES Core contains the functionality necessary to work with the sales funnel and re-engage your borrowers.
Highly engaged customers are coming back to try services again 90% more frequently.
Here is what we do to help lending businesses build seamless onboarding and win customer loyalty with the first contract:
Create intuitive UI/UX for the customer portal
Provide easy account setup with digital identity verification
Ensure transaction safety
Cut down the approval time
Develop functionality for both live and automated communication with customers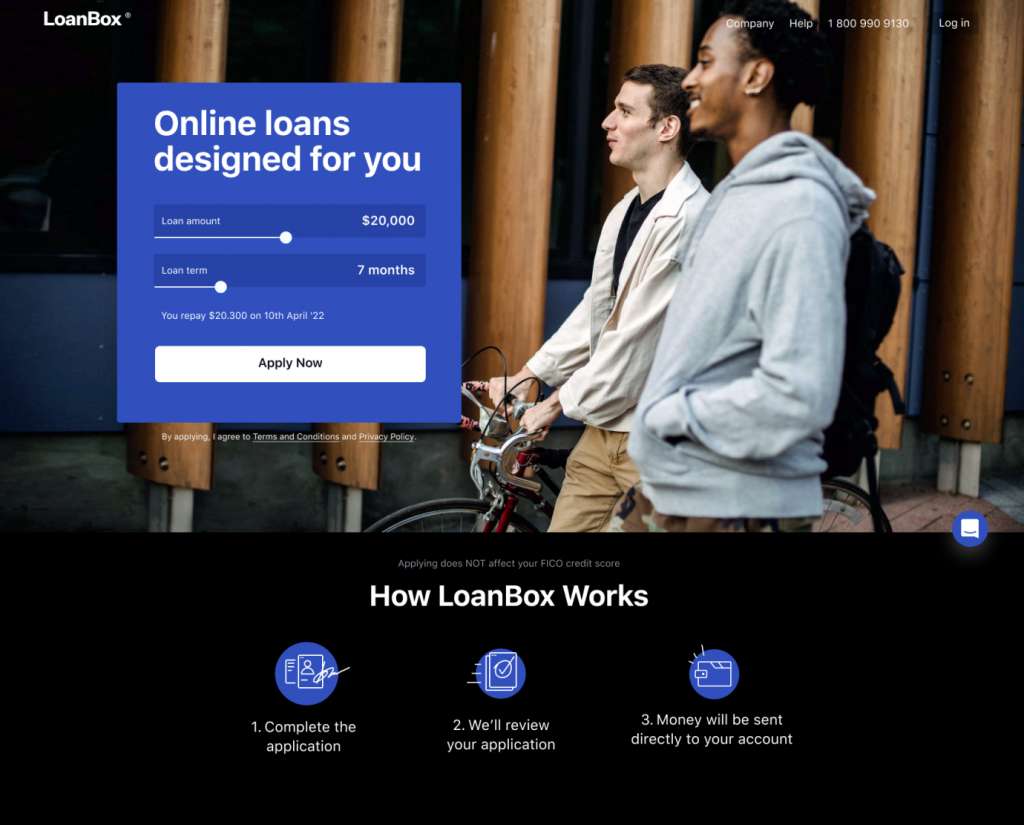 Underwriting and risk assessment allows aggregating alternative decision-making data: from internal sources, third-party scoring data providers, social media, Google Analytics, transactional data, and other external databases.
As a result, lenders can use manual underwriting, implement proprietary credit scoring models, or combine both.
Decision-making with GiniMachine
Innovative AI-based scoring can be a game-changer here. The HES Core can be integrated with GiniMachine, our proprietary AI-based credit scoring solution that uses advanced machine learning algorithms to build a scoring model in a matter of minutes. It is easy-to-use, fully autonomous, and automated.
GiniMachine works with big data, imperfect and unstructured data to find hidden dependencies in application scoring, as well as collection scoring, marketing, and sales activities.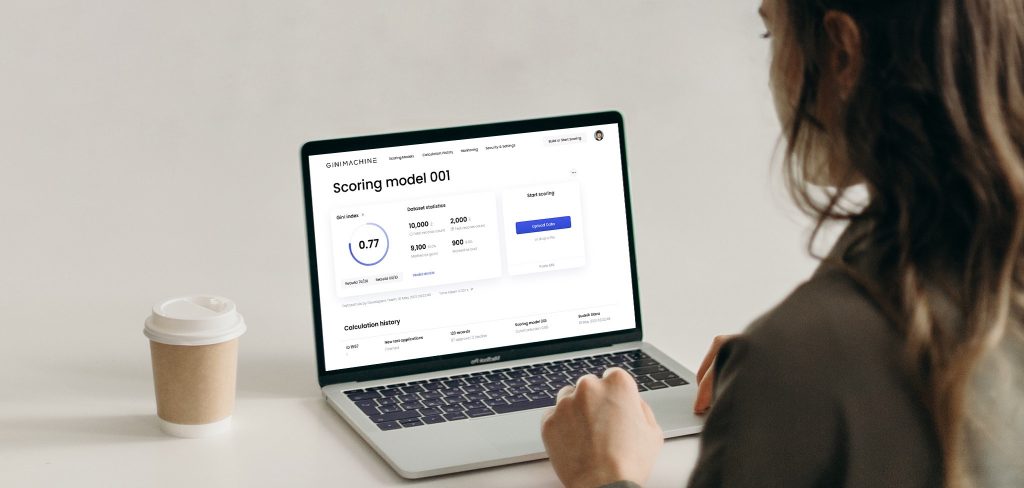 Credit Portfolio
Product Modeling | Calculation engine
The calculation engine is the brain of your digital lending system. First, we examine your requirements — both positive and border cases and implement calculation formulas only after that.
Lenders can use a set of flexible parameters from a product modeler to set up a countless number of loan products.
For example, the whole process is a simple mix-and-match task. If you change any of the parameters (interest rate, grace period, rollover and restructuring terms, etc), the formulas are automatically recalculated and trigger other workflows from notifications to regular disbursement to status changes and more.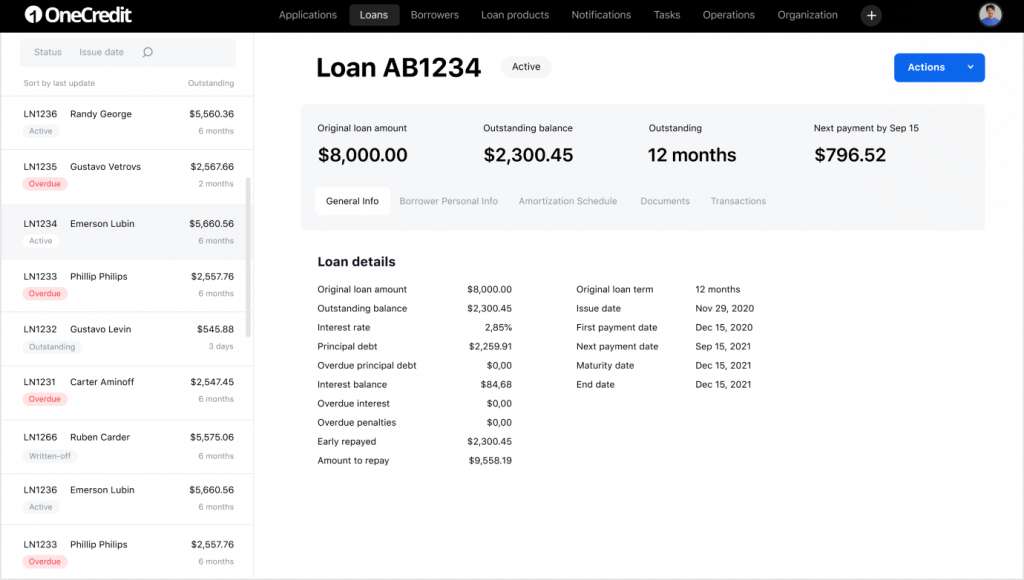 Loan Servicing
Disbursement | Collection
Disbursement and collection require rich payment functionality. HES platform is integrated with online payment systems, cards, e-wallets, and cash-in points.

We achieve efficient debt collection by automated tracking of overdue payments, bad loans, and default borrowers.
Hence, back-office system users can apply various collection mechanisms from soft collection to legal debt enforcement (attach ID and contractual documents, create notification templates with customized messages for various types of debtors, and more).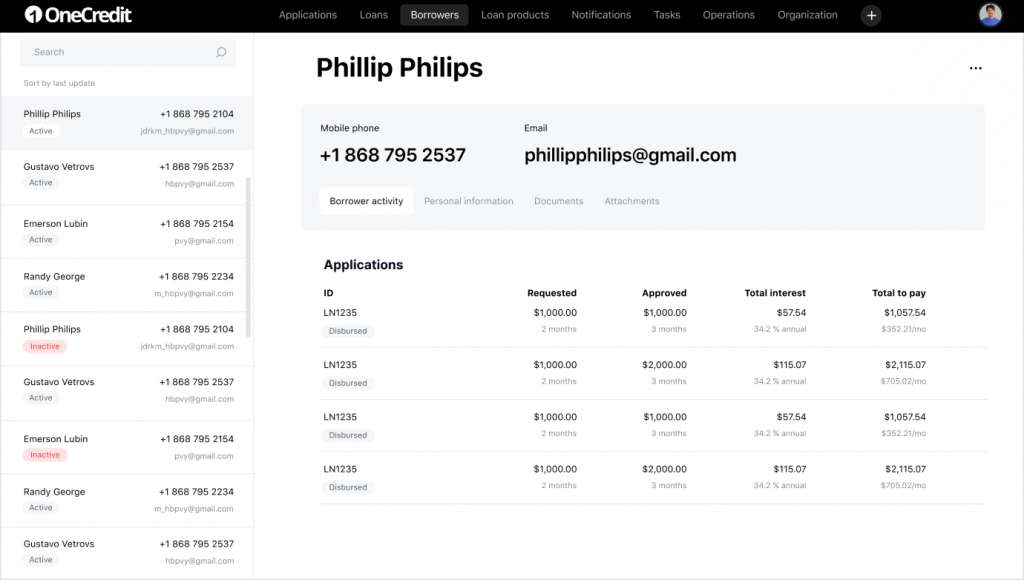 CRM for Loan Management
Online Marketing | Notification center
CRM functionality gives both a big-picture view on all relations with your borrowers and the ability to zoom in on very particular details. It also provides the ultimate customer service tools. Financial companies get access to detailed client profiles, communication history, and service-related documentation.
Relying on IP telephony, SMS notification, and email marketing services, they can quickly reach out to their clients with new product offerings and recent updates. Extend the capabilities further by integrating HES Core with any third-party service.
CRM as a part of the digital lending platform back-office empowers lenders with:
The 360-degree view around customer relationships, marketing, and sales activities
Customer segmentation, automated reporting, and analytics distribution
Personalized dashboards
Targeted marketing campaigns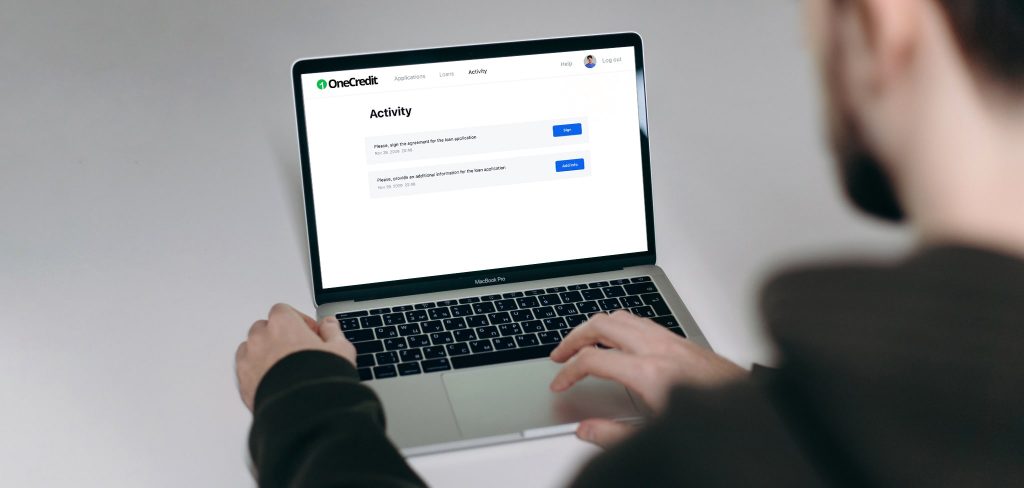 Back-office Operations and Automation
BPM | Dashboards | Security
Solutions powered by HES Core have highly integrated digital lending architecture. That's what really drives ultimate operational efficiency.
Tightly interconnected modules propel workflow automation culture and allow handling many processes in the background.
For example, automatically feed underwriting data back to credit bureaus. Other highlights of the back-office functionality are the ability to create custom visual reports and rich libraries of re-usable document templates. The highly customizable and granular access management is the real icing on the cake for this module.
BPMN
For massive projects, our team suggests considering a BPMN engine (Business Process Modeling and Notation). It is a full-fledged process automation tech stack integrated with software for modeling, operations, and analytics.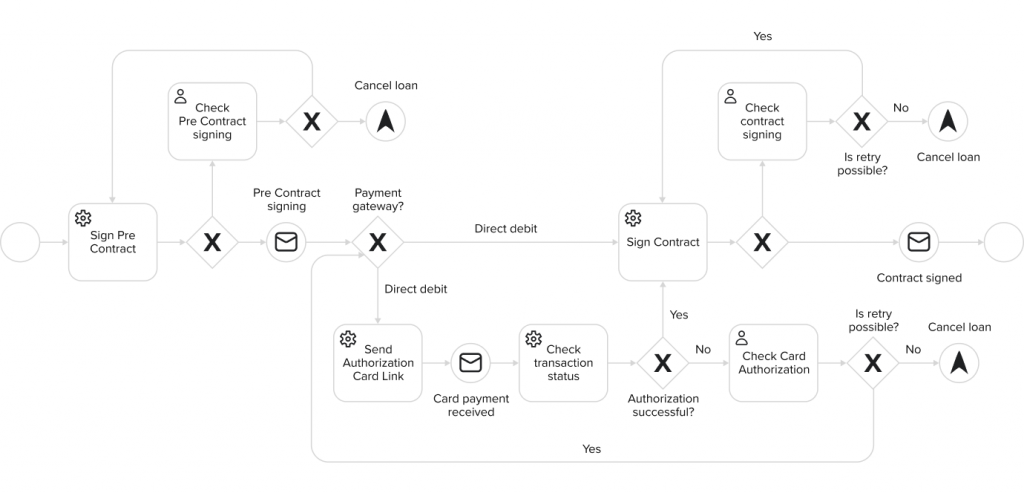 BPM engines allow an instant demonstration, easy adding, removing, and editing the stages of the business process. For example, decision-making, servicing, and debt collection, and marketing.
Also, the back-office administrators can regulate access policies without being restricted to a set of predefined user roles with predefined permissions. They can assign custom permissions for each role in a few simple clicks.
LENDING SOFTWARE
Psss… Wanna start lending within 90 days?
Book a personal demo tour to explore our fintech powers.
HES Core Benefits
HES Core is a powerful foundation for your solid operation and successful presence in the digital lending arena. It allows you to have a solution that meets your business demands in full and remains flexible in the fast-paced fintech environment responding to market demands at warp speed.
With HES Core you get:
Unique functionality at a fraction of custom software costs
First online borrowers reached in less than 3 months
Unlimited users and product options
Reduced loan processing time with automated workflows
Architecture set-up for future growth
Unprecedented flexibility and adaptability
Get your in-person live demo