Commonly customer experience and marketing efforts in lending and financial services are perceived as something that your target audience can see in front of their eyes and directly interact with. For example, attractive special offers, stylish design, clean UI/UX of the website or application.
But a lot of lenders underestimate the power of updated back-office, automation, or effective CRM module when they try new marketing strategies in lending. However, this is something that can substantially increase the number of customers, their outreach, and overall profitability.
This text will help you upgrade your online marketing strategy, gives more ideas of how your use CRM in the online lending platform, provides some striking facts and statistics and will focus on dos and don'ts in building your unique marketing strategy in the financial services area.
Marketing in Financial Services 2.0

Research says 44% of lenders lean toward improving the front-end consumer experience, while only 18% prefer improving back-end operational efficiency. The most rational 36% say that both types of activities are equally important.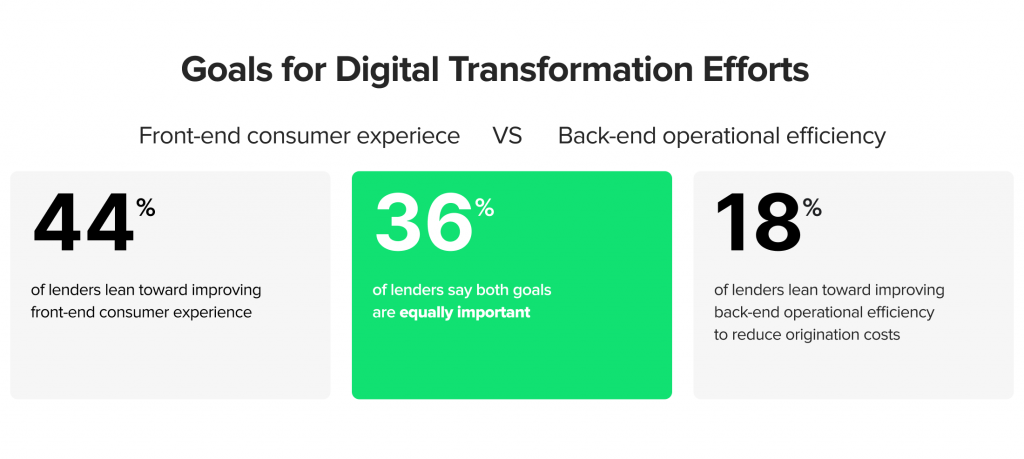 What does this mean for your marketing strategy?
Delivering personalized services, involving omnichannel experience, setting up automated marketing messages and notifications, and exploring new opportunities to increase customer involvement – all that requires an updated CRM module in your powerful and reliable backend of the loan platform.
Here are the loan marketing tactics you can consider or improve (if you already use them):
Email marketing
Consider this idea if you never used that before. Financial services marketers use emails (and personalized emails). The key challenge is the conversion ratio: marketers have a few seconds to capture attention with an email subject, while in marketing research about 50% of respondents say the subject line impacts their decision to click on an email to open it. Ask questions, make them intriguing, and monitor metrics.
For example, a subject like: "Get your loan application approved: top tips" is likely to be less converting than "Not sure what you need to have your loan application approved?" Nevertheless, it is worth experimenting to see what ideas provide the most openings for your emails.
As for the personalization: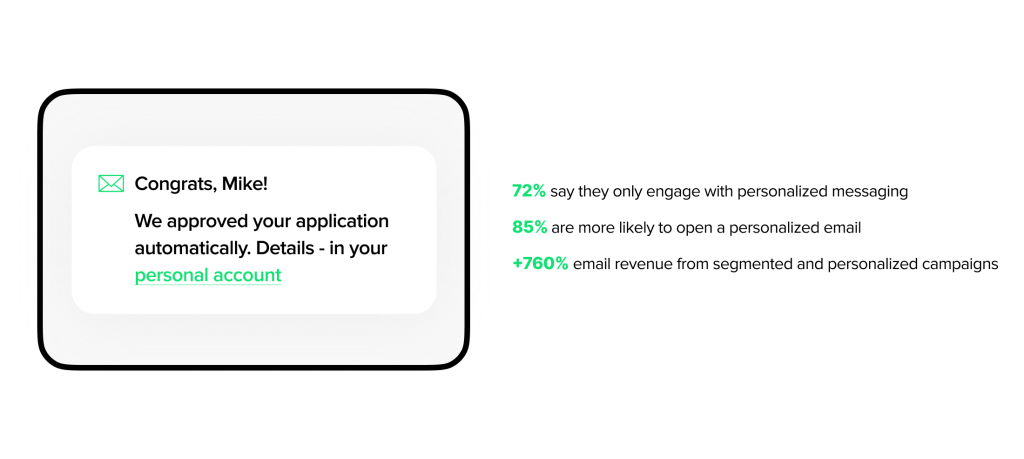 Smart marketing
If you have a database of customers looking for a loan, some of them are in a passive search of information, comparisons, and advice. Instead of separate emails, you can try using batch sending with some personalization to everyone who fills out the form and do that timely.
Email drip campaigns
It includes a series of emails promoting your loan products to the target audience. The emails are delivered over a specific period of time, and their success can be tracked with the help of unique URLs for each marketing campaign.
Making emails personalized and making the mailing process automated becomes possible with a smart and configured CRM at your lending software back-office. Email marketing automation built in the lending platform also can help build seamless customer interaction.
Customer service
Although that doesn't look like a typical marketing area, customer service has a lot of hidden opportunities for marketing in lending. HES lending platform usually comes with the functionality of sending service notifications (via email, text message, or push notifications). They include notifications about pending, approved, or declined loan applications, topping up the bank account, or received payments.

Service notifications
Service notifications can be combined or paired with marketing notifications created for an event in the customer journey:
Alice, your loan application is approved. It takes up to 6 hours for the payment.
or
Hi Jack, you returned the full amount. Congrats! Get a new loan at special terms: (link)
The factoring documents are uploaded. Check out SME loans: (some details)
With a powerful CRM + Notification Center available with the HES lending platform, you can make your communication with the customer event-based or status-based.
Showing offers automatically saves resources while sending them timely increases the chance for customer involvement. Both are technically feasible with the proper backend technology of your loan management software and in-built upscale marketing tools.
Follow-ups
The same applies to marketing follow-ups in case of interrupted registration or prolonged no-show of a loyal customer. These opportunities are also highly valuable, personalized, and highly likely to be delivered at the right moment.
To get most of what notifications can offer you need to consider integrations. When starting a project with the lending software vendor and business analysts, it would be useful to plan your marketing activities.
Read also
Content Marketing
Content marketing is a proven gift that helps improve customer loyalty, inform, entertain and involve customers in interaction with the business and attract quality website traffic years after publishing the initial post.

It's a good idea to show the 'behind the curtain' of your brand and to demonstrate you understand the borrower's challenge before you offer a loan product to deal with it.

You may want to include storytelling to demonstrate how loans are a good fit for customers and their situation, you may share statistics, and infographics, share videos, add educational content on financial literacy, and whatever else that's appealing to your customers.

The thing is that the client base of a bank or an alternative lender is hardly looking for loans on a regular basis, they could go months or even years without needing your services. However, content can be a trigger that will help them recall your services in memory if they need it, so you can just create and share financial content about lending, types of loans, differences between them, tips on refinancing an auto loan, mortgage lending, tips on how to improve the credit score, and so on.

The updated backend of your lending platform will help to store, edit, publish, distribute, share, and include loan products into the content without being intrusive.

Online Reviews
Lending businesses, like any other, need to keep track of what is said about them online on Google, Facebook, and local catalogs. Is that really important? 9 out of 10 consumers admit they read online reviews before purchasing goods or using services. More than half of them would bypass companies if their rating is lower than 4 stars.
Managing reviews is also one of the marketing activities that can be automated with the help of CRM and the backend part of a lending platform. Here is how:
Claim ownership of your company account in catalogs. Create accounts, if they don't exist or take ownership on Google, Facebook, and local catalogs that apply to the lending industry.
Ask your loyal customers to leave reviews. This can be done in the timely marketing notifications we mentioned above. Perhaps, the best time is after the credit application is approved and the customer receives the money, or after a loan officer just created a personal loan. To improve the chance of obtaining a positive review, you can make a special offer. Any communication channel can be suitable: a text message, an email, push notification, or the message in the user account. Make sure you provide a ready-to-use link to make it easier for customers to leave a review.
Personalization
You may also consider moving to the next level of personalization.

Due to the product engine and the loan calculator, available in the HES Core solution, lenders can create new loan products in the back-office quickly and effectively and get some basic calculations. Learning more about customers' spending goals and needs, you can create customized loan products for customers and create targeted promotion campaigns.
Read also
Wrapping it Up: HES Lending Platform
HES FinTech helps in automating and improving marketing efforts of lenders: large and small financial institutions, community banks, credit unions. HES lending platform supplements marketing strategies in lending and financial services by offering top-notch CRM, implementing necessary integrations, and setting up automation tools.
Want to empower business? Contact us today to learn how we can help you deliver your lending products to the right audience.