In 2021, the digital lending market was valued at $10.7 billion. It is expected to grow at a compound annual growth rate (CAGR) of 13.8% from 2022 to 2026 and reach $20.5 billion by 2026. Today banks and lenders meet a challenge — digital borrowers expect the onboarding process and credit-granting to be fast and easy. However, digital borrowers have a completely different attitude toward banking services. If they are incomplete with the company's representative behavior, response time, website navigation, or anything else, they leave the page going to another domain. So it's much more difficult to keep them connected and their expectations are often much higher.

Following the latest stats, 67% of customers claim that a bad experience is a primary reason for churning. Good experience in online lending is an important aspect to meet the demands of every customer and retain them. Banks and lending organizations need to utilize tech-savvy digital onboarding solutions to deliver a great experience online. Companies addressing it see almost two times higher annual growth in customer retention and lifetime value than other businesses.
Read also
Digital Lending Drivers: Impact of Millennials & Gen Z
Digital lending has been a global phenomenon over the past years. Increasing consumer demand for online services gave rise to lots of alternative lenders. A huge marketplace made business owners understand the significant importance of customer experience as a differentiation factor.
The primary factor moving the lending towards digitalization is tech-savvy Millennials and younger Gen Z. They have a specific attitude towards technologies that might be hard to understand for older generations. Millennials grew up as technology developers and adopted them to everyday life. While Gen Z grew under the influence of Instagram, Google, Uber, online food deliveries, and smartphones. They both have an emotional connection with technologies and don't realize life without them, so they expect a great customer experience banking if you want them to stay.

A good example here is online consultations. Imagine that you want to book a demo with a bank assistant. If you're a representative of Boomers, you're more likely to call the bank and do what you want. But if you're a Gen Z representative, 89% that you prefer a bank with online booking opportunities. So if a bank doesn't offer online services, you'd rather switch to another company than decide to call. More information on Millennials and Gen Z banking habits you can find in our article on lending business adaptation.

Millennials and Generation Z affect all banking workflows and drive the digital revolution. Your main task is to get through to them. Keep reading the article to find out all the secrets of software onboarding best practices.
Digital Lending: First Step towards Great Customer Experience
The first step towards cutting-edge customer experience is bank onboarding. All users need guidance when they get to know your company and services. However, the first contact is more than just a tour of your website. You need to prove why your lending terms are good for users, how they can get money, and which services might be in their scope of interest. Leaving possible clients with a feeling they're familiar with your services, you increase the chances they'll build up a habit of coming back for more.

Statistically, highly engaged customers are coming back to try services again 90% more frequently.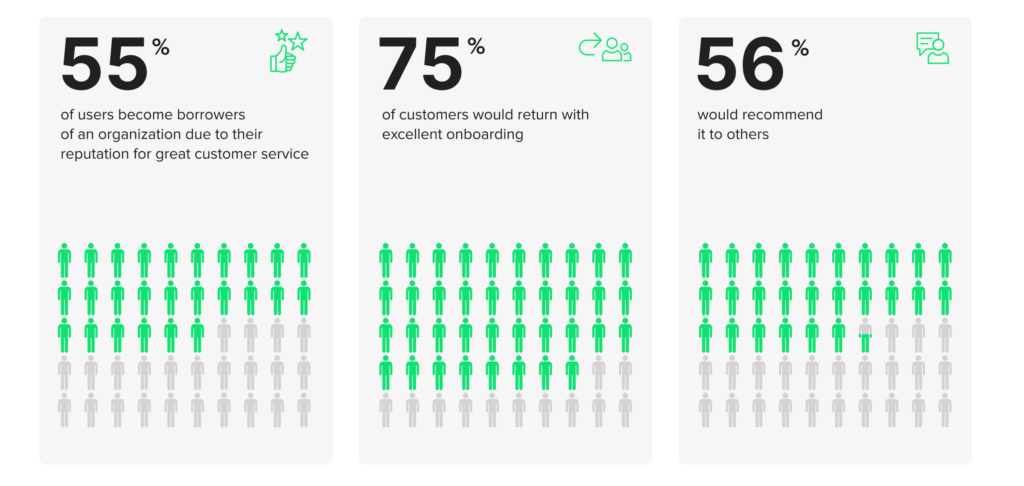 So, how to win the majority of customers during the first contact? Your customer service needs to cover five main tasks:
Reduce time-to-response via chatbots and messengers to 45 seconds — an average time customers are willing to wait.
Answer in detail all the client's questions and prove your market advantage over competitors.
Provide users with the key functionality of your services and ease of use.
Focus on the safety of transactions and a short time to loan approval.
Support account setup and registration.
Once you've said 'Hello' to possible customers, it's time to consider the technical aspect of your lending services and onboarding experience. Even if your support team makes a favorable impression on users, a bad experience with a website or mobile app might ruin all your work. Let's consider five user onboarding best practices to encourage borrowers to rely on your company on financial issues.
5 User Onboarding Best Practices for Digital Lending Experience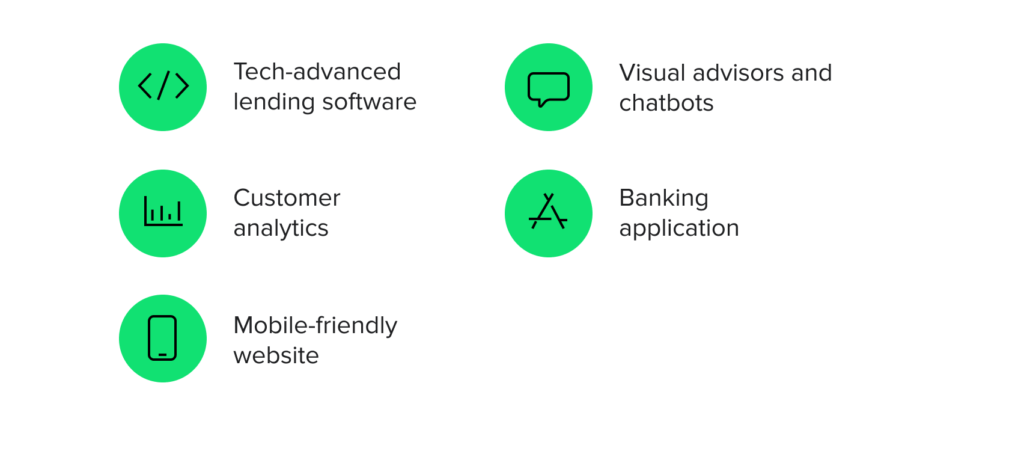 1. Tech-advanced Lending Software
Update and improve your software when it's outdated for the best onboarding experience. Your lending solution isn't something you developed once and let be. Utilizing an obsolete banking system, your first contact with a customer won't be perfect. If you rely on a non-integrated, error-ridden, and slow working platform, nothing will help in converting your customers. That's why it's significant for lenders to select a dedicated development team and create fully automated with extreme attention.

A digital lending platform allows customers to connect several accounts and pre-filling a form. It's widely appreciated by users because they won't need to upload documents with account statements. Such software allows you to ensure effortless communication and data sharing between your departments. It also reduces financial and fraud risks while speeding up the whole lending process.

2. Customer Analytics to Drive Experience
According to HubSpot, 59% of customers value the personalized banking experience approach over response speed when it comes to customer service. Digital customers are different and defining an onboarding strategy starts with defining key customer segments and analyzing their wants and needs. Understanding your potential customers, you can figure out how to start communication with a user successfully.

For example, with the information about age, marital status, education, you might estimate the financial capabilities of a customer and understand whether it's good to offer a call or it's better to discuss the details online. Returning to Gen Z and their attitude towards calls, offering to book a call to such users in the first minutes of being on the site, you might scare them away. SME lenders and banks with the best customer service embrace the power of analytics to gain insights into their clients and find an approach towards cross-selling improvement, enchanting value per customer, and increasing up-sells. So customer analytics is the foundation for a competitive advantage of a lender.
3. Visual Advisors and Chats for Personal Experience
When it comes to connecting with customers, all communication paths are significant. Following the recent research, 62% of users still want to communicate via email for customer service, 48% want to use phones, and 36% contact forms. Hence it's important to utilize all approaches that will be perfect for your customers. Besides, to give your customers a feeling that their first dealing with your lending company differs from other soulless banks, make your automated messages sound human-like. For example, instead of "The application is being processed" you might write something like "We're checking your application and will respond within several minutes. Thanks for waiting!"

What is more, your customers should feel confident about the onboarding process and understand what stage they are at. The language needs to be clear and easy to understand. Provide client onboarding software with error message explanations, in-line support, and provide an opportunity to connect with specialists in case of misunderstanding or errors. These small moments are the basis for building long-lasting and mutually beneficial relations with customers.

4. Mobile-friendly Website
When users visit your website for the first time, they should easily find all the necessary information. Imagine that you want to take a pay-day loan but can't find a button to apply for it or don't understand credit-granting terms. If your users don't understand how to navigate your website, they leave it. So it's significant to create a website not just to keep things, but to use it as an engagement marketing tool. One of the onboarding best practices is to make a simple architecture, add information about services and requirements on pages, and don't miss using the 'Contact us' buttons. They're a magic wand in case users can't find something.

According to Google stats, 74% of people will revisit your website if it's user-friendly and 50% will stop visiting if it's not. And it's obvious since the majority of people use smartphones looking for certain services instead of desktops. Let's imagine that you're opening a website and see that the text doesn't fit the screen, images are gross and can't be loaded, the contact button doesn't work. In the banking domain, customers have even higher requirements than in e-commerce. User-friendly design, cohesive domain, and consistent web-design show customers that they can trust you.

5. Banking Application
Adopting your services to mobile technology, remember to build a bank app to enable online lending services. Good-architectured mobile apps, statistically, have lower churn rates after customer onboarding. This is because the majority of users download an app following the reviews in Play Store or App Store or recommendations of friends or relatives. And while switching from one website to another takes seconds, the installation of another application might take up to several minutes. Not all users will decide to try dozens of apps looking for 100% error-free software.

However, when developing an app, consider making it easy-to-navigate. Solutions with everything at hand are highly appreciated among customers. No one likes looking for a specific service or term in menus. Besides, offer them to choose the authentication type: password, picture password, fingerprint, or iris scanner. It'll help win over users as well as prove your high-security standards. If there are no issues with the lending services and speed of work, rest assured, they'll become your loyal customers.
LENDING SOFTWARE
Psss… Wanna start lending within 90 days?
Book a personal demo tour to explore our fintech powers.
Read also
Wrapping it Up: Onboarding for Future Success
Credit unions, banks, SME lenders need to focus on planning a digital onboarding strategy. Millennials and Gen Z were mentioned as digitalization drivers, not for the reason. Soon they will make up the majority of the world's population. And the answer to successful business growth in the lending domain lies in engaging with modern technologies to bring automation and simplify all lending services. Online transactions are a day-to-day routine yet, competing lenders will have to comprehend big data, biometrics, smartphones, and digital identities.

Seamless end-to-end onboarding is a task for the HES FinTech team. We create software that adapts to your business and geographic needs, rather than the reverse. Fully-customized, integrated software for lending without any human intervention is a fundamental instrument for a great onboarding experience.

Keep pace with digitalization — launch a project with HES FinTech.