Strong customer relationships drive sales and business growth, Millennial customers say. But how to get through to your clients in a banking domain? Actually, there is no difference between e-commerce's approach and new generation banks'. You need to know who your customers are, how old they are, and how the banking habits among ages and generations may vary.

Being digital transformation drivers, we decided to discover the financial habits of dominating generations — Millennials, Baby Boomers, Generations Z, and X. There's a great difference between Generation Z banking, Baby Boomer's lending, and Millennials banking. In the article, we will prove why online services are a must for financials and why brick-and-mortar banking might lose its competitive advantage in several decades. There is also a short guide on how to adapt your company's approach to any generation, including Z bank, that can help your business flourish in the future.
Read also
Gen Z vs Millennials vs Boomers vs Forgotten Generation: Who are they?
Scientific discoveries, political conflicts, and entertainment build the behavioral habits of generations. Analyzing their birth dates, we can already assume what habits will define each generation. We decided to cover four generations to compare them a bit later and prove the increasing significance of online services and the Internet in the following decade.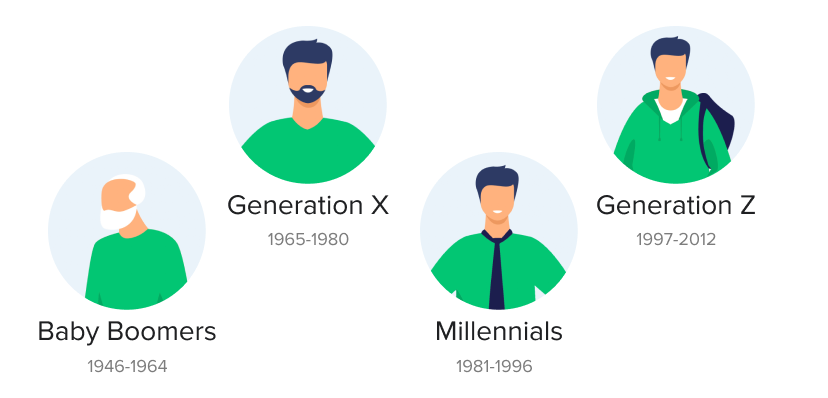 Baby Boomers
Baby boomers are people who were born between 1946 and 1964. The generation refers to people born after World War II when the rough period was over and the standards of living and prosperity went up. So, there was hope for a peaceful future. Historians prove that this happiness resulted in a significant rise in birth or baby boom. During this period, according to the U.S. Census Bureau, there were a total of 76 million births in the United States. While in the first year there were over 3 million babies born, more than 4 million were born every year from 1954 to 1964.
Generation X
Generation X or Gen X describes people born between 1965 and 1980. Although some researchers use birth rates as early as 1960 and ending somewhere around 1977-1985. The generation is known as the smallest one and the hardest for understanding in the history of the U.S.

Some of the Gen Xers, especially the youngest, are closer to Millennials in their attitude towards modernization. While the oldest ones remind their parents — Boomers. Staying between two notable groups, this generation is often forgotten. That is why their second name is the Forgotten Generation.

Gen X grew under the influence of hip-hop music, independent films, grunge, and MTV channel. They felt the reduction in adult supervision and saw the world full of opportunities.
Millennials or Gen Y
Millennials or Gen Y is the generation following Xers, born between 1981 and 1996. Yet several researchers use the early 80s as the starting birth year and the early 2000s as the ending ones.

The generation is marked by the appearance and usage of the Internet, mobile phones, social networks, and virtual games. Millennials are sometimes also called digital natives. Their digitally-driven childhood, the Great Recession of 2008, and the Covid-19 crisis put an imprint on their attitude towards unemployment, financial security, and online services.
Generation Z or Post-Millennials
The second-largest generation is Gen Z, born between 1997 and 2012. The majority of them are students at schools or colleges, while some are only starting their adult life.

Gen Z is also digital natives since they have widespread access to smartphones and social networks like Tik Tok and Instagram. Technologies like virtual reality, face ID, retina screen, artificial intelligence, and more are day-to-day routine for them. As you might guess, Gen Z cherishes top-notch solutions and is ready to pay over $2,000 per device. But despite Millennials and Gen Z being digital natives, the second ones choose smartphones over desktops and spend up to 5 hours per day on their mobile devices.

How are Generations Online Banking?
Millennials and the younger Gen Z reshape the financial and banking industry into a tech-savvy and mobile-first domain which will amplify companies and investors.

According to population estimates by the U.S. Census Bureau, Millennials have surpassed Boomers as the largest living adult generation. As of the latest available data for 2019, Millennials, between 23 and 38 years old, numbered 72.1 million, and Gen Zes, between 8 and 23, make up 67.17 million in the United States only. The oldest generations — Boomers (ages 55 to 73) and Gen X (ages 39 to 54) — are currently 71.6 and 65.2 million people.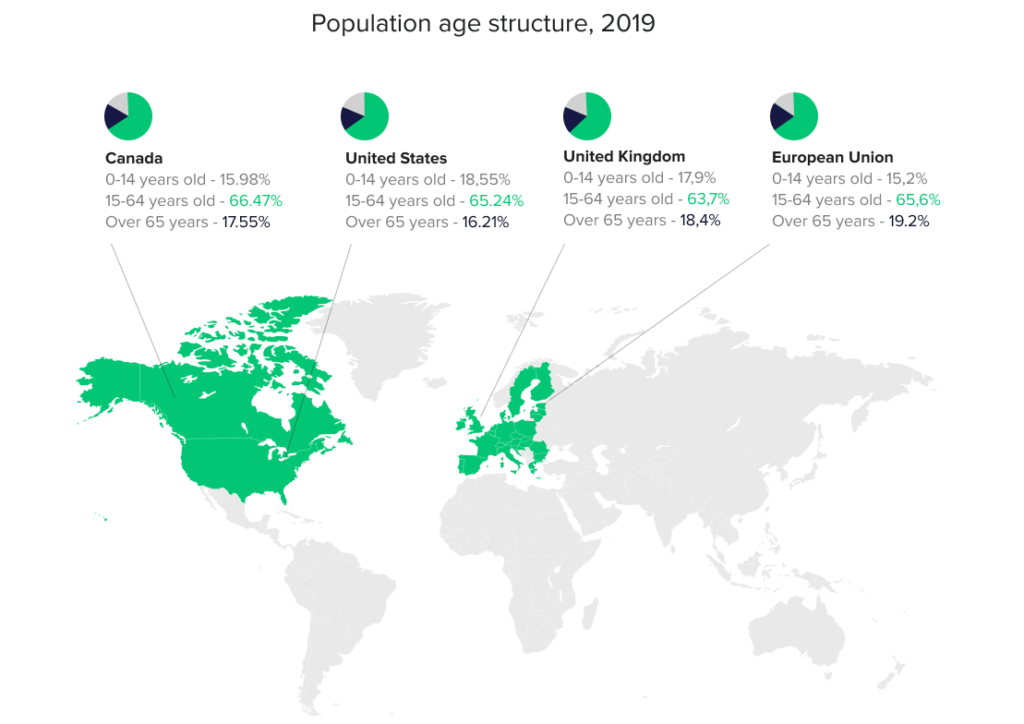 As Boomers get closer to retirement, Generations X and Y (aged between 23 and 64) become the driving force behind the economy. They opt for a technological future and reshape all possible industries, including real estate, healthcare, retail, education, and financial services.

Considering Millennial banking, the generation group values convenience and is ready to pay extra for a better customer experience. They expect digital solutions to be top-notch and easy-to-use. Gallup's research on Millennials and banking shows that they are the most likely generation (92%) to use online services, while 75% of them tend to use mobile banking.
Digital banking is also a priority for Generation Z -— the future of our economy. While Millennials banking means online approach only, Gen Zes currently prefer to combine online, mobile, and brick-and-mortar banking. Sociologists explain that Zes for now have a lack of finance and pay off their college loans. They are currently not financially educated and physical banking gives them a feeling of confidence. So, in a decade this generation will be economically stable driving the Z bank with a digital approach.

Besides, Baby Boomers and Generation X don't live beyond the wall and have access to all modern technologies. The majority of them don't keep up with their children and prefer online services over traditional ones. Surveys show that over 50% of Baby Boomers and Xers use digital banking services and 71% of Boomers bank online at least once per week.

For this reason, we can decide that Millennials and Generation Z are the prime candidates for digital-only banking and in several decades brick-and-mortar will remain unnecessary. And that's not entirely true. Carrie Kerpen, an award-winning entrepreneur, once noted concerning marketing "Focus on the present… It"s the best gift you can give yourself." We can only predict consumer behavior by analyzing current data and quickly adapt to any changes. Considering the banking needs of customers by the end of 2020, we can already plan a digitally-driven strategy in combination with the traditional approach.

According to Emarketer, fewer than half of Millennials would consider moving their accounts to an online-only bank. This can be explained by the fact that Millennials were born when technologies only started to appear and they need to understand that they always can go to a physical bank. Expecting that the best banks for Millennials are digital-only might be preferable among other generations, we can make a mistake and lose customers now.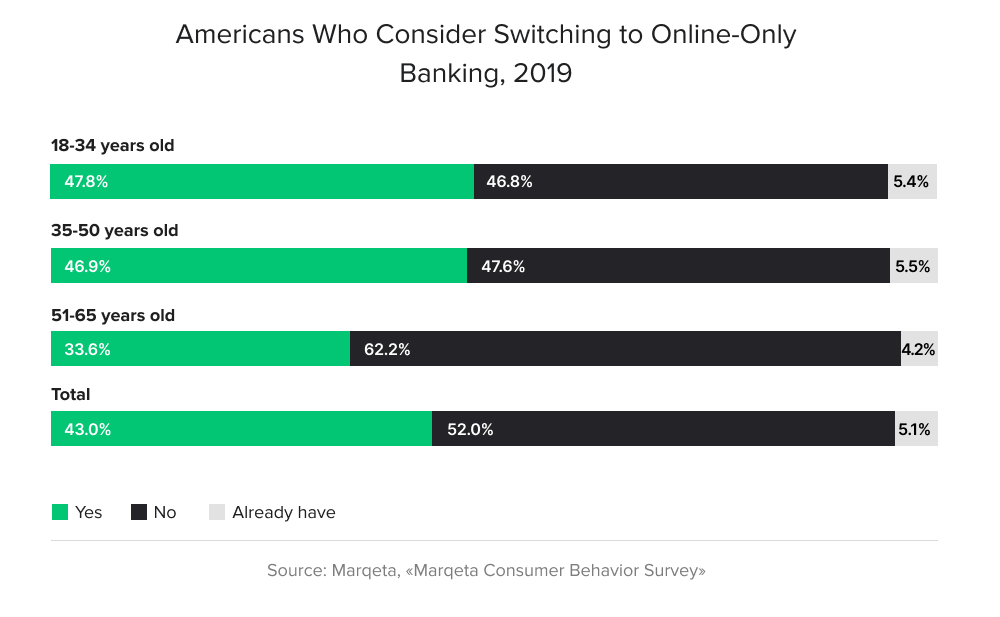 Thus, online and mobile banking services are your market advantage. Many financial institutions already keep up with a growing demand for digital services. The Cornerstone Advisors report shows that 49% of banks prioritized a fintech partnership to expand their digital presence in 2019. Besides, the Covid-19 pandemic and worldwide lockdown made online services a deciding factor on whether a business can survive the crisis or not. And in 2020 the demand for online banking has intensified.

How to Adapt Your Business: Millennial Bank
So, what's the plan? We recommend saving traditional brick-and-mortar banking and implementing new strategies and Millennial banking trends to attract the attention of younger generations. To appeal to Gen Z and Y, financial institutions and banks must offer cutting-edge digital solutions, personalized services, and detailed analytics on their transactions. Since customers opt for changing the financial ecosystem, it becomes significant to make a positive impression on generations and win their loyalty with the new generation banks.
It's time for banks and financials to consider online services when the majority of customers favor digital banking. They need to mind the primary source of revenue — loan granting — which makes up about 60% of income (the number may vary depending on a bank).
According to the Finder's statistics for February 2020, 47.76% of Baby Boomers took out personal loans, followed by Gen Xers (46.77%) and Millennials (46.72%). Only 42.68% of Americans aged 75+ years took out a loan. And 25.32% of Gen Zs' representatives took out personal loans. Yet, the numbers are going to change in the coming years. In just ten years, as researchers expect, Millennial customers will become the main borrowers after Baby Boomers. It's likely that the demand for Millennial lending will grow by 10% and boomers' loans decline.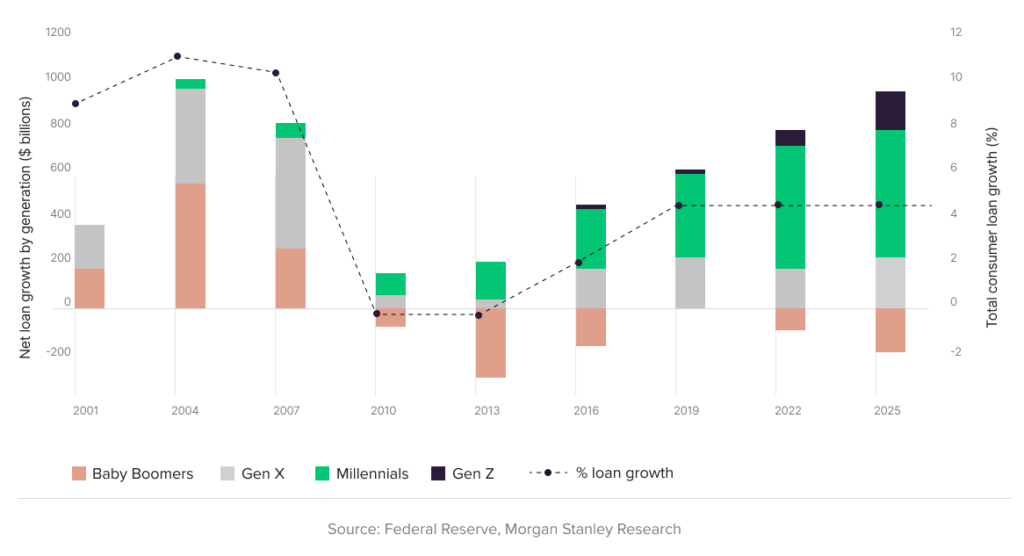 The Covid-19 outbreak greatly affected the prediction. At the year's beginning, about 60% of Americans borrowed money from banks, followed by credit unions at 29.86% and online lenders at 23.67%. But now the situation on the loan market has substantially changed. Banks and financial institutions noted an increased demand for digital loans in the 4Q of the year. The average amount of credits, indeed, decreased, while online banking and lending increased among customers by 35%. 

William Demchak, PNC Chairman and CEO, notes that the bank's sales jumped from 25% digital to 75% digital, executing a ten years plan in two months. And such shifts mark all market players.

The pandemic changed the attitude of older generations to online lending and banking in general. If two years ago Boomers thought digital banking to be risky and insecure, now it's a way to minimize contacts and save time. Covid-19 is one of those events that affect the consumer behavior of generations, especially Boomers and Millennial banking. Earlier sociologists noted that about 70% of Boomers and 90% of Millennials chose online banking. Yet, at the beginning of 2021, the statistics will increase even more towards financial digitalization.
Read also
Wrapping it Up: Millennial Lending and Generation Z Banking
Drawing up a business plan for the upcoming years, you need to consider customer behavior, especially Millennial banking trends, and world events affecting it. While different generations have a different attitude towards technologies, watershed events form a new vision driving digitalization's adoption. To cope with and keep digital customers, financials need to utilize cutting-edge and functional software in new generation banks.

Need software for effective lending? Get in touch with HES FinTech to provide quality for Millennials and banking.