Do you know how to get leads for business loans substantially? Smart digital marketing in banking industry can be paid off in six months already. As digital lending continues to win over in-house banking, it's significant to figure out fresh business loan leads generation strategies.

Specific marketing strategies for banks and financial institutions are good working if using them in combination. The HES team decided to make a step-by-step guide through marketing lending, including content marketing, search engine optimization, social media lending, online advertising, and email campaigns. In addition, we will prove the profit of digital marketing for banks by highlighting lenders and online financials who already successfully implement it.
Read also
How to Get Leads for Business Loans
Today for any lender to strive and survive, it's significant to promote its website through digital marketing in banking industry. You probably know the basics of online marketing and use several platforms popular among your competitors.

Let's have a sneak peek at each online sales channel before diving into details of effective marketing ideas for loan companies.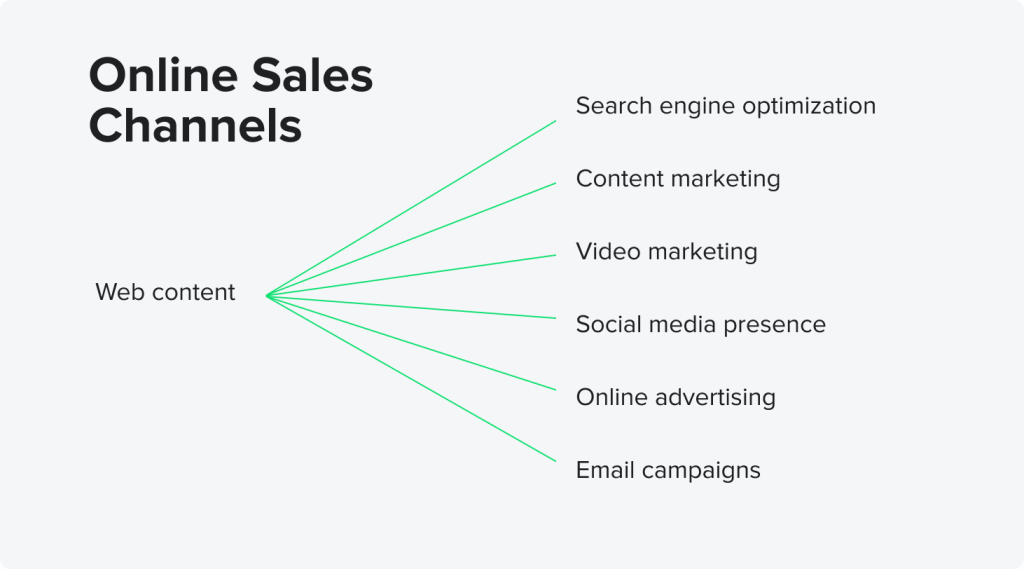 Search engine optimization
Search engine optimization is the first thing to consider picking up marketing strategies for banks and financial institutions. It optimizes your lending website for clients who are interested in the financial services and products you offer. 68% of all customer journeys begin with a search engine, while only 0.63% of users get to the second page of Google Search Results. SEO helps to rank higher in organic search results. 

Decide on services and products you offer, such as commercial loans, POS, mortgages, and others. Each service would have its own page on your website. Choose relevant keywords per page and add quality content describing the service in detail without further ado. Don't forget to add screenshots or eye-catching images to keep users.
Include calls to action on every page to motivate users to get in touch with your team.
Create the "About us" page telling your business story and introducing the team to your audience.
Include use cases or customer testimonials to show users that you have customers, present their success stories.
Use Google My Business to attract customers when they search for you on the web. It gives you a presence on Google Search and Maps. You can respond to reviews, post photos of products or special offers, as well as add your business details.
Make an individual page with your company's locations, addresses, emails, working hours, and phone numbers.
Don't forget about the "Contact page" to let your customers reach out to you at ease.
Following these important SEO steps, you will optimize your website, increase organic traffic and generate leads.

Content marketing
Your financial institution's web content is the basis on which all your sales online channels are built. Content marketing includes service landing pages throughout the website, blog posts, infographics, and press releases on third-party sites. As per the Content Marketing Institute, content marketing is utilized by 73% of B2B marketers and 70% of B2C marketers as a component of their overall marketing plan.

Working on the content, make sure it contains all the information your customers are interested in. Provide authentic value to your users. Write quality content to get customer conversions.

Let's pay more attention to blogging which is a good way to increase your brand awareness online. A blog is not only about your services. It allows you to let your customers know that you're knowledgeable in the things you do. In addition, it's a great tool to remind your customers once a month by sending notifications about a new article.

Considering loan campaign ideas, you can write about the following:

Educate your followers about credit scores, fees, loan types, debt collection to provide value.
Guide customers through the services. Make content that describes. For example, the process from loan application to deb collection.
Inform users about new services and profitable lending terms.
Remember to add links to your services and other blog posts as well as insert keywords for high search engine ranking. In addition, always analyze your blog traffic and positions to take your marketing lending under control.

For example, SoFi has a highly engaging blog and posts articles every day on mortgage rates, lending and corporate news, and other relevant ideas.
Video marketing
Following the statistics, 83% of marketers say that video content helps them with lead generation. and 87% note an increase in web traffic. To promote video content, you can use platforms like YouTube or any social media including Instagram. You can also put your video on your website and use it for demonstrations to your leads.

Video content, if done right, gives a personal touch since customers can interact with you and the team.

Considering video lending ideas, you can film about:

Again, your services. Show users how everything is done in the office, what people work here, and what you offer.
Product testimonials to show your successful clients and their business history.
How-to-video explaining how to apply for a loan or to interact with your website in general.
When it comes to creating a video, it's better to call for a more practiced hand. Hire a designer if you want to deliver video content constantly, or contact a design agency for a specific video.

Social media marketing
Social media marketing or SMM isn't as easy as it seems. But it's a powerful strategy to drive more traffic to your website. For social media lending, you can consider Instagram, Facebook, Twitter, Linkedin, and others. Social networks will help you know your customers, explore their preferences and communicate with them on daily basis.

Based on the market research, lending companies can find their target audience on Twitter and Facebook mainly. CMI's 2021 research indicates that Facebook was the leading distribution channel for B2C marketers over the past year and was responsible for the most favorable outcomes. On the other hand, B2B marketers disclosed to CMI that LinkedIn was the most prevalent and highest-performing organic social media distribution platform. However, the situation might differ in other countries, so we recommend running social networks research first. 
Once you picked social networks, it's time to work on the content. Here things are the same as with a blog – write about things your customers need to know, share your business news, promote your loan services and website, and always respond to comments. And don't be afraid of experiments. Mix video marketing with written content, use infographics and images of your employees. The goal is to let your customers trust you and build loyal relations with the business.

Consider scheduling your post for effective SMM lending. Different people browse different social networks at different times all over the world. So if you aren't a local lender, it's important to schedule the time you post on networks. Based on our experience, the perfect time is between 12 pm and 3 pm when people are mostly online.
Besides, remember to track the traffic from social networks and analyze it. You can change your strategy at any time to increase your business loan leads.
Online advertising
We've covered approaches driving organic traffic to the website. With paid online ads, you can add another dimension to your marketing campaign. Search advertisement appears at the top of the results and should attract potential customers. According to AdWords research, search ads have the potential to enhance brand recognition by up to 80%.

Create ad groups of your lending services, where, for example, "mortgages" and "auto loans" have their ad groups. This will help you take all groups under control.
Add keywords into ad text, call to action, and an image describing the product in detail.
Targeting local competitors to appear in their search results, and poach their customers to your site.
Since Google is the leading search platform, use Google AdWords to set up and check all your ad campaigns.
Send your target audience to specialized landing pages where the needed service or product is described in detail.
Run remarketing campaigns to engage previous website visitors. They will see your ads on the other websites which they visit after yours.
Create your directories on other websites like Trustpilot.
Focus on business news websites to publish your paid articles and news there. Use the potential of paid banners and ads on such websites too.
Together with paid ads in Google, you can pay attention to Linkedin and Facebook advertising. You can promote your posts by setting up the target audience you're interested in.
Email marketing
Email marketing is a traditional customer acquisition approach. We offer to integrate it with digital strategies for high changes of successful campaigning.

With email drip campaigns, you can target your existing customers and potential clients by sending a series of emails. You can sort your customers by their banking habits, income, job position, marital status, and others and send emails to separated groups. Track the success of your campaigns using CMR software. Modern solutions can show who opened an email, read it, who clicked on the links to know more, etc.

Read also
Online Lending Success through Digital Brand Awareness Strategy
To gain success in marketing lending, it isn't enough to research several strategies on the internet and follow them. Every aspect of your marketing activities should be created to target a specific audience and carefully lead everyone through the customer journey. So let's figure out how to drive an excellent customer journey for an online lending business.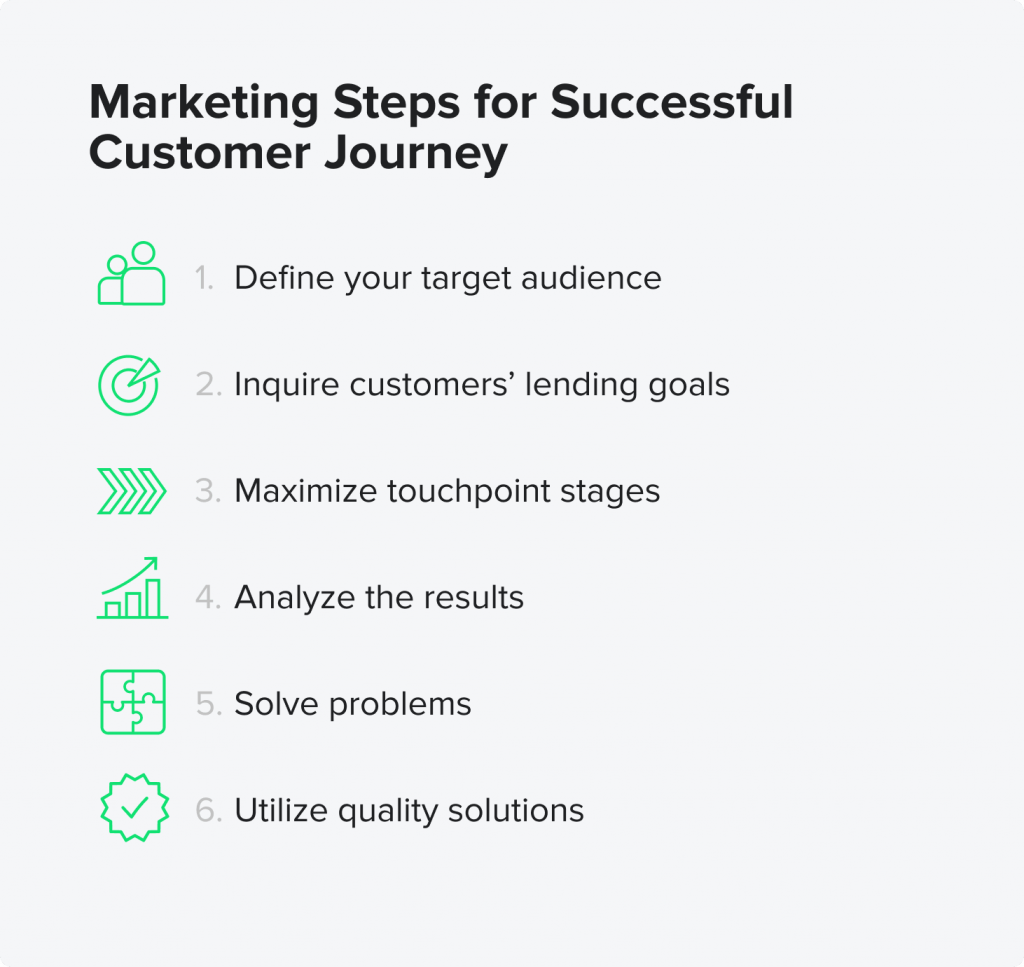 Step 1: Define your target audience
Defining each person that can be interested in your business services is the first step towards customer journey development.

You need to identify a profile of your perfect customer. The identification should be based on market research, data from networks like the online interaction of users. Note that you'll likely have several types of "target" persons.

The profile of lenders' customers should include the following information:

Job type
Income range
Personal goals
Behavior patterns
Marital status, etc.
This research will help identify the population segment that comprises the largest customer segment and understand who brings the largest profit margin.

Step 2: Inquire customers' lending goals
The next step is to identify the personal banking goals of your customers. Based on this information, you can define the content type to include in your marketing campaign. Start with the analysis of your competitors' websites and your own. This information will show you what questions are important for users and let you help them in difficulties.

For example, a couple that got married several years ago has a newborn. While they're busy with children's chores, they might need some financial assistance from lenders to buy a baby carriage or renovate an old room. It's not a priority they have in mind daily, but your reminder can encourage them.

The goal of digital marketing in banking industry is to show your customers that you care about their experience and prove they could save money by getting loans at better interest rates. Having clearly defined your customers' banking goals, you'll be able to develop a more successful digital brand awareness strategy and outperform competitors.

Step 3: Maximize touchpoint levels
Once you figured out who your customers are and what they need, it's time to establish communication with the audience.

At this stage, you need all the communication types we've mentioned before: paid ads, content marketing, email campaigns, SEO, and social media marketing. These channels will be touchpoints making up financial services internet marketing.

Working on these touchpoints, you let your customers meet your company during their internet routine. For example, your potential customer owns a company and might stumble upon your ads on Instagram or finds your post on Facebook about profitable credit terms for business. Constantly providing quality content to users through all possible channels drives more leads and grows your brand awareness.

Creating touchpoints, remember that user experience also affects whether they'll be your loyal customers or not. So customer onboarding and the ability to choose communication channels are important.

Step 4: Keep track of your campaigns and results
Measure the success of your campaigns and touchpoints. Understanding the performance of marketing lending, you can finds breaches in your campaigns.

You can create KPIs (key performance indicators) to define your marketing goals and measure your success on the way. Analyze click-through rates, organic and paid traffic on your website and blog, measure the dependence of social media posts frequency and growth in followers, etc. You can also check what campaigns perform better on different devices. For example, paid ads on Instagram usually perform better on mobile devices while Google ads might be more profitable on desktops.

To simplify your analytics, use tools like Google Analytics and Search Console, try the platform for keyword research and monitor the positions of your web pages in Google, Bing, etc.

Step 5: Solve problems
The results from analytics metrics will show you the breaches in your work and help improve processes.

The analytics can help you optimize your website content by highlighting the unclickable buttons and irrelevant content. You will understand which ad campaigns don't drive leads and which blog articles need to be rewritten.
Having so much data and useful tools at your fingertips allows you to access an in-depth analysis of touchpoints you need to improve.
Step 6: Provide quality services
Since we're talking about successful lending marketing, quality products and services remain the deciding factor for customers on whether to keep working with you or not. Here at HES FinTech, we have only one goal – to deliver quality software with custom functionality and in the short term.

No matter how good your marketing is, your ability to fasten decision-making, drive omnichannel experience, let choose a payment type, set up notifications when debt collection comes, and more helps you get loyal customers. If you don't know what exactly your business needs, our team will advise you and guide you through our finished products. We set no limits, the success of our clients is exactly what we work for.
CUSTOM SOFTWARE
Psss… Wanna start lending within 90 days?
Book a personal demo tour to explore our fintech powers.
Wrapping it Up: Financial Services Internet Marketing
Digital marketing for financial institutions is complex yet drives lots of organic traffic. You can follow many of mentioned steps and customize them based on your previous experience. Remember that digital marketing for banks allows gaining high results when using the strategies together. Here at HES, we can help you automate your marketing efforts with advanced lending management software, have your traffic analytics around, and note all rate movements right away.


Need quality software? Get in touch with HES to generate business loan leads.