The decision of updating an outdated loan servicing platform or purchasing a new one is based on pure mathematics. If its performance is low, while the operating and support costs are ever-growing if the business processes lack automation and the customer churn is increasing — it's time for a replacement.

Vendors want a platform that streamlines the loan management pipeline, provides regulation compliance and system configurability. All that reduces operating costs and brings faster time to value. Configurable lending software allows banks and financial institutions to modify the system according to their proprietary business practices.
Nice-to-Haves for Lending Software
It seems easy to select the proper solution, but in fact, it is always a massive undertaking for lenders. The main objective of writing this article is to help lenders select their custom set of features and implementation options a high-performing loan origination platform.
Calculation module
HES lending platform functionality includes an automatic calculation module and a product engine. Users can create a range of loan products with the help of convenient automatic calculations for various credit types, for example, by the interest accrual type or by the early repayment terms. It is important that the calculation engine is flexible and can be configured to the customer's needs.
Product engine

The product engine allows creating new loan products or to edit the existing ones in a few clicks. In the back-office users can set limits for each loan type: the amount from A to B, the term from X to Y, the interest rate, late payment fees, payment details, and more.
Upscale document management
The loan process is never easy and is almost always very paper-intensive, especially for commercial loan origination and servicing. However, the process should be carried out digitally. Top-notch lending software can store templates with the functionality of fast personalization to create documents automatically.
It may be challenging to find a software vendor for a lending platform to develop the necessary DocuSign workflow. The legislation of most countries allows integrating with one of the e-signature services, but there are many details to consider in terms of compliance and cost-efficiency. Other types of signing documents may include additional fields, verification by the mobile phone number, and a wet signature. Our team helps to find the appropriate types and implement them.

The key requirements for a document management system are simple file structure and user-friendly interface, helpful search, and filters, integration with a CRM, optionally with the open API to add new integrations later, user roles, and restricted access to certain documents.
Read also
Cloud
Cloud deployment has certain operational and financial benefits over the on-premise deployment of the IT infrastructure. However, it depends on the business and security requirements. Cloud advantages include faster implementation, better scalability, reasonable security level, higher accessibility, lower operating costs.
BPM engine
When the lending platform is equipped with a BPM (business process modeling) engine, the loan management software users can benefit from automation and flexibility of their business processing. The BPMN tech stack can be paired with apps for modeling, operations, and analytics. They can edit the stages, replace, or remove them to experiment or refine the user experience. BPM engines don't require any considerable level of technical expertise in business users but provide granular configuration options.

This nice-to-have will be paid off if at least one of these conditions is met:
Business runs a large number of different business processes
Business requires a lot of changes and improvements to be done to the existing processes on a regular basis
For example, the HES lending platform can be integrated with Camunda, which is able to withstand any loads and provides the needed functionality for documenting. Our customers in banking and finance most often use it for decision-making, servicing, debt collection, marketing, and user acquisition.
Pre-integration with data providers
Cloud enables lenders to access consumer and financial data for better decisions. When choosing a loan platform provider, consider pre-integrations and overall experience with integrations as a whole. For example, scoring systems, credit bureaus, KYC, AML, accounting, BI, notifications and messengers, payment providers, e-signature, or CRM — to name a few. A growing partnership network of HES FinTech helps customers save time, reduce risk and boost loan performance with the help of loan servicing software.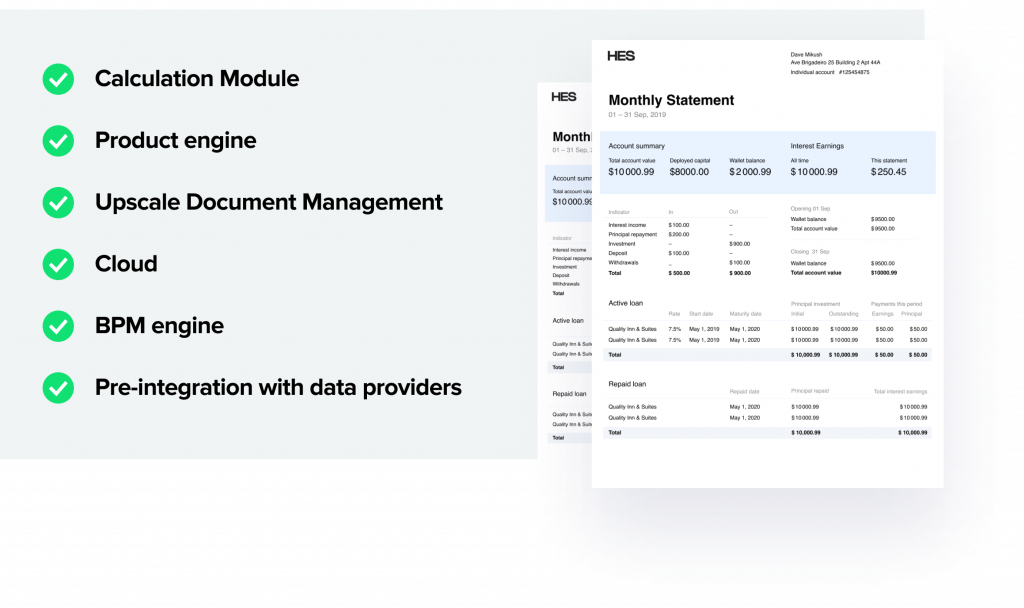 Loan Management Platform Must-Haves
The list of nice-to-haves may be extended in the future, but there are real essentials for a highly functional lending application able to enhance your business process. Here are the top must-haves for you to double-check before you choose a lending software provider:
Up-to-date technology stack
To update loan servicing software, lenders usually look for long-lasting solutions. It's a good sign if a vendor has a good product vision. The platform should be architectured the way to enable scalability and allow adding emerging technologies later to improve the system functionality well into the future. At HES, we highlight these technologies as having the largest potential to improve the business workflow for lenders and ease up growth.
Simplified configuration
There are no two identical lenders. The main problem of out-of-box SaaS lending software is that it almost never meets the process needs in full and quite often requires time-consuming custom programming and add-ons in a while.

Simplified configuration allows manually adding or removing business processes, creating, editing, and removing new loan products without coding. Updated loan servicing software should allow business users to easily change rules, field display, set permissions, edit the business processes. There can be various options to attain these goals. We will go into detail below when sharing nice-to-haves for a loan management platform.

Omnichannel
Like many other activities, digital lending appeared on mobile phones. Omnichannel customer engagement means designing a borrower's journey taking into account the use of multiple devices and switching between them, as well as combining online with offline. It's equally important to make loan management omnichannel for lenders too. Innovative lending software provides real-time access to the application status, amounts, loan-to-value, interest rates, and terms.
Analytics
The lack of customized dashboards and analytics in the legacy software is what most of our customers call the number one pain and the ground reason for updating their loan servicing platform. Analytics module tailored to the company's needs gives a better understanding of the efficiency, performance, and overall profitability of the loan operations. With the help of dashboards, users analyze loan application performance, quality of deals, possible reasons for customer churn and competitive losses, and other factors that influence the strategy and decisions.

Rapid implementation
Development from scratch is not the only way to get completely tailored lending software. A configurable lending platform is a balanced solution between rigid SaaS and custom development. It is balanced in terms of costs, time to market, and the value its functionality brings.
Read also
The Bottom Line

The list of must-haves and nice-to-haves for a loan management platform we provided here is not ultimate.

We tried to mention recommendations that can help improve your lending software or simplify the process of selecting a vendor. The article is based on popular customer questions, years of lending industry experience, and dozens of successfully completed projects.

If you are looking for a new loan management system based on an updated tech stack, designed to boost your profit, make the lending process streamlined, automated, and effective, don't hesitate to contact our team.