BPM or Business Process Management is a process automation technology that provides effective workflow structuring, including the coordination of people, systems, and data.
BPMN or Business Process Management and Notation is a popular visual modeling language that helps define and direct the company process workflows, bring them together, and visualize.
Most companies use the unstable Covid times to improve their internal processes, become faster and more agile. The demand for BPM software (BPMS) is expected to grow. According to Gartner's "Forecast: Enterprise Infrastructure Software, Worldwide, 2018-2024, 3Q20 Update", the BPMS market is expected to reach USD 2.9-billion value by 2024 at a CAGR of 3.8% over 2020-2024.
What Is Special about BPMN in Banking and Finance?
In these industries, it has the highest chance to transform the experience of teams and customers by streamlining the frontend and backend processes and driving continuous innovation at affordable costs.

Banks and fintechs elbow their way through tough competition, huge reporting, lots of legislation requirements, and disconnecting workflows. Business process management and intelligent automation are actively used in financial services providers to cut costs, boost productivity, and make the workflow more efficient and agile.
BPM software in financial organizations

According to their needs, BPMS helps financial institutions model processes orchestrate them, and rapidly direct workflows according to process models. The BPM objective is to make sure the company's operational and business process infrastructure is effective. Also, BPM engine implementation simplifies complicated workflows that lead to bottlenecks and may negatively impact customer service quality.

Financial services automation and lending automation, in particular, includes activities that generate large amounts of data, from fraud screening to credit scoring, marketing activities, and sales forecasting.

In banks and fintechs that provide lending services, BPM acts as a base layer and automates complex processes that usually require employees to make decisions, enter data, use the system for calculations, integrations, control of actions, generating reports, and storing them.
BPM software can be a core of the intelligent process automation activities at larger organizations. Together with business analysts, technical specialists, and project stakeholders, BPMS helps to plan out and model processes and use technology to effectively orchestrate the processes.

In lending, BPM can be an effective orchestration tool that assigns actions of administrators, users, and systems at each moment. It ensures tracking, storage, and exchange of generated information.
Read also
BPM Benefits in Lending

Overall benefits:
Improvements in employee productivity and customer experience
Time and cost savings due to less employee intervention in the lending process cycle
Error reduction
Flexibility and timely adjustments of processes
Decreased paper usage
Front-office
BPMN can orchestrate integrations of chatbots and voice assistants with financial data and account actions for more effective problem solving and a more satisfying customer experience. Also, BPMN in lending can structure the authentication and authorization processes, as well as the onboarding.
Middle-office
Regarding risk management and compliance, financial institutions and banks are highly sensitive to the proper protection of customer data. The middle office part of the software deals with regulation, KYC/AML, and compliance of each transaction. BPM can help add transparency and introduce intelligent automation with lower risks.
Back-office
BPM assists in the automation of previously paper-driven processes and manual tasks. Decision-making, managing documentation, and resource planning are the key candidates for automation.
CUSTOM SOFTWARE
Psss… Wanna start lending within 90 days?
Book a personal demo tour to explore the power of BPM automation.
HES FinTech experience with BPM
For large lending automation projects, HES FinTech suggests integrating a BPMN engine — a complete process automation tech stack paired with apps for modeling, operations, and analytics. The investments in BPMN engines are usually quickly paid off if at least one of these conditions is true:

Business runs a large number of different business processes
Business requires a lot of changes and improvements to be done to the existing processes on a regular basis
BPM engines allow a vivid demonstration, easy adding, removing, and editing the process stages.

In banking and finance, the top areas for automation are decision-making, servicing, and debt collection, marketing, and user acquisition.
Our team has experience with Camunda BPM, as this solution has a number of advantages:

Is able to withstand any loads
Provides the necessary functionality for documenting
Can be easily integrated into HES FinTech solutions.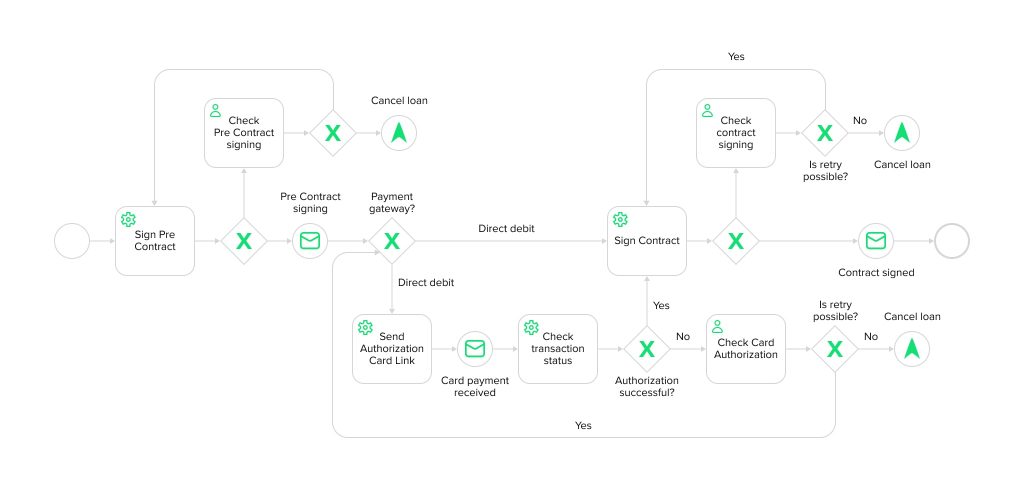 HES FinTech provides a qualified BA to develop an integration scheme to fit your business needs and help get most of what BPMN can offer.
Read also
The Bottom Line
As we said before, the key objectives of automation based on the BPM engine are better customer experience and higher performance of the system. It allows getting rid of redundant tasks and helps to shift the focus of employees to creative improvements, like new strategies, loan products, top-level decision-making, and so on.

We recommend lenders first analyze their internal company processes to determine the points for improvement in their business processes before we consider the BPM engine implementation during the HES lending platform development.
Interested in BPMN for lending? Contact us for more information.