Student loan platforms are no longer mainstream, they're a part of a college tuition anti-crisis program. It's trite but true that continuous tuition hikes force people to take students loans.
Instead of drowning in overdue debts to banks, students choose simple student loan solutions from third parties.
As 65% of all jobs in the U.S. and abroad require Bachelor's or Master's degree, the demand for student loan software will continue to rise. It's important for lenders to come up with top-notch student loan servicing software to help pay for tuition and existing debts. In doing so, we decided to explore the importance of student loan management solutions in battling the tuition crisis. In the article, we're figuring out what student loans solutions are in the market and how to level up lending with HES LoanBox to win over the majority of debtors.
Why Invest in Student Loan Management Software
Even before the coronavirus pandemic, student loans have seen almost 157% in cumulative growth, as Bloomberg states. While the average college tuition cost has dropped in the 2020-2021 academic year, the average tuition and fees at private ranked colleges have fallen by about 5%. Analysts still worry that after the crisis the trend of year-over-year tuition hikes will be back. The next generation of graduates might default on their loans at even higher rates than was supposed earlier.

Top 5 Must-Have Features for Student Loan Origination Software The average college student graduates around the age of 21 and can expect an average annual salary of about $50,000 for a full-time job. While the average monthly student loan payment is $393. Depending on the degree and average debt, graduates need up to 20 years for repayment. It inhibits their abilities to save money, increases credit card debt, as well as damages credit history in case of a delay.
Once student loans hit people when they have lower income, they are unable to pay off debt quickly. This also damages their attitude towards loan service providers in the future. Statistically, 72% of millennials consider owning a house a number one priority, after traveling, marriage, and having children, as Bank of America states. But student debt delays millennial homeownership for seven years, according to the National Association of Realtors.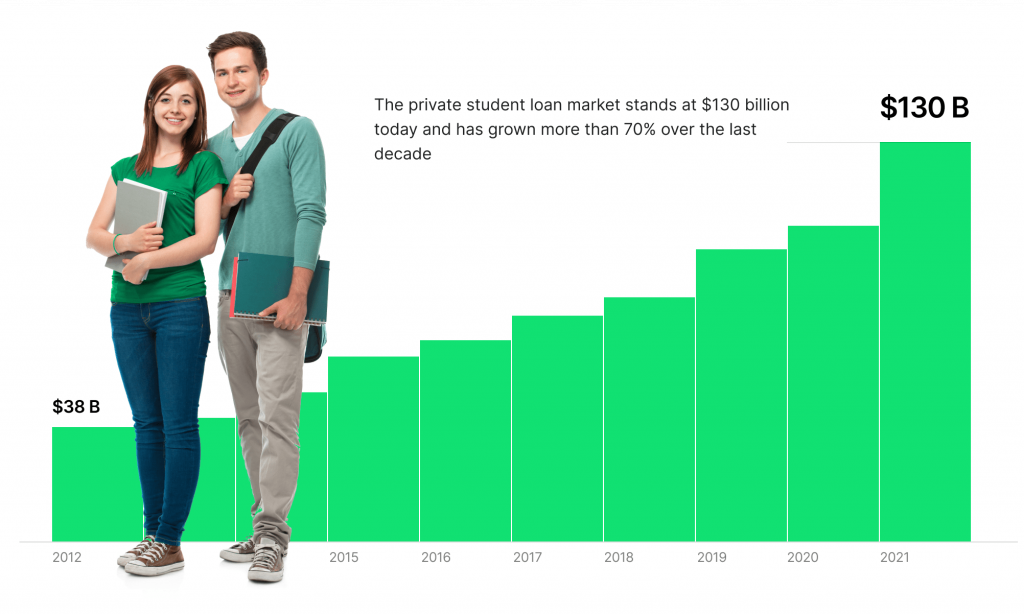 The Ultimate Marketing Ideas for Loan Companies to Generate Leads So, for alternative lenders students and graduates can be a tidbit – the opportunity to support the future generation and build long-lasting relationships with them. Financial institutions can be trusted allies for people managing their first debts and helping them achieve their financial goals including future expenditures on house ownership, travel, car purchase, etc.
Student Lending with HES LoanBox
As more young people are being required to pony up academic fees, student loan servicing software has become much more popular and mainstream. The increased demand for online student investing is about the ease of use and the process transparency.

There're lots of online student lending companies in the market, such as UpStart, LendKey, Achieve Lending, SoFi, and many more. To help you compete with these lenders, our team developed HES LoanBox – a ready-made solution for lending that can be configured and designed to fit any business need. Let's highlight the technical components of HES LoanBox's effective crediting.
HES LOANBOX
Looking for unique software for lending?
Explore the power of seamless process automation with HES.
Personalized customer onboarding
With the increased competition among lenders and rising student loan default rates, private student lenders have been forced to update their student loan software. Lenders need a fresh approach to their business backed up with executed technology solutions to serve their customers and partners.

Customer Experience in Digital Lending: 5 Onboarding Best Practices Here at HES, we strive to automate every step of a lending process to let clients outperform their competitors first. Understanding your target audience is the way to figure out what parts of your onboarding processes need improvement. What do students know about loans? The majority of them lack knowledge of finance and lending features. Start with your landing page:

Guide students through your services. Explain how student lending works, what payment opportunities you have, how they can pay off debts, and what're the consequences of overdue loans.
Focus on communication channels you have and highlight them – chatbots, mobile phones, email addresses, a mobile application, and FAQ page. Everything should be at hand.
Figure out something to let you stand out over competitors. For example, offer a 0% interest until September + no payments until October. Students lack money, and a good offer is what they're looking for.
Leaving clients with a feeling they're familiar with your services and student lending, you increase the chances they'll build up a habit of coming back for more. Using HES LoanBox, you can create a unique landing page, reduce the time to respond, and help you find loopholes in your current onboarding process.
Borrower portal for students
A personal account provides borrowers control over their loan operations and helps them visualize their debts. Borrowers can track past, active loans, or rollover loans. They can monitor payment schedules and receive notifications in terms of delays. Personal accounts not only drive customer experience but help decrease non-performing loans (a little bit) by reminding users about their responsibilities.

Considering students, it's important to think about their mobile experience as well. Based on the statistics, about 75% of millennials and gen z use mobile banking applications or search for lending services using smartphones. While these generations cherish technologies and software convenience, simple small loan solutions allowing to keep every operation under control in a smartphone are in demand. It's the greatest way to attract users and build long-term relationships with them.
Do you offer mobile lending services?
readers voted
Alternative credit scoring
AI-powered credit scoring already gained popularity in Europe due to its flexibility and accuracy. Since students usually don't have a credit history, a traditional scoring system will hardly find these people reliable borrowers. But it doesn't mean that they're as they seem. Unlike traditional scoring, the AI approach builds prediction models based on the company's experience – historical data. Experimenting with models and scored parameters, every company can find the most accurate approach for the business. The system tells you the chance that a student will pay back or not. Moreover, modern credit scoring software needs seconds to score applications. So, it's a great chance to automate risk management and increase market reach.
Back office for employees
The back office covers the lending all the way from A to Z: loan application management, loan deals management, task management dashboard, document storage, automated decision-making, calculation engine, product engine, smart scoring system, reporting, and segregation of duties. This space provides a detailed overview of loan applications, active credits, amounts, loan decisions, risks, and outcomes.

Meet HES LoanBox: Ready-to-Use Lending Platform The back office delivers comprehensive lists, custom documents, and the history of loan operations in a single space. There you can enjoy intuitive dashboards with lists of assigned tasks to users based on their roles. It's a great way to mitigate risks and reduce manual error at critical stages.

HES LoanBox is also enriched with calculation and product engines. The platform allows the creation of new loan products with unique parameters in one click (thanks to in-built calculations and multiple fields).
Security and borrower verification
How to Avoid Fraud in Digital Lending No matter what student loan platform you work with, the security of your software and customers is your foremost responsibility. Using an identification solution by HES means that users have to provide identity document details. The solution supports lots of verification approaches, like ID, driver's license, facial match to capture the face biometrics and match it with the passport, etc. A provided document will be checked for forgery by scanning, as an example, for visible irregularities or incorrect positions of elements of a document.

Here at HES, we provide secure solutions to manage user permissions by implementing role-based access control features. You can build rules to allow and block access by device ID. Full compliance with KYC and AML policies to understand customers' motives as well as the ability to detect and prevent fraud and money laundering.
HES LOANBOX
Psss… Wanna start lending within 45 days?
Book a personal demo tour to explore our HES LoanBox.
Wrapping it Up
The student loan platform is a great opportunity to build a good credit history for millennials and gen z. HES LoanBox offers a unique opportunity to implement a ready-made solution with top-notch functionality and customization options. Whether you need to try HES LoanBox or are looking for a team to develop a platform from scratch, the HES team is ready to help. Working with HES, you get a reliable partner dedicated to lending, and fond of the latest technologies.