We know that exploring and comparing lending software may be overwhelming. Lenders search for better ways to launch new loan products, enable digital loan origination and automated loan management.

In HES LoanBox we gathered 10-year experience in loan automation and implemented the most common functionality requirements received from lenders. In 2-4 weeks you get a fully-functional digital lending solution up and running. Check out more details below.
What Is LoanBox?
Top 6 Fintech Trends in 2022: What You Need to Know The platform is a preconfigured set of financial software modules for automated loan origination and loan management. With the out-of-the-box solution, most of your business processes are seamlessly automated from the first day of use.

The product consists of three digital lending components:

Digital onboarding page – a personally branded customer acquisition channel
Borrower portal – online space with a personal account for digital interaction with your financial institution
Back office – highly functional and secure space for loan management: from application to repayment.
Digital Onboarding: What's Special
LoanBox makes digital onboarding experience easy and straightforward due to the clean and neat UI/UX. The page comes as a white-label component: it means your financial company selects custom brand colors and a logo. Intuitive navigation, real-time loan calculator, and valuable FAQ section on the main page help convert visitors to applicants easier and faster.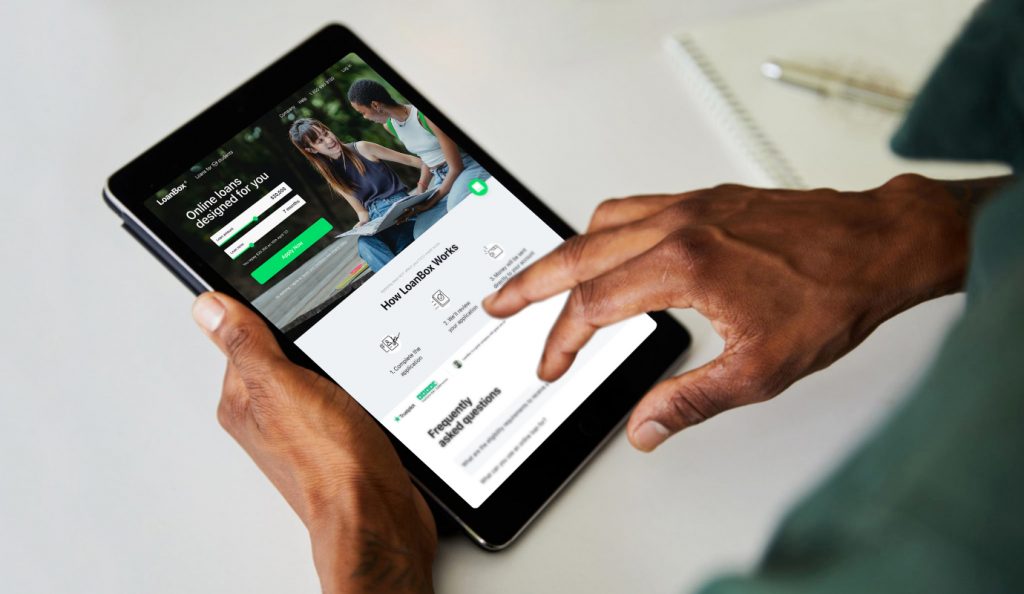 Users can set necessary amounts and see the interest rate, as well as the terms and basic loan details before they apply. All the calculator settings can be adjusted to the business model of the lending organization.

Main benefits:

Marketing-effective landing page
Seamless transition to borrower portal
Fully digital and paperless process
Security and data protection
The digital onboarding page effectively involves users in communication and provides a well-thought-out transit to loan application and compliance procedures. It is a great starting point for the customer journey giving a lot of control and providing transparency of self-made calculations.

Borrower Portal Functionality
Borrower portal can be a valuable competitive advantage for your lending company. It creates a full-fledged digital experience with the brand and empowers users with insightful loan details and extensive control over loan applications, active loans, and activity history.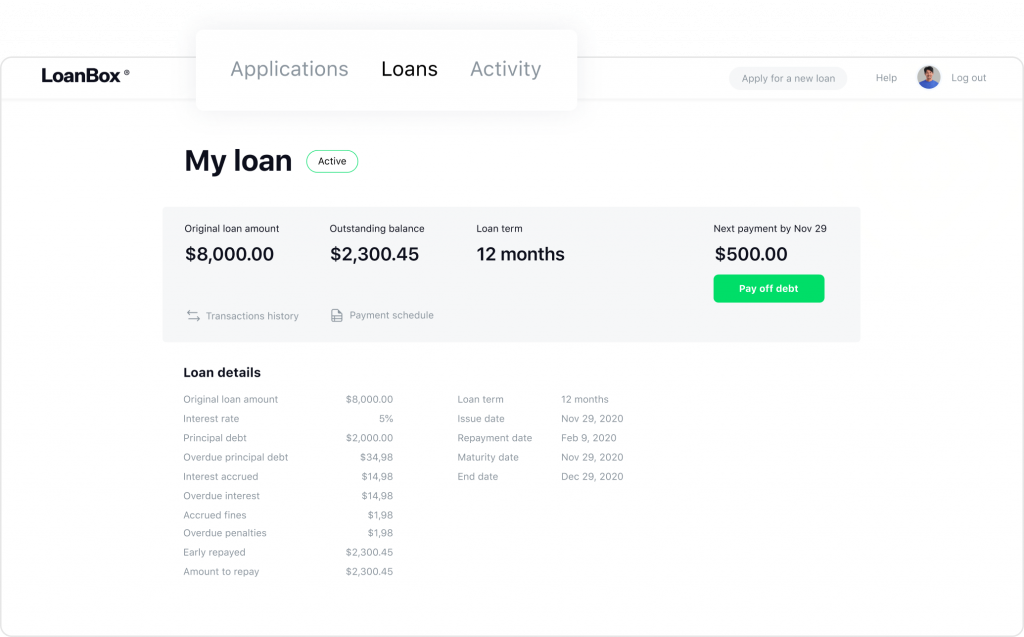 Having a separate environment for borrowers with robust security features and data encryption help improve customer satisfaction and loyalty. Personal data protection and control over the entire process build trust and increase the chance for repeated loan applications in the future.

Included functionality:

Informative borrower profile
Loan applications section
Loan section
Activity section
SMS and email notifications
Benefits:

Intuitive application flow
Access to smart calculator
End-to-end application management

In this convenient personal space users can apply for loans, monitor the application status, track updates on active and repaid loans, as well as easily plan their payments. The portal settings are fully configurable.

Back Office: the Power of Process Automation
Lending Automation for Banks and Fintechs: Podcast by ABA & HES FinTech The functionality of the Back office within HES LoanBox automates most business processes in lending. The space provides a detailed overview of the loan application, active loans, amounts, decisions, and results. The profiles of borrowers are at the fingertips of lending company employees.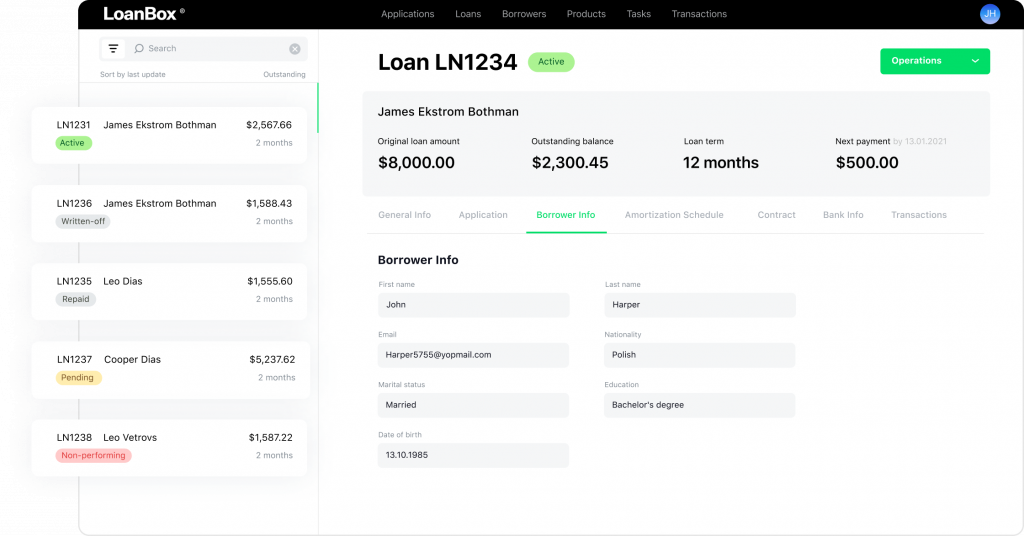 Credit decisioning can be automated with the help of a decision-making engine. The work of the engine can be adjusted according to your custom business processes.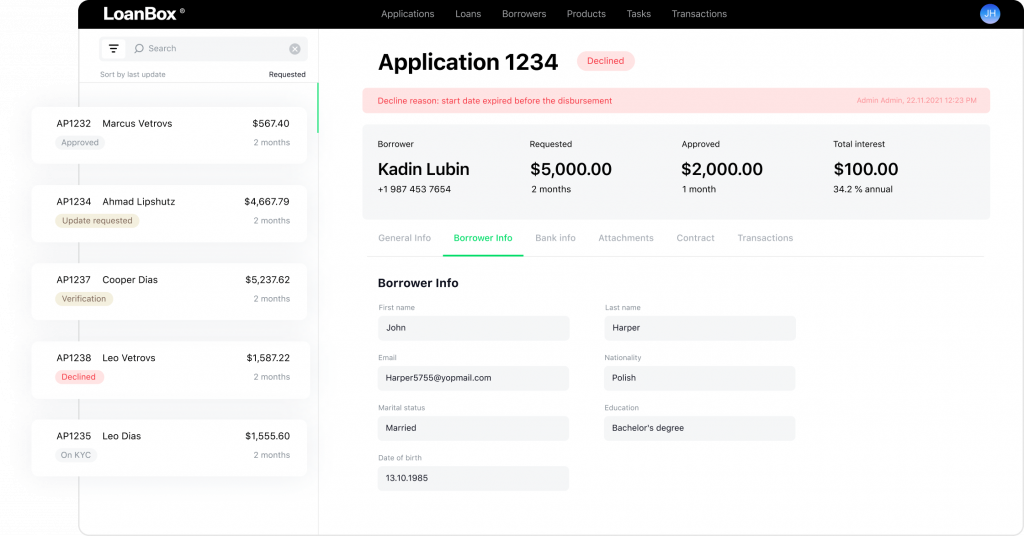 Scoring and underwriting are flexible and can be performed with or without manual application screening at each stage.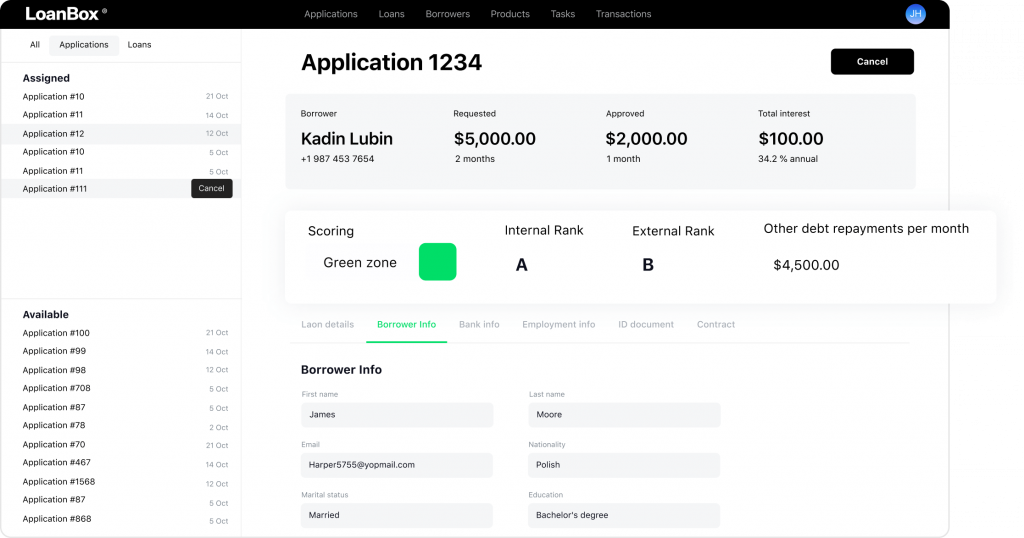 Role management and segregation of duties increase the effectiveness and security of loan management. System administrators can grant access and permissions to specific groups of employees depending on their job role or branch. It helps mitigate risks and reduce human error at critical stages.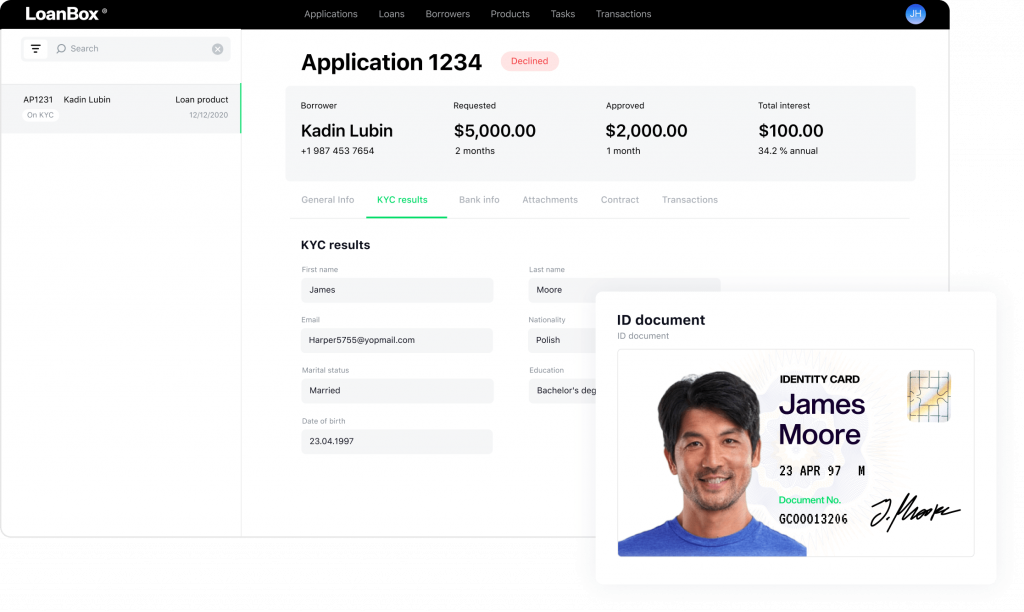 Perhaps, one of the most valuable features in the back-office is calculation and product engines: the system allows creating new loan products with various parameters in just a few clicks due to in-built calculations and multiple fields.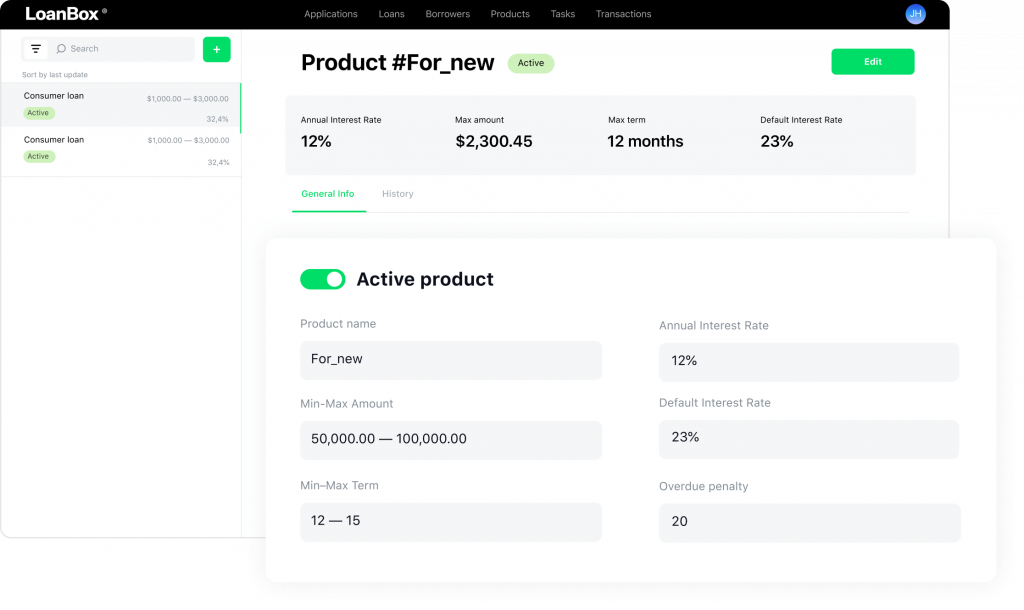 The Back office provides an impressive list of loan management features for applications and active loans, as well as virtual document storage spaces to cover the entire lending lifecycle.
Key Back Office features:

Loan application management
Loan deals management
Task management dashboard
Document storage
Automated decision-making
Calculation engine
Product engine
Smart scoring system
Reporting
Segregation of duties

Due to a highly integrated architecture, the system allows increasing the operational efficiency of your company and automate loan origination and loan management – all that comes with a readymade digital lending solution.
HES LOANBOX
Looking for advanced software for lending?
Explore the power of HES LoanBox and start lending within 2 weeks.
What's More: Integrations
Business-Analysis-as-a-Service in Lending Software Development LoanBox digital lending platform contains a lot of prebuilt integrations and supports custom integrations as well. It connects a network of components and systems to move loans from application to repayment faster and easier and to complement the existing system with additional features.

Versatile integration options allow providing more technologically advanced and highly secure customer service powered and insightful reporting.
HES FinTech provides the following integration types for LoanBox:
Data verification (KYC)
SMS/Email
Payment Providers
Credit Bureaus
Third-party BI Products

Flexible integration options ensure that your business gets the most out of what HES offers.
HES LOANBOX
Psss… Wanna try HES LoanBox in action?
Book a personal demo tour to explore our Out-of-the-Box Platform.
5 Reasons to Choose LoanBox
HES FinTech is Now Officially ISO 27001 Certified Every single feature in this product is aimed to contribute to measurable benefits for financial institutions, including lower operational costs and higher ROI. With LoanBox, borrowers enjoy an excellent digital experience, while lenders get plenty of time-saving features and shorter loan cycles.

Here are 5 reasons to get a free live demo of HES LoanBox now:

Time to market is just 2-4 weeks
3 components in a single powerful product
Enhanced automation: for employees and borrowers
Smart scoring
Loan product engine
Contact our team to schedule a demo.