Consumers have to spend a lot of time completing the process of loan approval through traditional channels like financial providers and banks. Moreover, SMBs don't have the time, resources, and patience to adhere to the strict guidelines of the whole process.
Lending as a Service platform offers an excellent solution to this pain point and allows consumers to enjoy end-to-end credit without any hassle. Moreover, financial providers can experiment with new services and products through LaaS without adding high stress to their budget. HES LoanBox is one such exceptional LaaS provider that is transforming the FinTech sector.
In this article, we will understand the workflow of LaaS for lending businesses, its benefits, and get familiar with the top providers. However, before all this, let's dive into the details of LaaS.
What is lending-as-a-service?
Lending as a Service comes as an extension of credit that doesn't follow traditional financial channels like credit unions, banks, and other entities. Also, referred to as Marketplace Lending (MPL), LaaS leverages the power of new and modern technologies to surface the products and lending services to the consumers by going out of these channels.
LaaS is a subset of BaaS (Banking as a Service), where businesses use cloud infrastructure and APS to create and manage their own financial services and reduce the dependency on traditional banking channels.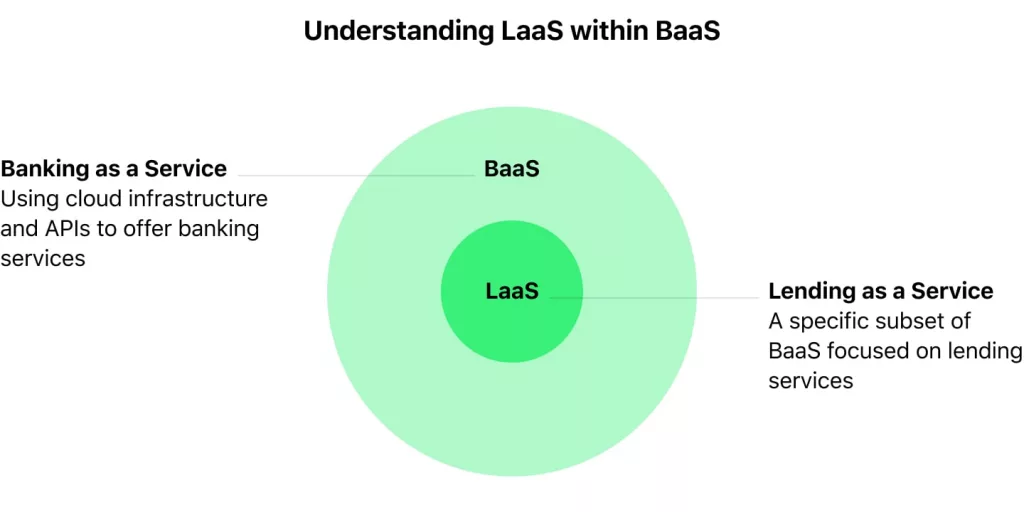 Alternative Finance vs Banking: Industries Non-Traditional Lenders Turn Mainstream InMoreover, LaaS is a part of embedded finance like BaaS and CaaS (Cards as a Service). It refers to the integration of payment processing, insurance, and lending into non-financial companies and businesses and removes the need to involve banks and other financial institutions in the whole process.
Both embedded finances and LaaS offer better accessibility to both consumers and owners of lending businesses. SMBs and rising startups can avail of credit without going through the long and hectic process of loan processing. Let's understand the relation of both terms through the examples of embedded finance and LaaS.
Lending-as-a-service examples
1. Embedded payments
Why Embedded Payments in Lending Are a GamechangerEmbedded payments if one of the top embedded finance use cases. Services like Google Pay, Venmo, and Apple Pay, allows consumers to store their financial information and conduct all their transactions from one place.
2. BNPL (Buy now pay later)
BNPL as a Part of Embedded FinanceBNPL is one of the top examples of embedded finance and LaaS. Consumers can purchase the product and pay the merchant in installments. Besides presenting new payment options, it allows merchants to encourage their customers to avoid discarding their shopping carts and elevate revenue and loyalty levels.
3. Embedded lending
Long gone are the days when startups, SMBs, and rising entrepreneurs needed to go to banks and stand in long queues to get a loan for the growth of their business. There are several non-financial business companies that have invested in an embedded finance platform and lending as a service platform to allow interested parties to get credit at the point of purchase.
Lending-as-a-service & embedded finance: statistical overview
LaaS and embedded finance both have a solid market in SMB credit and non-financial lenders. SMBs can connect their business profile through LaaS and embedded finance services, and lenders can use the information for higher approvals and better loan rates than the traditional channels.
Besides this, the software provider associated with SMBs can leverage the data and use AI and ML to offer the right type of offer at the right time to elevate their growth level.
Moreover, the numbers show a consistent level of rise in all the sectors.
In 2022, the global embedded finance market size was valued at 66.8 billion dollars which is expected to grow at a CAGR of 25.4% and reach 622.9 billion dollars by 2032.
The digital lending platform or lending as a service market size was 7.04 billion by 2022, which is expected to grow by a CAGR of 26.5% in the timeframe of 2023 to 2030.
The software segment in the digital lending platform is projected to grow with a CAGR of 21% in the timeframe of 2023 to 2030.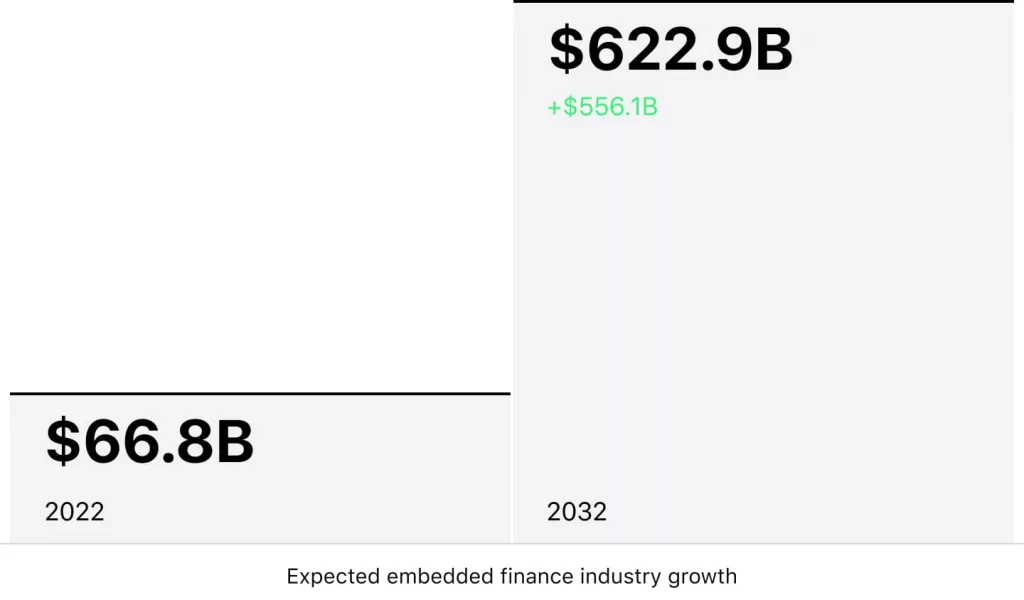 How does lending-as-a-service work?
Business integration
The first step is the integration of a business with the Lending-as-a-Service platform. It happens through APIs that include linking borrower data to the internal system, regulatory compliance, automating credit assessment, loan application management, etc.
The in-house team of the lending business sets the metrics like interest rate, loan amount, and repayment terms after the successful fintech integration. The integration optimizes the process, expands the revenue stream for the business, and offers an excellent user experience to the customers.
Borrower onboarding
Customer Experience in Digital Lending: 5 Onboarding Best Practices In borrower onboarding, the borrowers are brought into the lending ecosystem. It includes borrower registration, verification procedures, collection of personal and financial data, credit assessment, and compliance checks. The LaaS platform uses automation to expedite the whole process while maintaining overall data security and accuracy. Once the borrower is approved, he/she can access custom loans through the lending as a service platform.
Loan origination
LaaS covers the end-to-end loan origination automation for borrowers through digital channels. Borrowers can submit their personal details, and the platform can leverage its advanced algorithms to analyze different elements like income, credit history, etc. The LaaS platform then develops personalized loan terms which offer all the details on the interest rate and repayment schedule of the loan.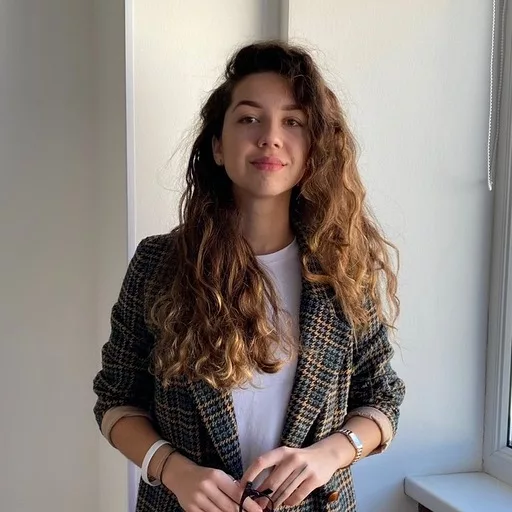 Loan servicing
The LaaS platform manages several aspects of loan servicing process after its origination. From payment collection to customer support, it handles all the tasks. The platform automates tasks like sending reminders to the borrower, handling payment processing, and tracking the repayment dates.
Capital markets access
LaaS allows easy integration of financial markets to secure the funding of the loan for the lending business. They can raise massive funds at low cost and offer them to their investors. It enhances the overall liquidity and lending capacity for the lending business and introduces a new asset class to the investors.
Reporting and analytics
Finally, the LaaS provider typically offers reporting and analytics tools to help businesses monitor their loan portfolio and identify areas for improvement.
What You Need to Know About BI for Your Customer Service Strategy TodayLaaS harnesses the power of modern technologies like AI and ML to offer robust BI and analytics tools to businesses to track their loan portfolios. They can analyze all the metrics, like credit performance, borrower demographics, repayment trends, etc., to offer deep insights for refining their lending strategies and filling the gaps in their area of improvement.
Benefits of lending-as-a-service
Let's see some of the benefits of embedded finance and LaaS for lending businesses.
Better security & compliance
KYC and AML in Lending or How Automation Improves Compliance The financial service sector comes with strict governance controls, security, and compliance. With LaaS solutions in place, businesses can enjoy a secure platform that involves high security on several aspects, like application, identity, and data. This high level of compliance and security reduces the stress for both lending businesses and consumers.
Higher flexibility & scalability
Another major advantage of LaaS and embedded finance integration is enjoying a higher level of scalability and flexibility. Lenders can scale up or down the computing power through LaaS according to their custom requirements.
Moreover, they can test the prototype of the software and other innovations in real-world conditions without any hassle. This allows them to adapt to the capricious nature of the finance market quickly.
Higher degree of automation
LaaS offers a higher degree of automation which reduces the stress of basic tasks from the shoulders of the employees of your business. It can streamline all processes, elevate efficiency levels and reduce human errors.
LENDING AUTOMATION
Not sure how to automate lending workflow?
Get a personalized digital strategy for free.
Cost-effective solution
It is pretty challenging for lending businesses to create an in-house custom solution. With LaaS, businesses can own a customizable lending-as-a-service platform without any upfront hardware investment and reduce overall IT expenditure.
Higher customer satisfaction & new horizons
LaaS and embedded finance allow the business to offer new payment options like BNPL and debt-like credit cards, which can help cater to the needs of small businesses and rising entrepreneurs through their credit offerings. They can even target the younger demographics that are struggling to rise in the competition.
Swift digitalization
All the manual tasks, like identity verification, closing processes, paper-based account opening, etc., can be digitized quickly with the help of a proper LaaS platform. They can automate the key aspects and even improve the loan origination time for businesses.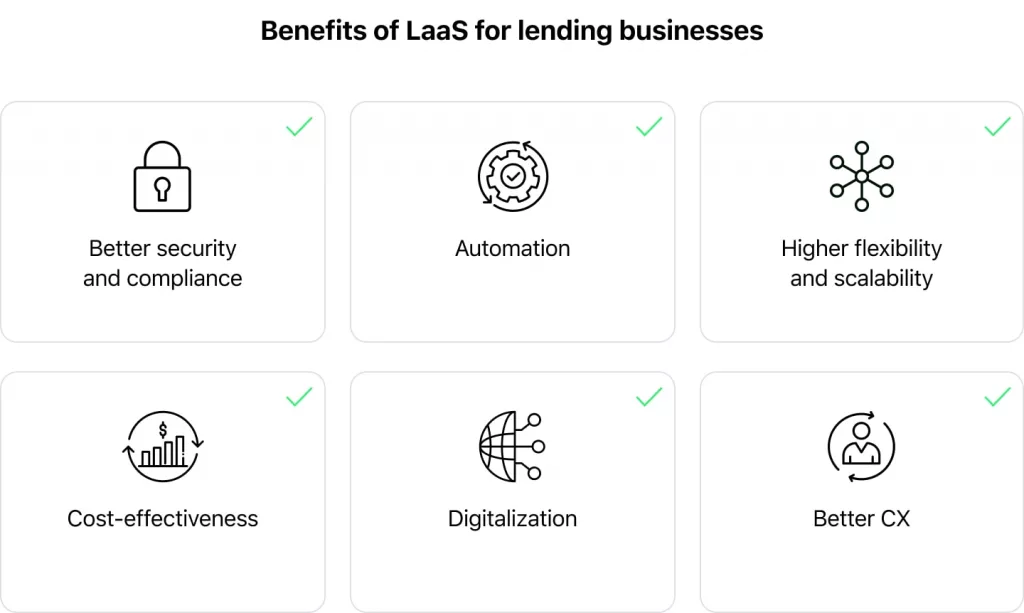 Top 5 best lending-as-a-service platforms
Given below are the top LaaS providers, along with insights about their financial models.
Stripe
Stripe imparts full-proof lending as a service platform named Stripe Capital which is useful in imparting hassle-free financing to your platform's businesses. Owing to its seamless integration, your customers get automated loan servicing without lengthy application procedures. Thus, you can easily gain, retain and expand your customer base in no time.
Payment Gateway Integration in Lending: How to Choose Once for AllFrom real-time credit decisions to fast financing options, Stripe's end-to-end lending API shares built-in access via Connect. Since Stripe Capital handles all crucial things in the entire lending cycle, including financial lending risk and compliance management, your customers can focus on other business functions.
The best part is that it offers platforms a revenue share on every extended loan, which opens a brand-new business income stream. Thus, it's a win-win situation for both your customers and your business.
Mambu
Mambu's resilient cloud-native banking system comes with a pioneer lending module that lets you modernize your lending solutions swiftly. It helps you build amazing lending products through no-code/low-code APIs without any arduous processes.
Its multi-cloud approach is useful in providing scalable lending solutions in the best way. With custom alerts and reports, you will provide accurate and transparent insights through your dashboard for monitoring key performance metrics smoothly.
From Personal lending and purchase finance to mortgages and SME lending, this lending solution encompasses all the chief lending needs and offers interest-bearing financing to your customers.
Also, this solution comes with a plethora of customizable lending-as-a-service platform features and follows pay as you grow model. Not just this, their simplified loan origination and flexible repayments facility helps them deliver customer-centric loans. You don't have to worry about embedding finance as their APIs and connectors add their modules into your well-designed systems in a jiffy.
Do you consider moving your business in-cloud?
Yes, it's more secure and convenient
No, it's expensive and unreliable
readers voted
Narmi
Narmi's platform is an amalgamation of smart lending solutions and impressive design that imparts a one-of-a-kind, digital-first banking experience. Its robust feature list includes underwriting, loan origination, automated decision-making, excellent reporting, and risk management. These are perfect to cater the modern-day needs and allow businesses to provide comprehensive lending services rapidly.
Narmi shuns the 'one-size-fits-all' methodology and channels its API and NAF (Narmi Application Framework) to add personalized functionalities as per your customer base. Thus, Narmi's platform focuses on tailored user experiences and incorporates the segmentation functionality for increasing both revenue and engagement.
Tavant
Tavant comes with a powerful LaaS platform called Touchless Lending™️ that prioritizes customer-oriented lending experiences and provides immersive lending solutions. Their flexible solutions cover a myriad of features, such as loan servicing, underwriting, analytics, and reporting tools that truly revolutionize digital enterprises with intelligent lending services. They seamlessly integrate with the existing systems, be it POS, LOS, or CRM, and proffer on-demand scalability.
With its machine-oriented workflows, your customers can make informed decisions quickly. Also, they can rely on this empowered lending solution for automated loan processing and effortless loan origination services with low repurchasing risks.
Since Tavant's frameworks are ready-to-use and meet customer expectations, they foster both customer conversion and engagement. Thus, integrating these lending solutions will surely reimagine customer experience and fast-track core lending processes.

HES LoanBox
HES LoanBox is readymade Lending-as-a-service platform that follows an omnichannel approach. Being both desktop and mobile-friendly, it is an outstanding white-label lending system with a remarkable array of features such as automated loan requesting, intuitive application flow and tracking, loan calculator, AI credit scoring, and debt collection mechanisms.
This All-in-one platform will fine-tune your customers' experience and holds the potential to serve businesses with a high degree of personalization. Following all the latest embedded finance trends, HES Loanbox is highly scalable and adapts to all business sizes and budget constraints.
Its modular architecture, advanced security protocols, and in-cloud implementation aligns with your business needs well, enabling your business to thrive and embrace the new-age technology. Its hassle-free task management dashboard also comes with ready-made features and notifies customers about relevant details via email and SMS.
How HES loanbox stands out from the competition?
HES LoanBox comes with three key modules, namely, Landing Page, Borrower Portal, and Back Office. Let's look into their details.
Landing page
With the innovative and interactive Landing Page of HES LoanBox, you can offer a one-stop solution for digital onboarding. Besides offering a superior user experience, it simplifies the whole loan approval process for eh customers and boosts the number of applications for your business.
Moreover, you can allow your customers to access the module from different devices, allowing them anytime, anywhere access. With these perks, you can convert your potential user into a customer and enjoy a better conversion rate and growth level for your business.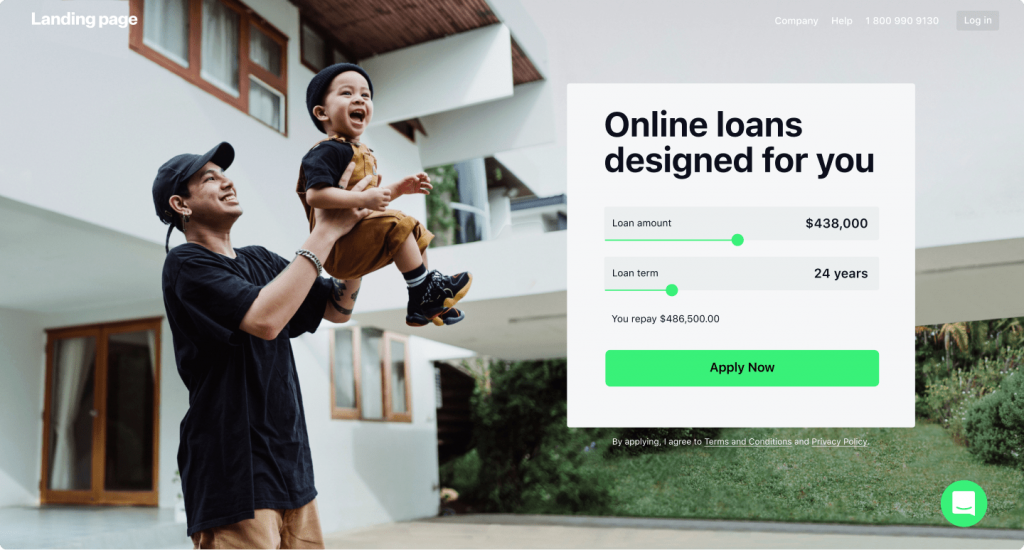 Borrower portal
The borrower portal is a seamless online client portal that allows your customers to apply for and manage the loan anytime. Customers have a safe space to apply for a loan application, track active and repaid loans, and manage all the applications.
They get an interactive dashboard to oversee everything under one roof. Moreover, they can access the loan calculator, which will account for all the metrics like interest rate, loan terms, and amount automatically and give the best figures.
Besides all this, the portal comes with a flexible infrastructure that can be adjusted to the lender's business model in no time.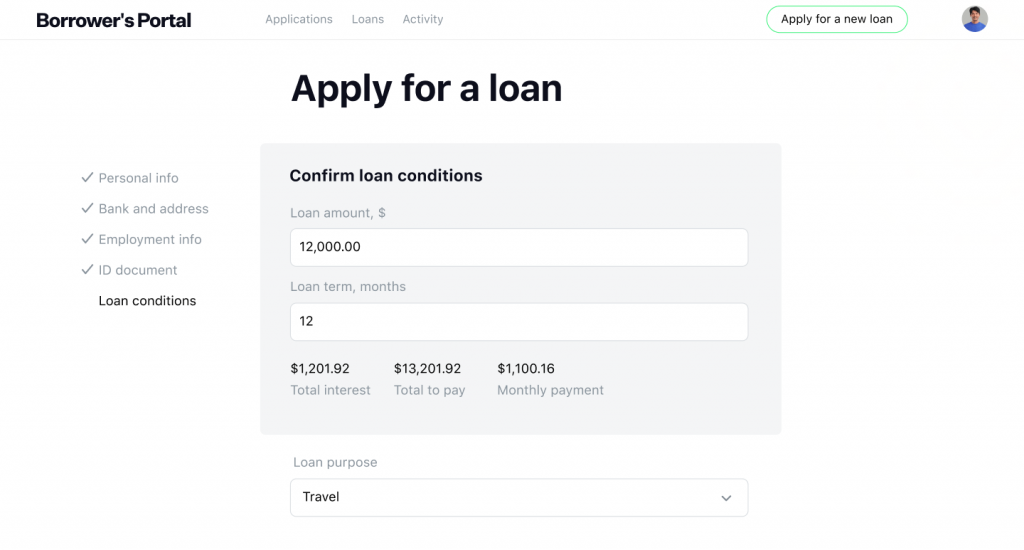 Back office
With the Back Office module, businesses get an interactive dashboard for loan management. They can manage all the aspects of the process from a single point. Loan application management, borrower management, operation overview, and notification and task management, businesses can handle everything through this module.
You can set the metrics, and the module will automatically approve or decline the loan application according to that criteria.
The HES LoanBox comes with an intuitive interface, and its no-code approach allows all users to adapt to its functionalities in no time. The solution is scalable and flexible. The in-house team offers lifetime customer support to all users.
Moreover, they guide the users on all the steps of the implementation phase of HES LoanBox with their business model. HES LoanBox can integrate with several popular lending platforms and completed over 160 projects in over 30 countries worldwide.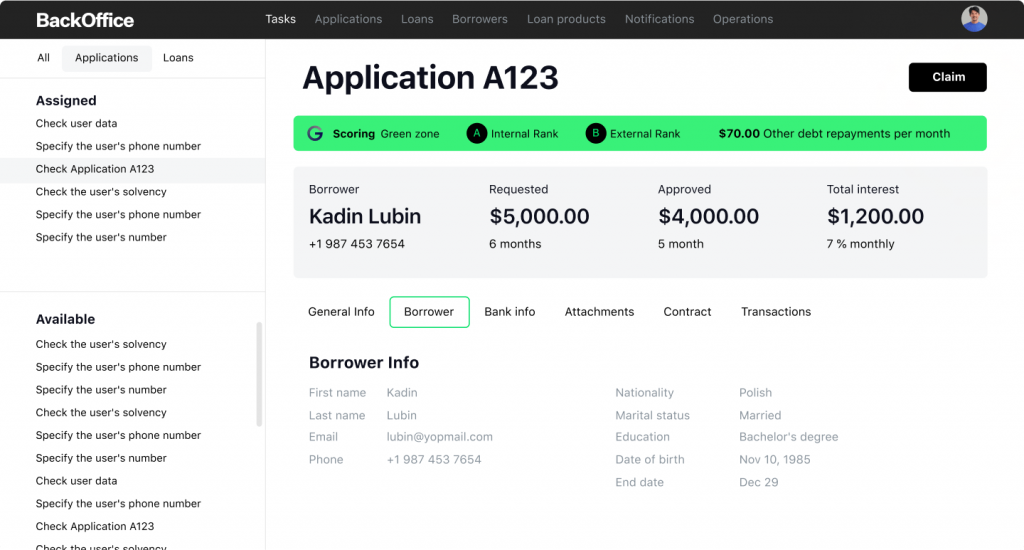 The key takeaway
With the higher flexibility and cost-effective approach of the LaaS platform, it is high time for lending businesses to ameliorate their operations and incorporate the emerging embedded finance trends by integrating these platforms. HES LoanBox can streamline the whole process and offers a one-stop solution to streamline the whole loan management process.
With AI-powered features, an interactive interface, easy integration, and several other perks, HES LoanBox is one of the top LaaS providers. Contact the HES LoanBox team now to get all the details on the robust lending platform.
HES LOANBOX
Wanna start lending within 2 weeks?
Book a personal demo tour to explore our fintech powers.