The rapidly evolving fintech landscape has presented a unique set of challenges and opportunities for lending businesses, banks, and financial institutions. Today, we stand at the intersection of financial services and technology where a modular system for lending businesses is revolutionizing the way we perceive traditional banking and financial operations. But the critical question that arises is: Should we opt for a ready-made solution, or should we develop a system from scratch? In this blog post, we will dive deep into both options, providing you with a comprehensive comparison and enabling you to make an informed decision.
Understanding custom loan software development
Custom-built lending solutions represent software that is specifically designed and constructed to align with the unique needs, processes, and operational structure of a business. Unlike the off-the-shelf solutions, these aren't general-purpose applications; rather, they're meticulously developed from scratch, keeping every detail of the business' specific requirements at the forefront.
Choosing Between Perpetual vs Subscription Licensing for Lending Software Given the bespoke nature of custom lending software development, the features are as diverse as the businesses themselves. In the context of lending businesses, a custom solution could potentially offer a tailor-made landing page, a borrower portal designed with custom workflows, and a back-office suite reflecting the exact operational model of your organization.
Advantages of custom-built lending systems
The main allure of custom-built platforms lies in their flexibility and high degree of customization. These solutions (when developed by the experienced development team) offer the potential for a perfect fit within your business, akin to a glove tailored to your hand. Seamless integration with existing software systems, adjustability to evolving business processes, and the ability to offer unique features that provide a competitive edge are among the primary benefits. However, it's important to remember that these advantages come at a significant price.
Approximate cost of custom lending software development
Business-Analysis-as-a-Service in Lending Software Development This table illustrates the estimated time and resources necessary for the development of a custom solution. The approximate loan management software price is calculated based on the average hourly rate of IT specialists in Western Europe.
| Type of work | Development time, h | Appr. cost, $ |
| --- | --- | --- |
| Planning | 500 | 20,000 |
| UX/UI design | 400 | 20,000 |
| Front-end | 3000 | 180,000 |
| Back-end | 5000 | 400,000 |
| Security | 1500 | 105,000 |
| Third-party integrations | 2000 | 120,000 |
| Testing | 1700 | 68,000 |
| Deployment | 800 | 40,000 |
| Management | 3000 | 240,000 |
| Total | | 1,193,000 |
Understanding turnkey loan management software
How to Develop Commercial Loan Software Off-the-shelf lending solutions are pre-developed software applications designed to meet the general requirements of a particular industry or business process. In the context of lending businesses, an ready-made solution is an all-in-one modular system that comes equipped with a variety of features to manage and streamline operations.
Advantages of ready-made lending solutions
Loan Management System Overview: Features & Requirements Turnkey lending software comes with a variety of benefits that make them an attractive option for many businesses, especially those looking for quick implementation and cost-effective alternatives. Each of these benefits plays a significant role in shaping the overall operational efficiency and effectiveness of your business. So, let's explore them in more detail.
Lower initial cost: Turnkey lending software pricing is typically lower upfront than custom-built solutions. They are already developed and tested, so you pay for the product as it is, without bearing the costs of loan software development from scratch.
Quicker implementation: Since the lending software is already built, it can be implemented relatively quickly compared to a custom solution that needs to be built from the ground up. This speed allows your business to start benefiting from the turnkey loan management system faster.
Reliability: Such solutions have been tested and used by multiple clients, so many of the bugs and issues have already been worked out. This extensive testing phase ensures a certain degree of reliability and stability in the solution.
Updates and improvements: Providers often have dedicated teams to update the software, adding new features and improvements periodically. The result? Your off-the-shelf lending system stays updated with the latest technological advancements.
Ease of use: Ready-made lending solutions are designed to be user-friendly and typically come with a well-designed user interface, making them easier for your team to adopt. They often have comprehensive user guides or training materials to help your team get up to speed.
Features of turnkey lending software: HES LoanBox spotlight
As loan origination software pricing is different for every set of features, it's hard to calculate an average cost for multiple software providers. We based this evaluation on HES LoanBox turnkey lending solution basic package. To estimate loan management software cost, let's explore the comprehensive features it offers to users.
1. Customizable landing page
HES LoanBox provides a tailor-made landing page, allowing you to make the right first digital impression on your potential clients. The landing page is customizable to align with your brand identity and to showcase your unique value proposition.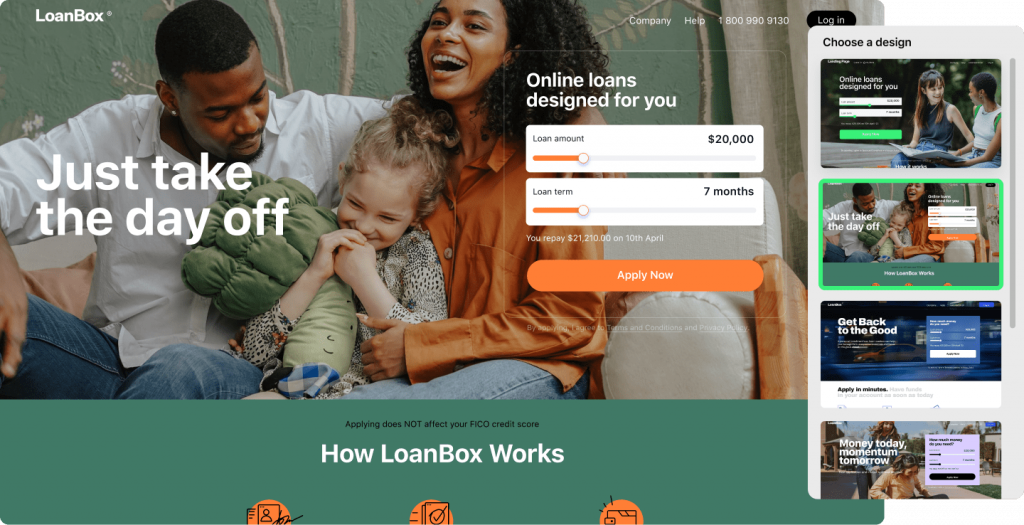 2. Borrower portal
It encapsulates a host of features that streamline the borrowing experience. HES loan origination software licensing includes and automated loan request system, an omnichannel approach for consistent communication across various platforms, robust KYC procedures, a well-structured activities dashboard, efficient application & loans tracking mechanisms, a comprehensive borrower profile section, an intuitive application flow, and timely SMS and email notifications. Additionally, a loan calculator is included, providing borrowers with a clear understanding of their financial commitments.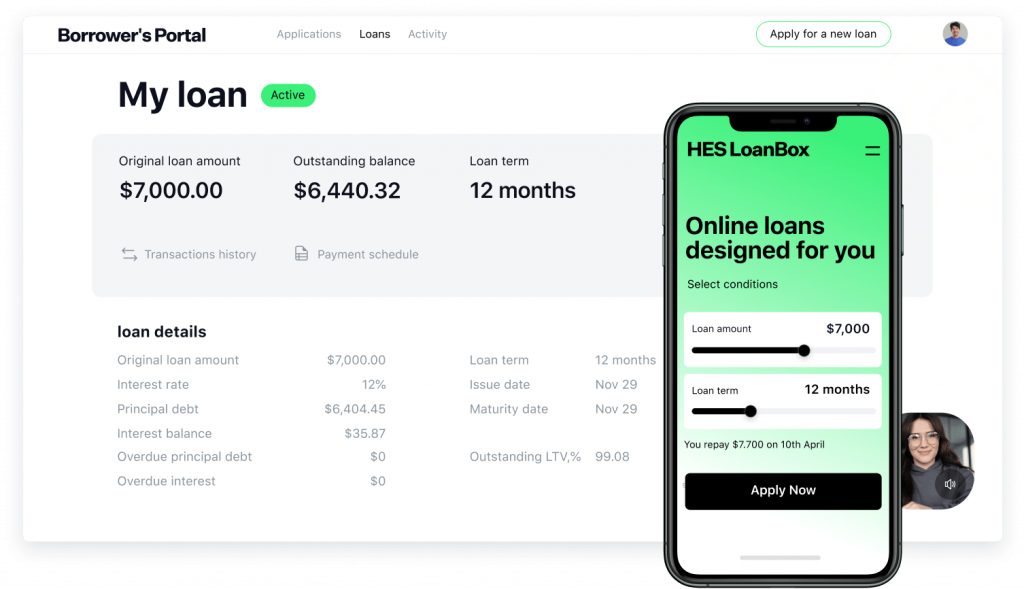 3. Back office
HES LoanBox isn't just about making the borrower's life easy; it's equally focused on simplifying back-end operations for your team. The back-office system comes equipped with application and loans management tools, a scoring system for assessing loan eligibility, transaction handling mechanisms, a task management dashboard for keeping track of daily activities, calculation and product engines for diverse loan products, customizable document templates, automated decision-making processes to accelerate loan approvals, and versatile user roles and models for a controlled access environment. Lastly, a comprehensive reporting feature is available to generate insightful reports on demand.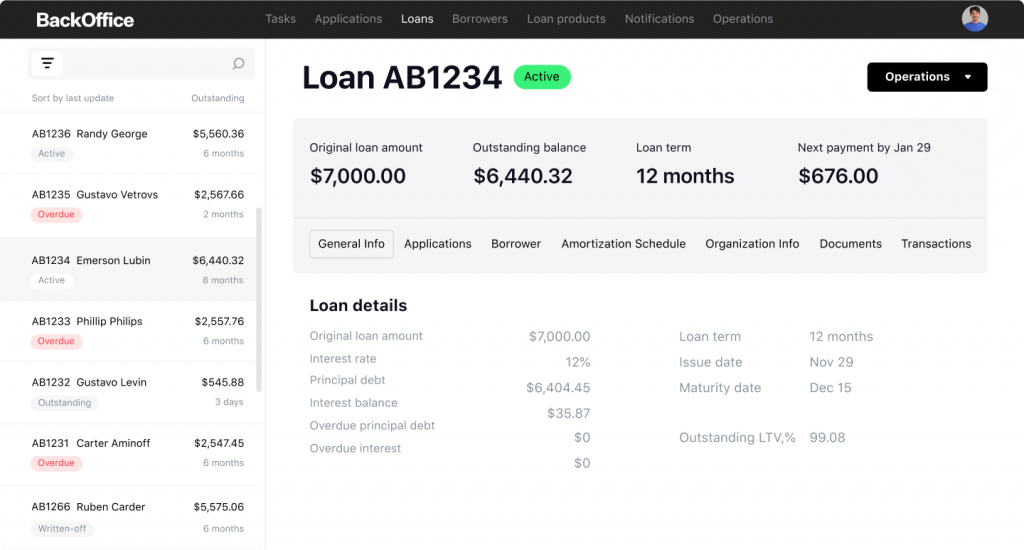 Each of these features, fine-tuned through the experience of serving diverse lending entities, makes HES LoanBox a powerful ready-made solution for banks, financial institutions and alternative lenders.
Typical cost of a ready-made loan management system
The off-the-shelf loan management software pricing can vary greatly based on the provider, the specific features included, and the level of customization required. However, typical costs include the initial purchase price, ongoing maintenance or subscription fees, costs for any necessary hardware or additional software.
For example, the cost for integrating HES LoanBox typically falls between $20,000 and $70,000, with the exact amount contingent on the specific needs of the client.
Why choose HES LoanBox: success stories
As we navigate the intricate landscape of the lending industry, it's the success stories of our clients that illuminate the true potential of HES LoanBox. Our clients, representing a broad spectrum of the lending industry, from payday lenders to mortgage providers, and hailing from over 160 countries, have chosen HES LoanBox for its ease-of-use and unparalleled speed to market.
Euro Groshi aimed to comply with European money lending standards for their online payday loan management. In just 2.5 months, HES delivered a solution with robust functionality and user-friendly UI/UX, handling multiple loan workflows in a single automated environment. This led to a 30-40% increase in customers in the first three months, with 75% of customers applying online. Today, new customer credit application processes take no more than 15 minutes, and repeat customers receive loan decisions within 5 to 10 minutes, giving Euro Groshi a competitive edge in the market.

Facing the challenge of needing a comprehensive solution for automating its entire microfinance lending process, MoneyMan turned to HES. We delivered an end-to-end loan management platform with enhanced features and robust security in a swift three-month timeframe. As a result, MoneyMan experienced significant growth and successfully expanded their services globally. Today, they've issued over 400,000 loans valued at over $80 million, demonstrating impressive year-over-year business growth.
You can read more case studies here.
Wrapping up
When choosing a solution for your lending business, both custom and ready-made options present their unique benefits and challenges. Custom solutions offer a high degree of personalization, specifically tailored to your business requirements. However, they come with significant time and financial commitments, potentially leading to a delay in your go-to-market strategy.
On the other hand, ready-made solutions, such as HES LoanBox, offer a cost-effective and time-efficient alternative. They provide a wealth of advanced features, robust security protocols, and ease of use right out of the box.
In essence, the decision boils down to a balance between the unique needs of your lending business and the resources you have at your disposal. It's about understanding the nuances of your business and choosing a solution that best aligns with your strategic goals, operational requirements, and budget constraints.
HES LoanBox bridges the gap between custom and ready-made solutions. It's designed with the understanding that every lending business is unique. Our solution offers the flexibility, security, and efficiency of a ready-made platform, coupled with the adaptability you'd expect from a custom solution.
If you're ready to kickstart a new business line at startup speed while ensuring full compliance with legal and security requirements, contact us today. Our team of experts is ready to guide you on your journey to digital transformation, helping you make an informed decision that brings tangible benefits to your lending business.