Getting commercial lending software is not a big deal today. Thanks to the developing fintech industry, gone the days when customers were required to fill out loan applications in-house and get to a banking office over and over. The emerging approach with commercial lending software drives digital lending transformation smoothly and easily, ending up brick-and-mortar commercial lending.
What is a Commercial Lending System?
A commercial lending software is a system used by commercial lenders to manage all loan operations, calculations, credit reporting, tracking, money processing, and risk management. Selecting a commercial credit software developer is one of the most significant decisions of a financial institution. Implementing robust tools and getting the right guidance from a vendor can increase efficiency, drive more loan leads, manage costs, and meet business challenges.
Read also
What are the Benefits of Commercial Loan Servicing Software?
1. Accelerated decision making
Gathering all the information and functions at hand, a commercial lending platform simplifies work and reduces decision-making time by hours. Brick and mortar lenders need up to two weeks to score an application, check credit history, and make a loan decision. An online platform allows you to cut off the time and provide money on the application date. As a result, you attract customers by work efficiency and have a significant competitive edge.
2. Improved accuracy in predictions
Modern scoring solutions allow you to reveal applicants who are more likely to pay back and track down debtors with a high default probability. By making accurate and reliable credit assessments you can stop wasting your time on non-performing loans. Unlike outdated credit scores (300-850), an AI-based solution allows building an unlimited amount of scoring models based on your historical data and parameters. Thus you can work with scoring models that perfectly fit your business rules and needs.
3. Added flexibility and customization
Lenders today demand the ability to service applications easily step by step via a single commercial lending software. You can use a solution that leverages analytics and reporting, built-in scoring, CRM, calculation, multichannel, onboarding, security, payment modules, etc. All-in-one platform can take the headache of moving customer data from one tool to another. The modern commercial lending platform is scalable and configurable around your business needs, not the reverse.

4. Maximized profitability
Commercial Lending Trends 2023: Navigating the Evolving Landscape By moving business online, you reduce time spent per application and automate the entire commercial lending process. The platform will automatically create reports and statistics, collect historical data per customer, update dashboards, generate documents, and more. Allround automation allows you to cut off staff or retrain specialists to concentrate on manual tasks. So you can relocate budgets towards marketing and customer acquisition.
5. Polished up customer experience
Best commercial lending software is important for improving the overall customer experience. Because nearly a half of users are always dissatisfied with commercial loan services, changing the way you onboard clients might become a huge benefit over competitors. The source of dissatisfaction usually lies in an application process. Offer them to choose communication channels, add AI-powered chatbots, provide personal accounts, and make a mobile-friendly website for their experience. And always collect user insights to address issues and prove the idea you care about your customers.

By doing it right, commercial credit software can help you reach the following results: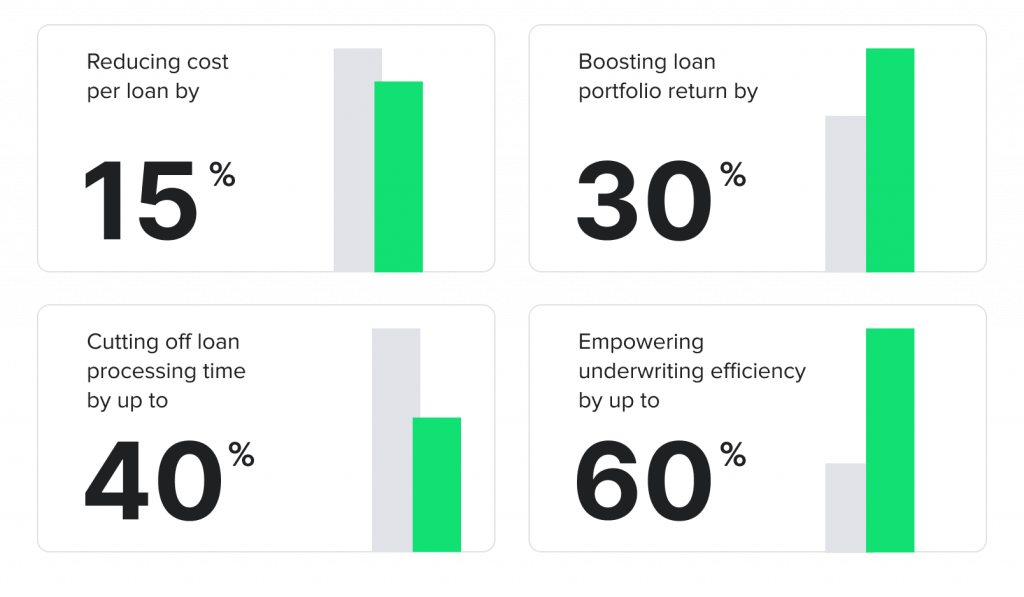 How to Develop Commercial Loan Servicing Software
The basic loan servicing software development process will keep the team and a client involved and help earn great profits.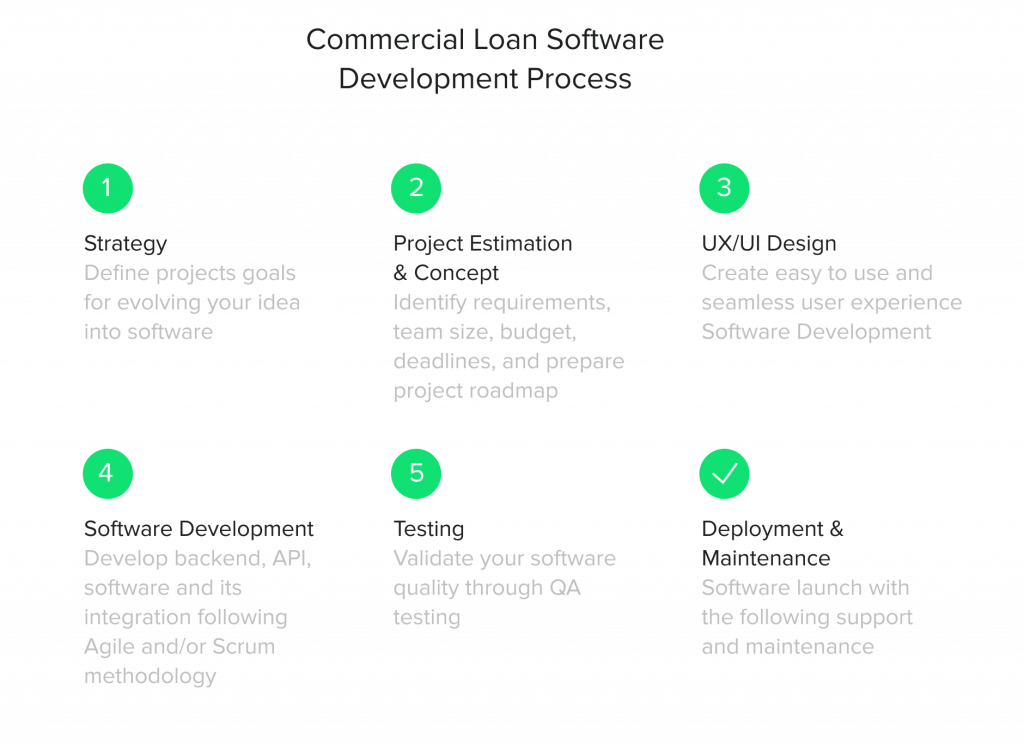 Idea
Everything starts with an excellent idea when a client reaches out to the development agency. At this stage is important to express your vision of software solution, budget expectation, and listen to comments.
Project estimation and concept
HES FinTech plays a key role in concept development, that's why we hire business analysts, project managers, and developers with expertise in banking and finance. To build a successful commercial lending solution, we create a project concept and project estimation, set up a deadline, and, if a client approves, start the project.

Design and development
Here we implement the client's ideas and make the written concept real. Our design team works on impressive UX/UI use experience, while software developers create your future lending solution.
Testing
Once the software is done, it's not ready to go on the market. Running puzzling software tests, our QA team seeks to find all bugs and issues to fix them and deliver a quality solution.
Support and maintenance
When your software is ready to use, we offer to support and maintain it. In case something happens, our team is online to fix bugs and save your money.
How Much Commercial Loan Software Costs
Depending on the scope of work, technology stack, and team size, the BA team estimates the cost of developing commercial loan management software. The cost ranges of a team vary per region:

Northern America: $50 – $250 per hour
Southern America: $20 – $75 per hour
Eastern Europe: $20 – $100 per hour
Western Europe: $50 – $200 per hour
Australia: $40 – $170 per hour
Asia: $10 – $50 per hour
In general, the cost for a simple commercial software can start from $30,000 and reach $100,000 and even more, if developing from scratch.

The quality of services various on the team's location too. The quality of services varies on the location, too. Most entrepreneurs prefer to work with US-based specialists or find outsourcing in Eastern Europe where companies offer the best price/quality ratio.
Read also
Conclusion
Commercial digital lending is a complex system. To deliver a successful project, we would recommend finding a reliable development partner with technical expertise in the fintech field and lending. Only a company that follows the latest technologies and launches solutions with diverse deployment ecosystems creates the best commercial lending software.
Whether you need a full-cycle commercial lending system development or simply want to choose affordable SME lending software quickly, HES FinTech can help you do that.

Contact HES today, and our dedicated team will be working on your lending solution in no time.