With a CAGR of 11.7%, the fintech market is still on the rise. Estimates suggest that it could hit $188 billion by 2024. However, it's not just established market players that are making waves. Fintechs and SMEs are challenging the big-name banks in a never-before-seen way. According to a report by Deloitte, consumers are more willing than ever to jump ship at minor inconveniences, and considering just 37% believe that banks meet their needs — this could signal an unprecedented window of opportunity for small and medium businesses to step into the gap. At HES, our focus is on lending software solutions, so that's why we're more than happy to share our experience on the best budget-friendly way to build lending software for small business in this guide.
Why does budget-friendly SME lending software matter?
Think only world-known brands have the possibility to build functional SME lending software that wins the hearts of customers? Think again. Fintechs are on the rise, and many of them, not so long ago began as small businesses.
Take financing giant Klarna for example. Back in 2005, just over fifteen years ago, Klarna was founded by three individuals from Stockholm. Today, the company brings in over $1.6 billion in revenue a year (2021).
Or take Wise, the international money transfer company, which launched in 2011. In 2022, the company bought in £559.9 million, making it one of the fastest-growing fintechs.
Then there's Scalapay, another rapidly growing fintech, founded in 2019 and valued at $1 billion just two years later.
But these companies are just the tip of the iceberg. Below the surface, there are many small and medium-sized businesses with the potential to become the next fintech unicorn or run a sustainable long-term business. The only thing standing in the way? Having the best technology on hand and balancing it with the costs.
Not sure what solution to choose for SME lending? Take a 5-min quiz
How to choose lending software for small business: must-have features
By 2026, it's estimated that $3.4 trillion will be spent on digital transformation in business, with a primary focus on improving operational efficiency. But what does that look like for a young fintech seeking to upgrade their loan software for a small business? Let's take a look.
Loan Management Software Features to Invest in at the MVP StageWhen contemplating developing any lending management system for an SME, it's important to take into account a number of factors, including:
1. Payment security
With data protection and concerns remaining high, ensuring your platform has top-level payment security is a must. This helps build trust in your brand as mishaps in this area could be costly.
2. Onboarding speed
Convenience is everything. According to a recent report 68% of consumers left the digital onboarding process when signing up to a fintech app, leaving your brand a window of opportunity to get it right.
3. Credit scoring mechanisms
Staying ahead of your competitors is where unicorns are made. But even if your aim isn't to become a mythical creature, having a solid credit scoring mechanism boosts your business success chances.
4. Document management
Bureaucracy within fintechs is a necessary evil… or is it? Automating the document management process can save you time and money in the long run.
5. KYC and regulations
For your fintech to gain trust, remain popular, and (most importantly) legal, you'll need to ensure its compliance with national and international laws, such as KYC, AML and more.
6. Analytics and reports
No business would be complete without analytics. Both on the client side for personal money management and on the business side to evaluate how effective everything is, analytics are everything when it comes to your SME lending solution.
Of course, while having the best loan origination software for small business is ideal, it's not always a reality for companies. So, how do you know where sacrifices can be made without jeopardizing your overall strategy?
WARNING! If your company grows rapidly additionally resources may be required in order to scale your medium or small business lending platform effectively.
SME LENDING SOLUTION
Psss… Wanna start lending within 3 months?
Book a personal demo tour to explore our fintech powers.
What software do you need for controlled digital lending?
There are several types of lending software that NBFCs and private lenders take for automatization of both internal and external processes. To select an affordable lending solutions for small business, consider first which parts of lending process are the most crucial for you. However, there are some software suites that are needed for all types of lending.
Loan origination software for small business
This software kit covers four main directions of loan origination.
Digital onboarding – usually refers to online landing of your potential client on a digital platform. The main task on this stage is to attract as much customers as possible and proceed them to application. That's why it's so important to have a highly engaging website, that provides user with all the needed info about your financial products. Apart from outstanding UI/UX, there must be helpful features for user, such as loan calculator and cross-device access.
Online application – the feature that enables your potential clients to apply for a loan anytime without necessity to visit your office. Multichannel approach and automated information input are the most important factors at this point, as they sufficiently reduce abandonment rates and improve the quality of data provided.
Application processing – backend module that facilitates the decision-making and quickens the job of loan officers. An effective application processing module should include task management dashboard, automated application scoring, KYC/AML systems, PEPs lists, blacklists, debarred companies lists. The feature is able to drastically enhance the loan application processing speed.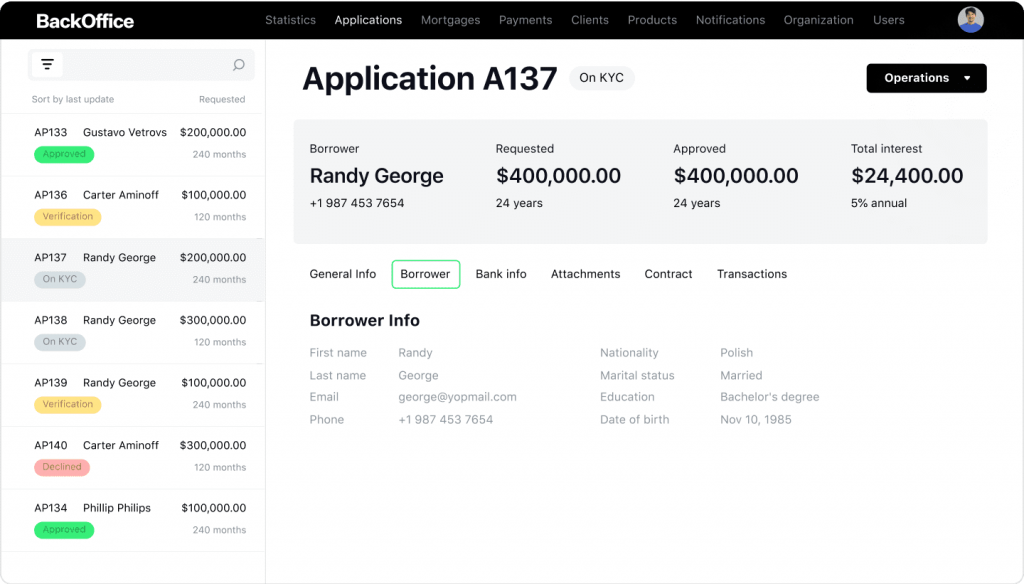 Product engine – possibility to create diverse credit products and set custom conditions for interest rates, lending terms, payment regularity and others. Product groups management is required for SME lenders to provide clients with flexible lending solutions.
Loan servicing software for SME
Loan servicing tools cover billing and payment administration of loans. Basically they consist of three modules.
Payment system – pre-built or integrated module that enables borrowers to conduct online transactions and financial institution to receive and process fees. Security of payments and compatibility of API integrations are the factors to pay attention at the most.
Calculation engine – back-office feature that provides small business lending software with possibility to set up calculations for various product types
and automate credit disbursement. With calculation engine lenders configure and track payment schedules, perform day-to-day calculations for accruals and write-offs.
Loan operation – empowers loan officers to change basic conditions, set commission rates and penalties, define disbursement and repayment
terms. At the stage of choosing the right SME loan software consider solution to have payment delay and rescheduling feature. These might come in handy to change the loan structure and term or to top-up an existing credit amount.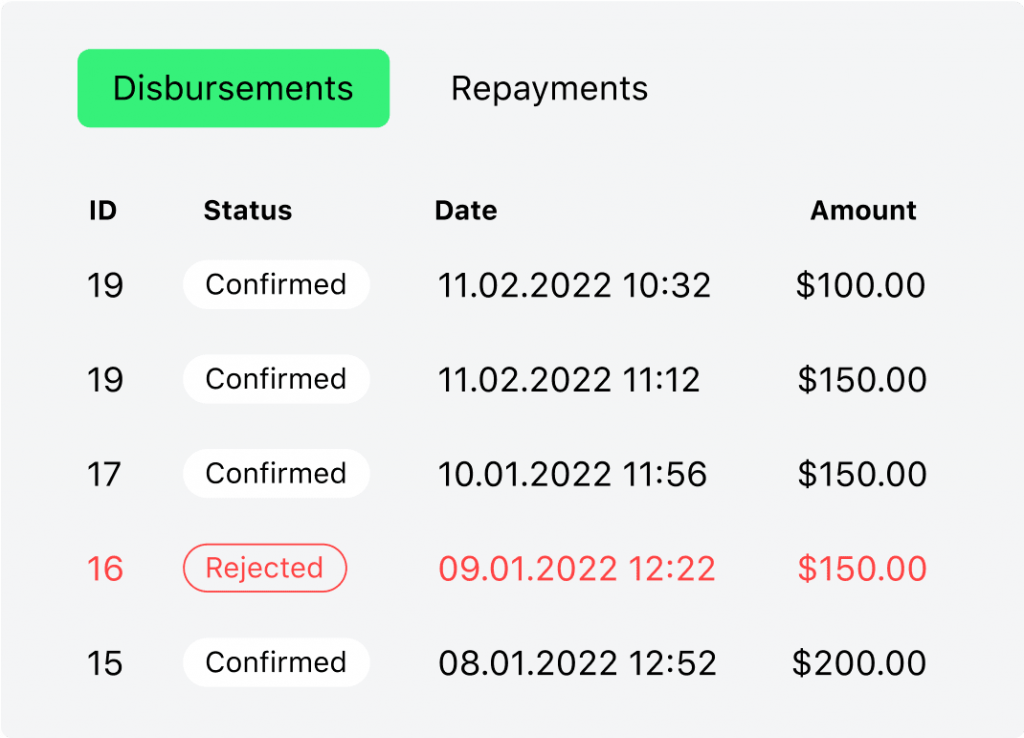 Additionally, you may want your software to have the collateral module to manage the pledge of property for particular loans. This function is optional for some lenders, so note this point while distinguishing between solutions.
Accounting and reporting
For SME lending software built-in accounting and reporting modules might seem as a great decision: implemented tools are sufficient for all the business needs. But it's only a matter of time when your business will overgrow the existing capacities and require scaling of accounting workflow and customization of analytics. Building advanced tools is always pricey and time-consuming, that's why you might need the 3rd-party integrations.
To save precious resources it's better to think it over from the start. Accounting and reporting APIs like Xero, Zoho, HubSpot and Tableau provide business expansion reserve. Some off-the-shelf lending software solutions include flexible integration possibilities, so make sure you will have that margin at all the stages.
SME loan software: affordable ways to level-up up your technology
In the business world, there's a saying — it's either quality or quantity (note: you can replace quantity with speed or other variables). But does it really have to be this way? Well, for the most part, this rings are true. However, savvy financial business owners know a few tricks to help manage the costs while still ensuring that you get top-level loan software for small business. How? Let us share with you one of our not-so-well-kept secrets.
How to Choose the Top Loan Origination System for Your BusinessThe trick is in how you create your SME loan software solution. Of course, there are numerous ways you could do this, some more costly than others. For example, you may consider hiring a team of in-house developers to ensure maximum security. But, this doesn't always work. Firstly, because it's a challenge to find a qualified team, secondly managing that team is costly, and third, you are responsible for all parts of the process, even if it isn't your area of expertise.
So, what's the alternative to an in-house team for a small business lending platform? There's three.
Outsourced loan software development — acquiring a dedicated SME lending software team from a reliable provider means you'll always have the experts on hand to help with any issue. The downside is you could run into recurring costs, so be mindful of this when budgeting.

Loan software kit purchase — an out-of-the-box, customizable solution to help your business build software with little help from developers. Works effectively if you need something pretty standard and ready to go.

Combination — there's no hard and fast rule that says you must choose one of the above options. Instead, you can combine, chop, and change until you find a combination to suit your business needs.
Custom or out-of-the-box: how to choose the right path for your SME loan software
Now, we already know that custom is generally going to mean expensive, but what other advantages and disadvantages does this approach have when compared to an out-of-the-box financing software for a small business solution? In the table below we'll look at the options and compare custom development with an SME loan software kit, such as HES LoanBox.
Custom vs. readymade lending software for small business: comparison

| | | |
| --- | --- | --- |
| Feature | Custom development | SME loan software kit |
| Pricing | Cost per developer's hour, this can be anything from $40 to hundreds of dollars | Subscription fee per month or quarter. This is a rate set by the company in the agreement |
| Time to market | 9 – 12 month depending on complexity | 2-4 weeks is fairly standard |
| Customization | Floating costs and terms of new features delay the process, but more space for custom features | Limited customization, fixed prices for a certain feature addition, but allows some flexibility |
| Security | Depends on professionalism of devs, shared responsibility, and your responsibility | Vendor carries all responsibility for security, meaning you don't have to worry |
| API & integrations | Business owner spends time to pick the right APIs and regularly pays for subscription | Readymade suit of useful APIs, usually included in subscription price |
| Technical debt | Business owner initiates system updates and renovations in a proactive way | System is supported up-to-date constantly so there's no need to ping your dedicated dev |
Does SME lending software need much customization?
Fully customized modules and management features
Easy customization of interface and workflows
readers voted
Points to consider while choosing the SME lending solution
You know the options, now it comes time to choose, but which loan management software is right for your business? Start with your overall business strategy. At this stage, look at the bigger picture — what do you want to achieve? Before getting into the nitty-gritty of which tech should be employed and how.
Once you've done that, it's time to ask yourself some questions, such as:
Do I need to scale? — while hopefully the answer will be YES, it's important to consider this option early on as this will determine the type of software. Choose incorrectly and you could be left with a lot of tech debt. Choose correctly and you could hit the market running. For example, although an out-of-the-box product, LoanBox is a scalable tool that grows alongside your business.

How much do I need to customize? — out-of-the-box tools are great for organizations that need fairly standard features. For others, it's better to seek elsewhere for a good fit. That said, some level of customization is ok for SME lending software done via out-of-the-box tools.

Which platforms do I need it for? — it's time to know your audience and the platforms they prefer. Remember we said today's consumers aren't easily fooled, well now's the time to take their preferences into account.

Which borrower functionalities do I need? — from back-office lending tools to front end onboarding software, knowing what you need for your end users will define the user journey — making payments, application status, online application, etc. Defining this will help you choose the right platform for you.

To Whitelabel or not to Whitelabel? — when it comes to branding and marketing, how important is whitelabling to you? This may help indicate the level of customization you need.
Armed with this information, you can begin to consider some of the implications of out-of-the-box vs. custom. However, if you're still on the fence, there is one more trick up our sleeves.
Try a demo for your small business lending platform

Seeing is believing, right? That's why, where possible, one of the best ways of understanding if something works or is going to work is to try it yourself. Although this isn't possible with fully custom software, out-of-the-box tools like HES LoanBox SaaS lending platform are happy to reveal the mysteries behind the curtain.
HES LOANBOX
Wanna start lending within 2 weeks?
Book a personal demo tour to explore our fintech powers.
Best loan origination software for small businesses

As you may have guessed by now, there is no one best loan origination software for small businesses toolkit. Instead, the thing to be concerned about is which one is the right fit for you.
Custom software can be pricey, but if your business needs this level of customization and is willing to dedicate significant resources and energy to making it a reality, then the personalization element can pay off. However, if you need a less customized, more functional platform, out-of-the-box could be for you.