Mortgage lending has been booming in the second half of 2021, and even with the pandemic, it seems to continue prospering throughout 2022. The housing market trends on rising mortgage rates, home prices, and competition between buyers might be of current interest for much longer. But even if there're hardly any signs of slowing the demand for existing homes soon, lenders aren't dealing with the situation at ease. High competition, growing customer flow, and first-time home buyers' issues – to handle all of these financial institutions have to adjust by going fully digital.

Having a solution to help our clients, we decided to investigate the mortgage lending industry trends and forecasts for the year. We're going to guide you through the technologies and tools which will help you follow housing market trends.
Read also

Here are mortgage loan trends and solutions to watch for in the year 2022.
Mortgage Industry Trends 2022 in the Anglosphere
If there's one thing that the global mortgage lending market has learned over the past years of Covid-19, it's that trends in the industry are increasingly difficult to predict. However, the major economic and financial agencies already have a list of mortgage lending trends and rates for 2022 to help businesses get ready for the coming challenges.
The United States
It's hardly possible to accurately predict the mortgage rates for 2022 since the situation on the market remains unstable and is changing at a rapid pace. But the majority of sources share remarkably uniform forecasts for mortgage rates.

According to Freddie Mac the average rate for a 30-year fixed home loan is to reach 3.8% by the end of 2022. 
Charles Dougherty, an economist at Wells Fargo Securities expects the rate to reach 3.9% in 2022.
Raymond Sfeir, director of the Anderson Center for Economic Research at Chapman University, pegs the rate at 4% by the end of the year.
The Mortgage Bankers Associations predicts a 4.3% reach by the end of 2022.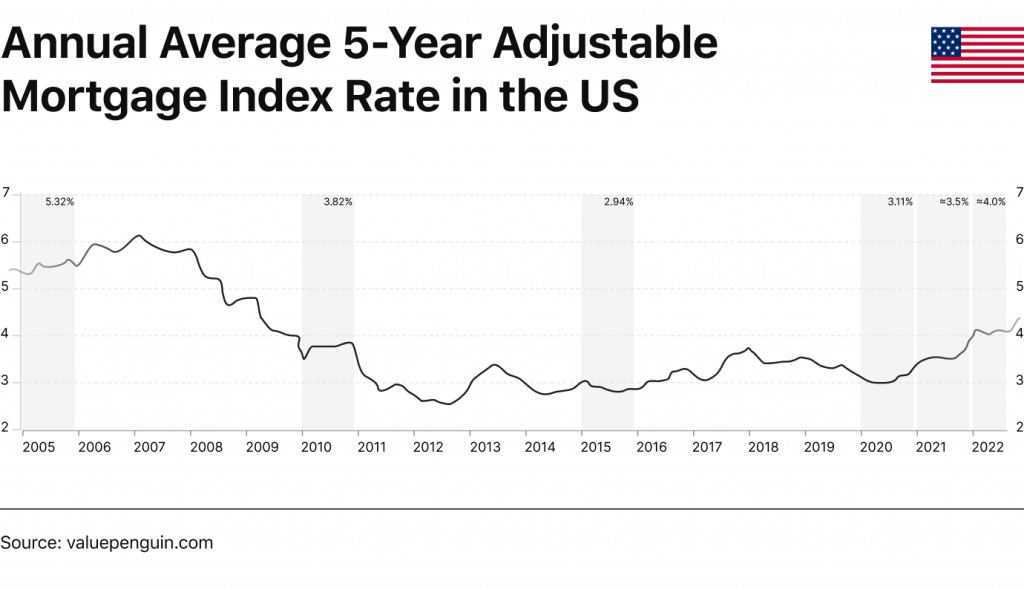 Rising interest rates will cause a sharp drop in the refinance demand resulting in a lot less business for mortgage bankers. The MBA predicts total origination volume will drop 33% to $2.59 trillion (£1.927 trillion).

Considering home prices, Freddie Mac expects them to rise 6.6% by the end of 2021 and decrease by 4.4% in 2022 due to inflation. New and existing home sales are predicted to slightly decline to 6.7 million homes in 2022 (as compared to the expected 7.1 million in 2021).
Canada
A market observation in 2021 demonstrates a cooling-off of the mortgage market from its intensity in the first half of 2021. Although, the Canadian Real Estate Association's report shows that national home sales actually began to pick up since August 2021. Even though RBC Economics forecasts a 20% decline in home sales in 2022 but purchases still will be keeping up above the 10-year average.

Observing the movement of mortgage rates in Canada since the 2000s, rates tend to decrease. Based on the graph, you can see a rising process in the 2010s, culminating in the 2020 pandemic which weakened the economy of Canada (hit record lows). However, experts predict the recovery of the economy with the rapid increase in demand for housing lending services. It's expected that the Bank of Canada's short-term interest rate will increase by about 0.75% by the end of 2022.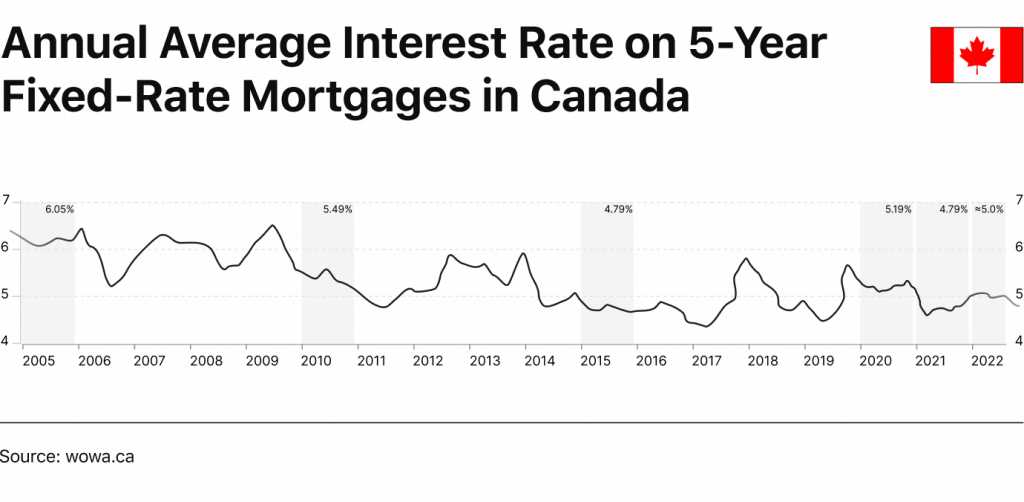 The United Kingdom
Unlike the US, the mortgage market of the United Kingdom generally remains stable after the decline in 2019-2020 but there's also been noted a 3% (£38.2 billion or $51 US billion) increase in demand for mortgage lending services. According to the Intermediary Mortgage Lenders Association's report, the housing market demonstrates a reasonably strong performance in 2021-2022 barring further major adverse tax changes.

To withstand the Covid-19 crisis, the UK Government loosed monetary policy and is already supporting a stronger housing market.

According to the report, the gross mortgage lending is expected to rise to £283 billion ($380 US billion) by the end of 2021 and continue growing throughout 2022. They expect that gross lending will be 17.3% ahead of last year's level, with lending for house purchases being the main driver. The UK mortgage market can expect net lending to rise 13.6% to £50 billion.

Considering interest rates, they've only risen twice over the last 12 years. According to the Property Industry Eye, mortgage rates will keep remaining low compared to historical norms (4.5% on average in the early 2000s). It's forecasted that house prices will end in 2022 at 3%.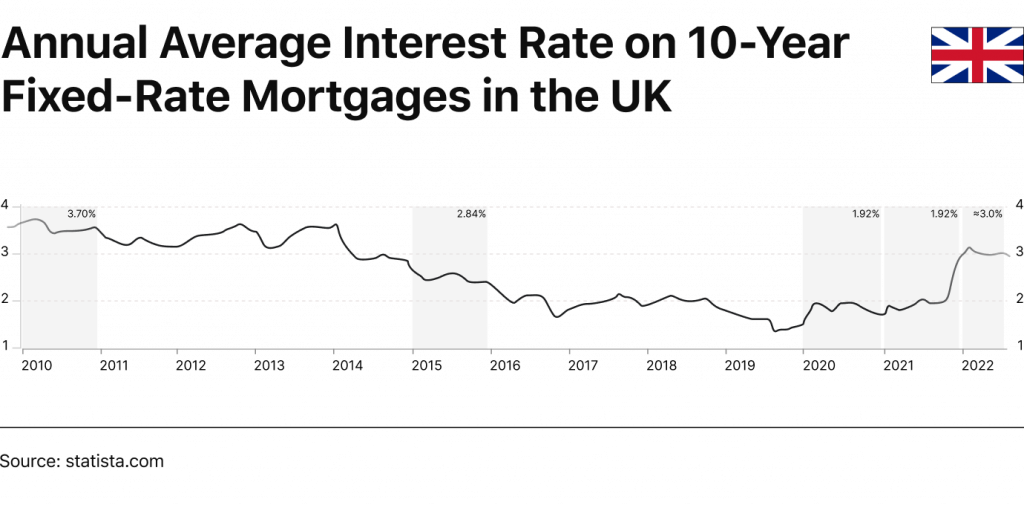 Many experts still forecast the house prices to fall in 2021 and 2022 despite the prospect of a robust economic recovery coupled with stronger household incomes. The OBR, to give an example, forecasts house prices to fall 3.5% in 2021 and a further 2.6% in 2022. However, the Intermediary Mortgage Lenders Association predicts that house prices will keep rising by the end of 2022.
Technologies to Obey Housing Market Trends in 2022
While the demand for owning a home is relevant for English speaking countries, the mortgage lending landscape has changed radically after the pandemic. It led to the rise of remote working and relocations out of central urban areas, increased demand for digital banking and financing, and deployment of automated humanless servicing. Since at least half of customers are first-time Millenial buyers who require the digital transformation of the entire mortgage chain, mortgage lenders need to adjust and increase the adoption of technology.

According to the global survey by Infosys, mortgage lenders who spent on digital infrastructure during the pandemic capitalized on their investments, while those who were stuck in paperwork lost their businesses.

Here's a rundown of technologies to follow mortgage lending trends in 2022.
Online live chat features
Chatbots with fast responses have been a must for businesses that seek to empower their customer onboarding process. Instead of simply waiting for minutes for a response, AI bots start collecting information about an applicant building a good impression of the first-time connection. They can also show the time until a specialist responds and provide additional information to increase awareness.

Based on the latest research, chatbots increase the time by up to 7 mins mortgage borrowers spend waiting for a response from a company's representative. Compared with businesses without chats, 57% of customers only wait for 1 minute only and leave the page.
AI scoring and risk management
Automated scoring and risk management processes allow decreasing time to decide by hours. Builders sell houses within up to 4 hours, so borrowers don't have even several days to wait for a response from a lender. Digital mortgage lenders with fast and accurate AI risk management can process more applications with fewer risks. As a result, closing more mortgage lending deals.

According to the latest insights, AI-powered scoring already demonstrates positive results in the mortgage lending industry. Mortgage lenders using GiniMachine, for instance, note a decrease in non-performing loans by 34%. The platform allowed them to expand their customer base by reaching thin-file borrowers and increasing their income as well.
Automated paperless process
Automated follow-up calls, automated loan granting, automated document management, automated reporting, and even more automation are essential because potential customers in 2022 can hop around to dozens of competing options and won't stick until they get quick attention.

Modern solutions for mortgage lending provide an opportunity to go away from a huge stack of paperwork that Millennials highly appreciate. According to Infosys, 34% of lenders combine paper and digital application and processing, while 51% of agencies already follow a mostly digital approach. Why? Based on the statistics, 90% of younger customers prefer hybrid banking services or digital lending only. Younger buyers especially want digital lending and on their timeline what is possible with automated mortgage lending software. So, lenders have to either adapt to digitalization or lose the business.
CUSTOM SOFTWARE
Psss… Wanna start lending within 90 days?
Book a personal demo tour to explore our mortgage lending software powers.
Read also
How to Prepare for the Mortgage Lending Market Boom
Pick up a reliable software vendor first. Since the demand for quality digital lending is growing, a tech-savvy fintech partner can help reshape the business.

Here at HES, we follow the idea to help lenders change with the market and digitalize their processes to keep up with mortgage loan trends. By taking advantage of new technologies, maintaining a customer-centric approach with dedicated onboarding and verification, and using inbound marketing modules, HES FinTech can support digital mortgage lenders in attracting more home buyers and converting them into customers.

If you're looking for a tech-savvy vendor to follow mortgage lending trends of 2022, get in touch with HES FinTech. Explore our use cases to ascertain the HES' expertise