Financial Services Marketing Trends To Build Your Strategy If the promotion makes up 90% of your bank marketing strategy, you're doing it wrong. Today's marketing world is so much bigger, and your customers expect more from your business — and this applies whether you're a traditional bank or fintech consumer lending solution provider. That's why it's time to sit down and rethink your bank marketing strategies if you haven't done so already. But don't worry, we won't leave you high and dry. We've brought together some of the best tricks and tips for financial institutions marketing strategies today.
Why doesn't promotion work as a bank marketing strategy?
Sale, sale, sale. While we all love a bargain, just having a promotion doesn't work well for brands in the long term. At least not by itself. Promotional activities are often short-lived, and while you might reel in a couple of fish, the chances of keeping them long-term and finding value are fairly slim. Promotion, as a bank marketing strategy, has several flaws:
Promotional tactics can be costly. From running campaigns to giving discounts on services, promo campaigns are not among the most cost-effective bank marketing strategies out there. Instead, they tend to be costly. So, before trying this one out, it's essential to make sure the payoff is worth it.
It's a short-term tactic. Running promotions cheapens their value and, potentially, your brand's reputation. Although short-term offers can draw in interested clients, having promotion as the centerpiece of your marketing strategies in the banking sector isn't a good idea.
Current clients may be disgruntled. As a banking provider, you likely have some loyal clients who have been with your brand for years. With current economic challenges, likely, their rates are not so great right now, so they could be left disgruntled by any sweetened offers for new customers instead of favoring loyal ones.
That said, including some sort of promotion as part of your marketing strategies in the banking sector could be a strategic plan, providing it is carried out alongside a wider-ranging strategy.
What is the ideal marketing mix for financial institutions marketing strategies?
So, what should you have instead if promotion as a standalone strategy isn't enough?
You've probably heard of the 4 Ps of marketing promotion — product, price, place, promotion — and that's great. The marketing mix for financial institutions marketing strategies takes this and adds 3 more Ps Process, People, and Physical evidence. They serve as additional milestones that help your brand connect with its client base, find new customers, and achieve its marketing aims more efficiently.
When it comes to marketing strategies in the banking sector, having the perfect marketing mix for your brand can help it to:
Create a well-known and trusted brand image
Deliver a sense of value to your customers
Find its correct market find
Save move on useless campaigns and save it for valuable ones
Make an impact on the financial services industry.
What are the 7 Ps and why do they matter for your bank marketing strategy?
Let's unwrap the mystery behind those seven letters and what they mean for your bank marketing strategy.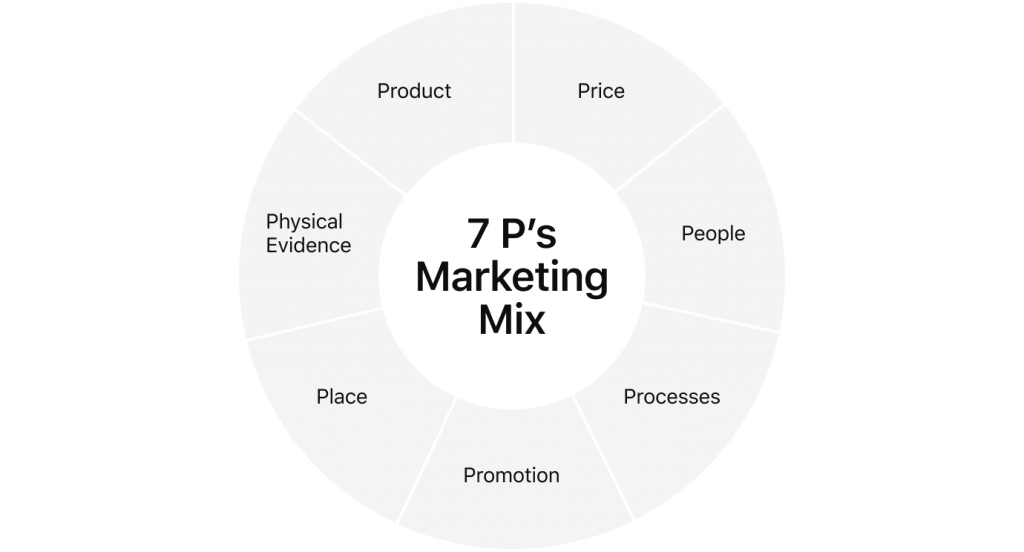 Product
It all starts here. For your marketing to be successful, your product has to be first. When it comes to banking, the products and services you supply must answer the needs of your precise market. At this stage, it's essential to undertake research to understand your consumers' needs.
For example, they may be interested in specific products such as Savings Accounts, Current Accounts, Loans, etc. In this case, you may need to make sure your loan servicing software is top of the range. Or they may be seeking something more innovative, such as cryptocurrency trading or fintech services.
No matter what, it's essential to remember that there are no commercial loan marketing strategies or other banking strategies that will be successful without a solid product.
Price
All over the world, finance is a highly regulated industry, and with good reason — you are responsible for your clients' money. As they say, "with great power comes great responsibility," and with it — regulations on pricing.
Although you have some say in the prices of your services, it's vital to consider the must-do charges and their rates. Depending on where you are, these may include interest rates, commission, fees, etc. That's why, when designing any offer or campaign, it's essential to ensure these are included and clear to your client.
Process
Drawing consumers in is an admirable result in a successful digital marketing strategy for banks, but getting them to stay? That's another matter. To ensure consumer satisfaction, marketing strategists must delve into the customer journey and understand if the correct processes are in place so that any potential clients don't leave disappointed.
Upgrading Bank or Credit Union Software? Here's How to Partner with a LendTech For example, this may mean ensuring a seamless UX for the bank's app that allows seamless onboarding or the inclusion of a microfinance software demo, so a client doesn't waste time understanding if your software is what they want. No matter the needs, ensuring the process remains as uncomplicated and succinct as possible boosts success.
Place
Marketing, like life, is all about being at the right place at the right time. That's why the placement and positioning of your marketing strategy are essential to its success. For example, you may need to consider how and where your clients use your services and which services they currently use.
How could this look in practice? Imagine the ways you can connect with your consumers. It may be to advertise new digital services via an ATM machine suggesting easier ways to make payments or even consider banners or pop-ups in your mobile app to connect with consumers better. The placement is one way to ensure you reach and connect with your intended audience.
Promotion
The Ultimate Marketing Ideas for Loan Companies to Generate Leads Although promotion shouldn't be the entirety of your strategy, it is a key part of it. Using multichannel or omnichannel marketing can help you better connect with your audience in a way that suits them. This may include using a variety of formats, such as:
Ads on TV, billboards, online banners, etc.
Informational campaigns
In-app messages
Push notifications
ATM messaging
Etc.
Top 9+ Ideas for Marketing Automation in Lending But it's not just where you promote. It's how you do it as well. In this case, you must consider which customer is more likely to use a particular media and tailor it for them. For example, a student may be best connected via digital marketing strategy for banks, whereas an older person may prefer postal communication or vice versa.
People
It's all about the customer. Knowing your potential and current consumers is a key underpinning of how to run your overall marketing campaign. At the same time, it's not just your consumers you need to take care of. It's your team too.
Your staff is the frontline in client interaction. That's why it's essential they are on board with the overall marketing strategy, understand it, and are able to utilize it effectively in client communications.
Seamless communication from your team boosts brand reputation and helps establish trust.
Physical evidence
Can your bank live up to its claims? Does it do what it says it does? Having evidence to back up any claims made by marketing means that your brand can gain trust and establish itself as a market leader.
For example, we don't just 'claim' to reduce NPLs by 40% — these statistics come from our years of industry experience and smart software products that have been tried and tested by our customers.
HES LOANBOX
Psss… Wanna start lending within 45 days?
Book a personal demo tour to explore our ready-made lending platform.
How to build effective bank marketing strategies for your business?
Knowing the 7 Ps of marketing isn't always enough to guarantee success in your marketing efforts. That's why we're giving you these top tips to help boost your strategy.
Utilize data
Financial institutions, and almost any business, are packed full of valuable data. Being able to utilize the resources at your fingertips is a key strength that can help your stand out against your competitors. Start by finding the right tools to analyze the data you have on hand and establish theories and hypotheses about your consumers, their needs, and your brand positioning that will help you connect more effectively.
Automate processes
As marketing advances, it's becoming almost impossible to undertake all tasks manually. It's time-consuming, frustrating, error-prone, and, most of all, unnecessary. Instead, it makes sense, even at the early stages, to consider which tasks can and should be automated. For example, you may want to automate data analysis or even routine bureaucratic tasks to allow more time for marketing strategy and implementation.
Tell your brand's story
Consumers love to connect with brands that have a story. So before starting your marketing campaign, consider the story you want your consumers to think about when they think of your brand — who are you, and what do you stand for? First impressions matter, so it's essential that you get this right.
Connect via all channels
Answering the phone or providing an in-branch service is all well and good, but today's consumers expect more. They want all the personalization of small-town service with all the convenience of multinational technology. One element of this is communication and how quickly your team connects with consumers. Perhaps this may mean developing a smart chatbot or having your social media team trained to help manage clients and any complaints or questions they may have. Connection is vital, and ensuring seamless connection over all channels is more so.
Know how marketing fits into your overall strategy
Most of all, don't make marketing a standalone campaign with little in common with the rest of your business. Instead, marketing isn't just about drawing consumers in. It's about building a brand that consumers love and remember. It's about making and keeping connections long-term so that the customer value grows over time. That's why marketing strategy needs to be developed within the overall brand strategy, not apart from it.
Financial institutions marketing strategies: where to start
If you're ready to start your bank marketing strategy journey — that's great. For your brand to succeed, you need to keep in mind the ideas discussed in this article, work with all 7Ps of the marketing mix, use data you already have, and account for your brand's weaknesses and strengths.
Ready to build your loan origination software? Get in touch with the team at HES FinTech.