Robotic process automation vs. workflow automation—which one is best for your lending business? With the global automation market is set to reach $600 billion this year, up from $481 billion just two years ago, a clear marked interest in software shows that businesses are seriously placing their bets on automation as a viable solution more so than ever before.
In fact, the majority of organizations—97%—agree automation can improve their businesses, but not every company is sure precisely how to go about it or which tools to engage to get the results needed. Hesitant companies are often fearful of wasting finances on solutions that won't work or don't work as effectively as needed.
When it comes to the lending industry, the two forerunners, RPA vs BPM, cause much debate on which is the better tool to get things done. Although both are effective, there are some differences between BPM automation and RPAautomation for loan software that make one solution over the other suitable for some companies. Let's take a look.
RPA vs. BPM: Difference between BPM Automation and RPA
Why Do Lenders Prefer Software to Excel Loans Spreadsheets? BPM is an overall approach to analyzing, monitoring, and improving business processes from start to finish. This can be done using BPM software or tools (but it doesn't have to be). RPA is designed to optimize repetitive tasks. Although we often hear the question of "which is better: BPM vs. RPA?" It doesn't have to be this way. BPM and RPA combined can complement each other and deliver great results. Think of it this way:

Routine Vs. Exception

Routine—RPA is the robot that completes all the routine tasks
Exception—BPM is the human that makes the rules and sets the strategy
What is RPA Automation?
Forget about "robots stealing our jobs" and fears of a Terminator future, RPA automation is a far cry from all that. In fact, RPA doesn't involve a physical life-like bot at all, instead, it's a physical or even virtual machine that allows a company to perform certain business processes automatically. How? It draws on technologies, such as machine learning (ML), automation, and computer vision to undertake repetitive tasks that are rule-driven.
Benefits of RPA automation
RPA automation in the financial and lending industry can be used to automate data management, validate data, and more. This helps companies streamline their mobile and web apps, including customer onboarding, loan processing systems, and form filling, among others. In doing so they:
Improve accuracy and reduce human error by automating functions such as form filling and data management
Add to efficiency levels as the RPA can function 24/7 unlike human staff.
Enhance data analytics by being able to process more information.
Deliver potential to scale by allowing businesses to reach objectives faster.
Increase customer satisfaction levels, on the whole, with faster service and better response times.
Uses of RPA in the lending industry
Automating your organization using RPA is a step toward enhancing its capabilities, but how? RPA has been used to:
Update transaction systems
Create an automatic balance register for loan collection
Tracks loan closures
Loan repayment functions
Generates reports on loans
What is BPM Automation?
What Is BPM and How Can It Boost Your Lending Automation? PM stands for business process management. BPM automation like the name says, optimizes business processes and workflows to increase efficiency, reduce costs, lower errors, and more. Although BPM itself isn't a specific technology, software and other tools can be used to create BPM automation within an organization. During the BPM process, an organization will go through a number of steps to identify and optimize business processes. It looks something like this:
Analyze —> Model —> Execute —> Monitor —> Optimize —> Automate
Benefits of BPM automation
Integrating BPM into your company may seem like a smart move forward and, indeed, it is when planned correctly. BPM automation delivers a number of benefits, such as:
Streamline business processes, making them more efficient
Increases customer satisfaction rates by improving the experience they receive
Boosts productivity by cutting repetitive tasks and streamlining processes
Reduces errors due to human error
Saves on costs and optimizes spending
Adds more efficiency to your business as a whole
Uses of BPM in the lending industry
Automating your business using BPM is a smart move for companies seeking well-thought-out changes that will make a significant impact. With BPM, your company can:
Develop automation processes for lending
Reduce bottlenecks to streamline services
Automate and track lending functions
Error reduction
Decrease in paper consumption
Business Process Automation vs. Robotic Process Automation: Which one Do You Need?
What is CECL and What Does it Mean for Your Business? Although BPM and RPA may seem similar, when it comes to your bank loan management software upgrade, you may need to decide on which process to follow to ensure you get the results you need. Choosing the wrong one, when you need the other can incur additional costs and prove problematic in the long term.
But before you make any decisions just yet, let's get to grips with the differences between RPA and BPM.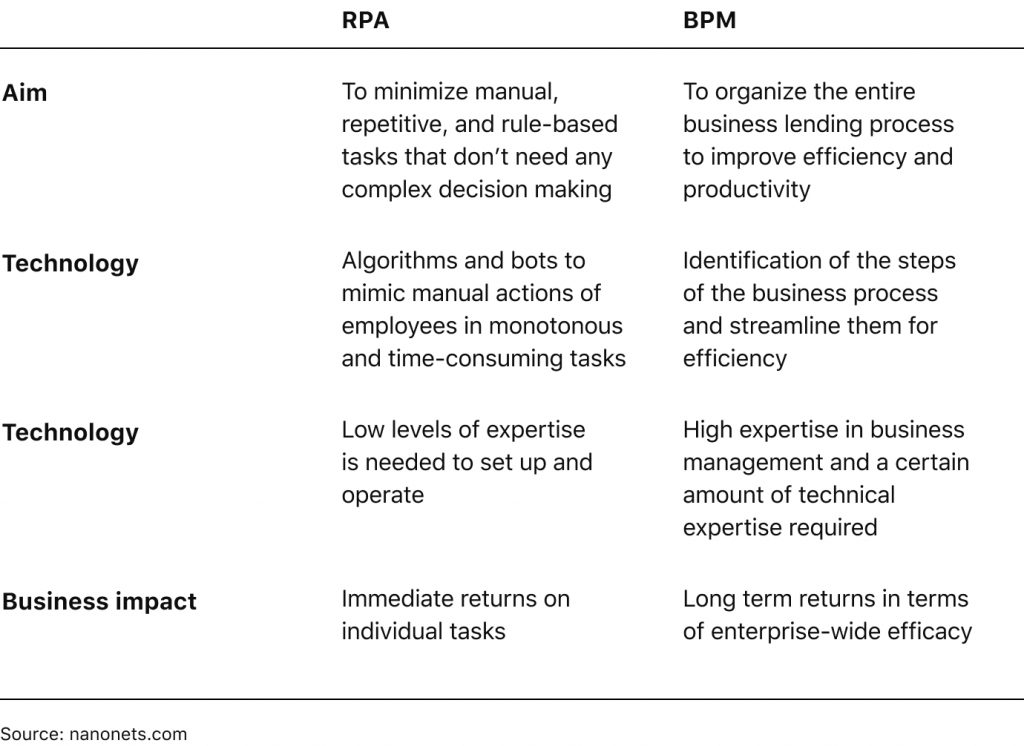 Are There Any Disadvantages to BPM vs. RPA Automation?
Any step toward the future is a positive one for a business. That said, there may be some challenges along the way. For example:

Time-consuming: a holistic approach, such as BPM automation, takes time to implement. Results are often delayed so you may not observe them immediately and that's when the solution is rolled out. Beforehand, it's reasonable to expect a lot of planning to ensure you're on the right track to automate correctly.
RPA may be limited: even if you're convinced you only need to automate a few things and "a robot could do it," don't count out BPM just yet. Consider making a longer-term strategy and including RPA as a part of it. That way, your upgrades will be more intentional and impactful.
Stakeholder knowledge and awareness: both BPM and RPA are relatively modern concepts that not every stakeholder is familiar with. When seeking support for digital transformation, always start with how the strategy will improve the business and deliver on ROI.
Next `Steps to Take to Automate Your Business
Armed with the basics of BPM vs. RPA automation, what better time than now to start investigating the possibilities for your business. Ask yourself:

"What do I need to automate?"
"What are my long-term goals?"
"What bottlenecks do I need to remove to achieve them?"
By doing this, you can begin your company's automation journey and optimize processes to improve operational efficiency. Not sure where to start? Reach out to the team at HES and we'll talk you through it.