Estimated to reach over $3 trillion by 2026, the digital payment trends that have dominated the last twenty years of finance, with a few hiccups along the way, are showing no signs of changing trajectory and remain popular among both B2C and B2B segments alike.
But that doesn't mean they're not evolving. Keeping on top of the next evolution in payments is critical to ensuring your business meets the grade. Below, we'll walk you through the most important payments industry trends we see businesses adopting and what they mean in real terms.
Growth and digital payment trends in a numbers
Estimated size of the digital payments market transaction value in 2023 — $9.46 trillion.
In the next five years, the CAGR of digital payments market transaction value is estimated at around 11%, equaling a total growth to $14.78 trillion by 2027.
China holds one of the highest cumulated transaction values with an estimated value of $3,639 billion in 2023.
Cashless payment volumes have increased by a massive 42%
90% of useful customer data for banks comes from payment information
With growing interconnectedness, 42% believe that cross-border payment technology usage will accelerate.

What's driving global technology trends this year?
Although we can safely say there is a marked growth in the digital payments industry, before we dive into the latest B2C and B2B payments trends this year, it's essential to look at the factors that are informing these choices.
Inflation
Unavoidably many countries across the world are now experiencing the impact of inflation. Rapidly rising interest rates, coupled with cost-of-living crisis, among other issues, have impacted how people interact with their finances. This is coming on the back of the 2020 pandemic, which rocked the industry as we knew it. In real terms, this has resulted in industry innovation as companies onboard new solutions and consumers seek out new payment providers.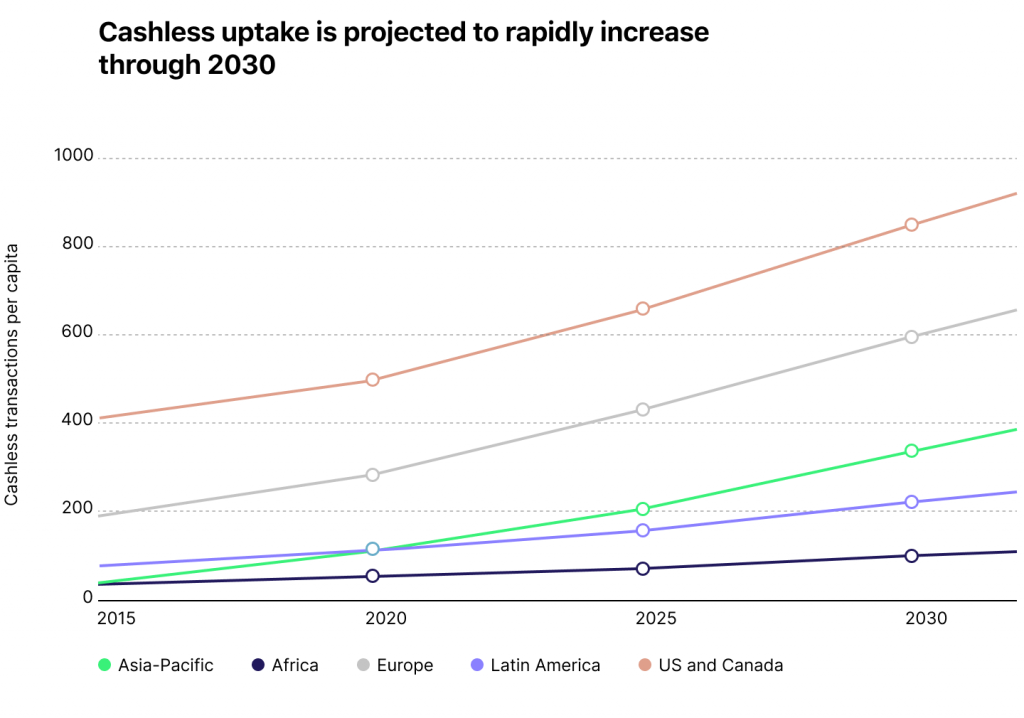 Geopolitics
After many years of interconnectedness and globalization, recent destabilizations in geopolitics have had a marked impact on the payment industry, with consumers seeking more secure and international solutions that work for them.
Consumer expectations
With new fintechs entering the scene and more digital solutions available, consumer demands have grown in equal velocity. Now consumers are seeking out value-added solutions that integrate with the services they already use alongside current standalone solutions. Personalized services that meet their direct needs are top of the list.
Tech advancements
There is little doubt that technology has come a long way in the last few years, especially so with the introduction of new digital payment solutions, as well as consumer banking. Their ability to fit into the hands of the consumer is a selling point, alongside the capability to rapidly adapt to industry changes, where it would be significantly more difficult for an established, traditional service.
Social responsibility demands
Money talks loudly. How it's managed talks even louder. In recent years, there is a market demand for more ethical banking services that place social responsibility at the forefront of their businesses. Although this approach doesn't work for everyone, it goes a fair way into giving back to the community and using services that appreciate the value of people.
Digital payments trends 2023 and beyond
89% believe that digital payments trends will continue with its upward trajectory, but what form will these changes take? Let's dive in and discover where the industry and technology are moving this year and in the future.
Mobile-first fintech
Last year mobile payments accounted for over half of all transactions, making it one of the top payments' technology trends today. Consumers want to be able to make a payment any time, any place, and mobile delivers on this opportunity with accessibility, ease-of-use and speed at the forefront. With mobile-first fintech advancing at a rapid pace, it means that if you want to be top in your sector, following the trends in mobile payments is an absolute must. Mobile is here to stay and it's time to adapt your current payment solutions to this platform.
Data privacy and security
48% place data privacy and cyber security at the top of their list when it comes to digital technology trends to follow—and it's for good reason. With the number of cybercrimes increasing, any business venturing into the payment arena needs to have the right security to back it up, and that means top-notch digital privacy and security tools are a must. If you are building or upgrading your payment solution, ensuring a high level of security helps keep your venture secure, as well as your clients' data.
Digital identity authentication
Following on from the cybersecurity trend, we are also observing an uptick in just how security protocols work. More and more consumers are seeking financial management software providers with good security on hand that can also provide a seamless onboarding experience. Technologies such as ID verification tools and more can aid in making this process as streamlined as possible. Many payments' companies are now investing in biometric technology to make their solutions secure and easy to use.

Ecommerce
With an estimated total transaction value of $6 trillion this year, ecommerce payment solutions, such as built-in apps, online stores, and more, are here to stay. By adopting the latest fintech software, you can align your physical store with your one (if this is your niche) and get the best results. Payments platform providers are heavily investing in ecommerce solutions and seeking to make them work for the current market.
Changing regulatory landscape
Tides are turning for the regulatory landscape and this could be one of the biggest trends in payments of the next ten years. Governmental bodies behind the scenes are currently beating the increased use of international payment platforms, how to regulate cryptocurrency and more. Staying abreast of these can be a challenge, that's why it's vital to have the right tech on hand to keep aligned with the changes.
Customer communication
AI is more than just another trend. It's a useful feature that many financial companies are engaging in the here and now. From AI-powered chatbots and more, these tools make the payments experience simpler for consumers, increasing their likelihood of containing to engage with the brand. Businesses that select to upgrade their communication payments' tech are hoping for more than just another one of the trends in the payments industry—it's the future of tech communication.
Do you plan to adopt an AI chatbot for customer communication?
readers voted
Embedded finance
Why Embedded Payments in Lending Are a GamechangerIn the app, in the store, on your desktop—finance is everywhere and so it should be. Updated embedded finance tools allow companies to adopt a solution that works for them and their needs. This has led to a lot of diversification within the industry and wider spread partnerships that inform future strategy. For those seeking to take full advantage of this payment trend, it's time to develop planned, integrated solutions from the group up.
Sustainability and ethics
These days, it's not enough to donate once a month to one cause or another. Instead, sustainable change is on the cards. Companies are actively developing environmental, social, and governance policies (ESG) for the workplace. But what's this got to do with digital payment trends of 2023? Everything. Sustainability helps to repair, restore and preserve the world around us seeking for a more sustainable future, as well as supporting the needs of clients to engage with businesses that do things the right way.
Central bank digital currencies
Perhaps one of the most talked about trends in the payments industry, the emergence of central bank digital currencies (CBDC) is met with both a sense of satisfaction that crypto is proving more than a 'trend' and fear of the initial outcomes as digital currencies are developed on a governmental level. With roles being rolled out for hire in national and international bodies, keeping an eye on the evolutions in this area is a must for those needing the latest tech at their fingertips.
Thinking of hopping on the latest global payments trends? Read this first
It's happening. The payments world is changing before our eyes, and now is the time to take a good hard look at how your company interacts with payments. For many smaller businesses, it's a very real possibility that they'll never deal with a traditional brick-and-mortar bank, and for larger enterprises, this trend is shifting too. Keep a close watch, adjust your strategy, and get the right tech on hand to ensure your company remains at the forefront of your industry. Get in touch with our fintech payment experts team today to learn how you can get a tailorable solution to meet your business needs.
HES LOANBOX
Wanna harness digital payments in lending?
Book a personal demo tour to explore our fintech powers.