Mortgage Lending Trends 2022: Rates, Technologies & Forecasts Despite the coronavirus crisis, the real-estate market is continuing to grow. Current predictions estimate an approximate 9% rise between 2022 and 2027, a cooler forecast than previous years, but still rising steadily. With housing prices continuing to increase, while disposable income rates are rising only slightly, +1.12% for Germany, -1.03 for the US, demand for mortgages is set to remain strong.
Many providers are now looking toward tools such as the best mortgage CRM software to stay ahead of the competition and streamline their processes. Let's take a look at what CRM is and some of the best CRM for mortgage brokers on the market today.
What Is a CRM for Mortgage Brokers?
If you're not familiar with the abbreviation, CRM stands for customer relationship management. Mortgage CRM systems help lenders to optimize the mortgage process in an automated, efficient way and allows you to zoom in on your client profiles to improve your business. Mortgage CRM systems can:
Automate mortgage marketing activities
Help maintain communication with the client
Manage deals from start to finish
Optimize and centralize communication
Track all consumers and real-estate projects
By optimizing processes using a mortgage CRM system, lenders can deliver a confident approach that will build must-needed client trust, ensure payments occur on time and automate internal processes, saving time and money for the lender.
LENDING SOFTWARE
Psss… Wanna start lending within 90 days?
Book a personal demo tour to explore our fintech powers.
What Are the Best Mortgage CRM Features to Look out for?
Each CRM comes with its own unique features, finding the right combination for your business is the key to success. Here are some of the top mortgage CRM features you should be looking out for:
Manages the client pipeline—from giving you the big picture view on a client's profile to zooming in on the details. Vantage Point's research suggests that a significant majority of sales managers, 72%, conduct multiple sales pipeline review meetings with their sales representatives each month. Regular sales pipeline review meetings can be an effective way for sales managers to stay up-to-date on the progress of their team's sales efforts and identify areas for improvement. The best mortgage CRM software is able to track a mortgage from beginning to end seamlessly and note the client pipeline along the way.
Back Office Automation in Digital Lending: Top Core Process Improvement Ideas Automates processes—manually entering data time and time again is tedious work and increases the risk of error. The ideal CRM system is one which tracks your client from beginning to end without the need for continuous data entry. Loan management software enhances onboarding and even sales, quickly and easily.
Notifies of mortgage events—as things change in your mortgage account, you'll want to know about them, and quickly. The sooner you pick up on any changes, for example, premiums, the more equipped you are to make your business competitive.
Tracks referrals—these are the bread and butter of the lending industry. By tracking your company's referrals, you can increase the number of clients you have efficiently for long-term results.
Tips for Calculating Your Estimated Return on Investment for Loan Software (ROI) Helps monitor regulation compliance—as a financial services provider, it is critical your broker works according to the rules of the relevant financial services provider. Having the highest CRM standards not only helps to avoid any regulation issues but helps to increase trust in your business too.
Best CRM for Mortgage Brokers: Our Top 5
Now you know the benefits of onboarding a CRM system, let's take a look at some of the top providers of mortgage lead management systems today.
No.5: Zendesk Sell
Formerly known as Base, Zendesk Sell is a platform for tracking CRM. Allows teams to monitor sales funnels and the client pipeline.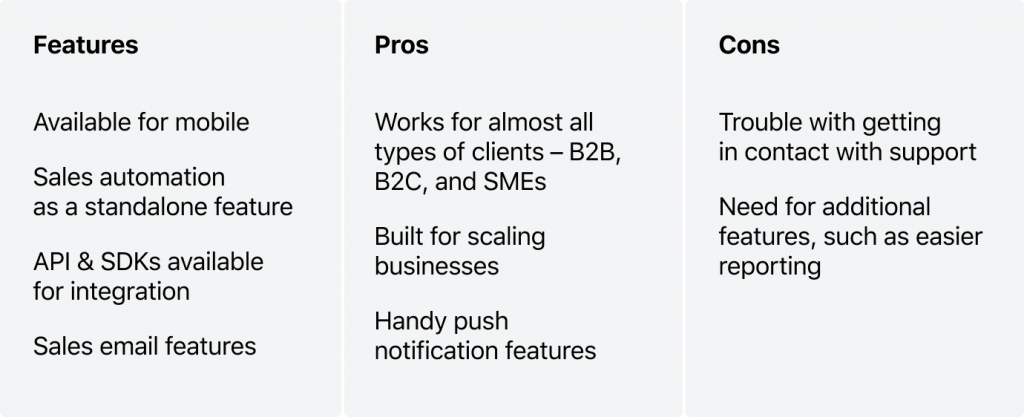 No.4: Jungo
Cloud-based platform Jungo is a CRM tool for mortgage providers and real-estate agents. Built on the popular Salesforce, it allows clients to manage loan documents, track loans and referrals among other capabilities.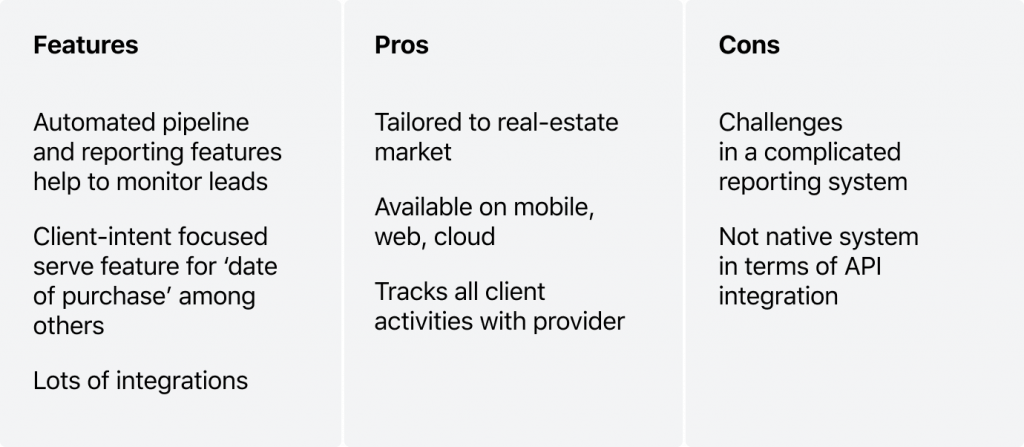 No.3: Whiteboard CRM
Scalable Whiteboard CRM solution for mortgage providers that allows total control of client communication and account management.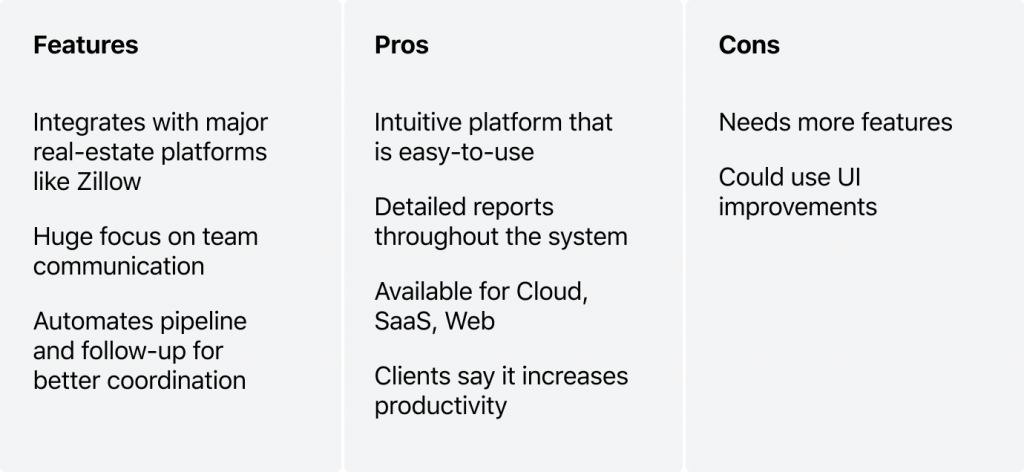 No.2: BNTouch
Feature-filled BNTouch, is one of integrated mortgage CRM systems that offers a number of tools for operating in the property industry. Additional features of this mortgage broker CRM help business growth and development.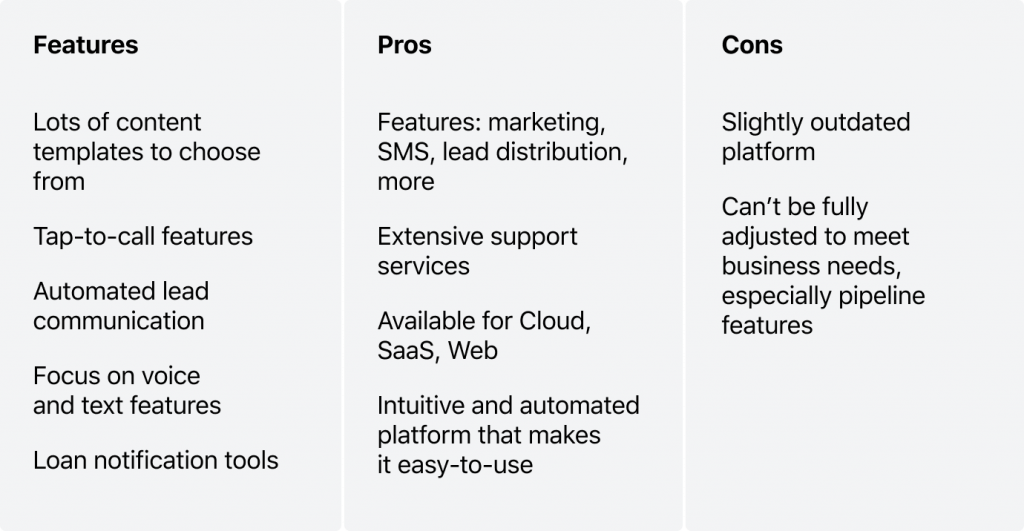 No1: HES
HES Core: Digital Lending Engine Behind HES Software Extensive mortgage customer relationship management (CRM) software designed to seamlessly integrate with your current systems. HES delivers a power and functionality boost for all users and includes sales and marketing activities, analytics, personalized dashboards and more. According to customer feedback, HES provides the best CRM for mortgage brokers from those available on the market.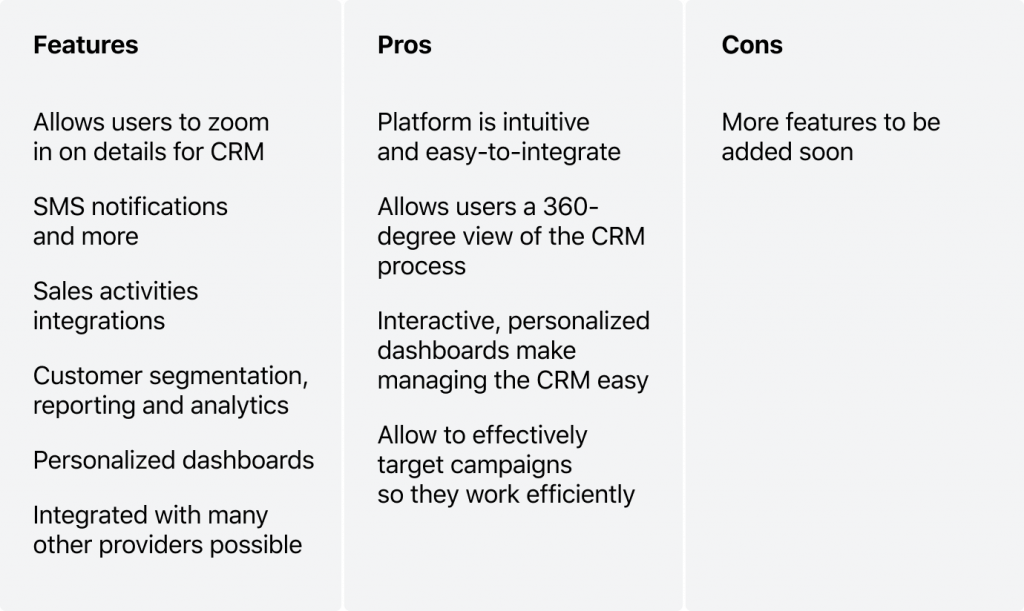 Mortgage Lead Management System Wrap up
To get ahead of the competition and stay there, you need to be at the forefront of technology. By onboarding the right mortgage CRM system, you can learn a lot more about your client and how to efficiently deliver your services to meet and extend their needs.
If you are searching for adding value to your lending software with extended CRM functionality, contact us today to explore HES Lending Platform on a live demo.