When customers pick out items from stands or check out online, they're at the point of sale (POS). Having an efficient point of sale lending software enables the business to make more sales than you could. According to 2020 Grand View Research, the POS software market's value in 2020 amounted to $9.3 billion, and it is projected to reach $18.1 billion by 2027. Updating your lending business to provide POS financing for merchants provides access to a new profitable loan market. 

In this article, we speak about the benefits of POS lending for banks and SME lenders. You'll find how lenders implement point of sale loans in their credit workflow and what components to include in point of sale lending software.
Read also
What is Point of Sale Finance Software?
A point-of-sale lending platform allows offering loans at the point of purchase to let customers buy a product or service itself. Similar to consumer lending, point of sale financing works with installment loans, credit cards, and in-store loyalty cards.

Customers think about taking a POS loan when it comes to purchasing a thing that is out of their pocket, like furniture, cars, or kitchen appliances. POS lending has expanded recently due to technological advancements that made online lending possible. The market offers immediate online and mobile loan opportunities backed up with clear repayment terms before taking out loans. So borrowers can qualify for loans from their smartphones at the point of sale of any retailer within seconds and pay for goods.
Why Lenders Need Point of Sale Finance
BNPL as a Part of Embedded FinanceThe "buy now, pay later" model lends itself to the instant gratification that people – particularly younger consumers – want. Younger customers are the primary audience for online services. According to surveys, POS lending is largely used by younger generations as an alternative to credit cars. Statistically, 52% of Gen Zers and 61% of millennials are interested in a point of sale payment method more than in traditional ones.

If you still wonder whether you need POS loan services or not, there're statistics. Based on the forecasts for 2021, POS financing is growing at a much faster rate than traditional unsecured lending. By the end of 2021, specialists expect that POS lending will cover 11% of the total unsecured lending, reaching $162 billion at a 20% CARG.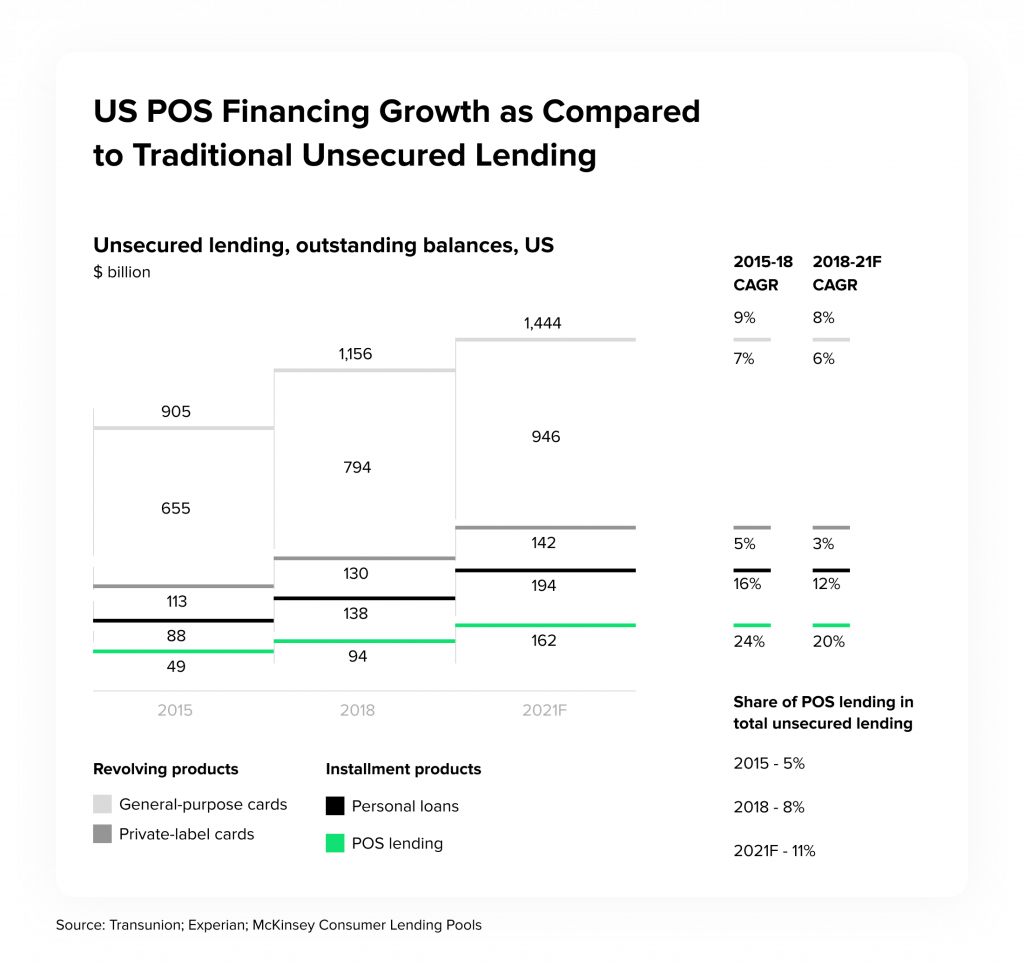 Among younger customer engagement and reaching new markets, POS financing drives lots of business benefits to retailers too (so they'll be interested in your services). Let's discover them in detail.
Boost in sales
The most attractive benefit of POS lending software is the opportunity to increase sales. By enabling customers to apply for loans on the spot at favorable terms, retailers can close more sales quickly. Some customers don't buy things since they don't have enough cash. Statistically, companies offering POS lending see a 32% increase in sales. 

If your retail customers sell more thanks to POS, you provide more loans and make money.
Increase in order value
Allowing customers to purchase products at ease influences them to buy even more than they expected. They have more time to pay which allows them to afford more expensive products and services. So retailers increase overall sales and average order value. According to the Forrester study, companies that offer a point of sale finance note a 75% increase in order value and 726% return on investment. 

If retailers are able to sell more expensive goods, you as a lender have more profitable loan deals.
Better customer experience and return
The ability to afford things at the point of sale can help develop long-term relations with customers. Point of sale consumer financing creates a pleasant customer experience both online and in-house. Users don't need to apply to a lender directly, they can borrow without the hassle of lengthy processes and hourly waits in banks. They get money immediately and enjoy complete transparency in their payment responsibilities. As a result, they'll be willing to come back for more.

If retail customers enjoy the loan services you provide, the retailer will grow its customer base and increase the number of loan applications.
CUSTOM SOFTWARE
Psss… Wanna start lending within 90 days?
Book a personal demo tour to explore our POS lending software powers.
Point of Sale Loans: What Business Model to Choose
Pros and Cons of Embedded LendingCompanies offering embedded financing range from national banks to small lenders, credit card payment companies, credit unions, and more. To understand how the POS loan landscape works, we need to explore POS business models and distinguish the range of possibilities in the field.
Installment loans
Point of sale installment loans are loans that are repaid by regularly scheduled payments or installments. Companies following this business model provide loans on specific purchases at their partners' retailers. It's extremely popular among customers interested in alternative payments rather than credit cards.

The most popular point of sale installment loans companies are Affirm, Afterpay, Klarna, Sezzle, and more. Customers browse stores at websites, choose an installment loan company at the checkout, and pay in monthly installments.

An installment company can charge interest from 10% to 30% or offer interest-free loans. They also can charge fees in case of payment delays. Let's discover the POS method in the example of Klarna.

Klarna is a Swedish company that offers POS financing. The company has over 60 million customers and 200,000 merchants. They work with e-Commerce retailers and their customers mainly.

They provide three lending plans for customers:
Klarna allows customers to split their payments into four equal parts without paying extra.
For larger purchases, they provide loans for periods up to 36 months (splitting payments into 36 parts).
Klarna offers the 'Pay in 30 days' plan that allows customers to try before they buy, without extra fees.
Multi-lender and financing platforms
Multi-lender platforms provide online ecosystems that bring together lenders and merchants. In this case, a consumer has greater control over underwriting and gets multiple loan options. While retailers can enjoy higher approval rates without integrations.

Companies like Jifiti, Vyze, and ChargeAfter integrate credit lines, installment payments, and other components of point of sale consumer financing in a single marketplace.

For example, Vyze is a platform, originated in Austin, that is already used in over 2,000 stores.

The platform connects merchants with lenders allowing them to offer their customers a wide range of credit options both online and in-store. Vyze provides the highest approval rates for retailers and increases the funds disturbing capacity of lenders. The platform chooses the best lenders for every retailer, based on customers' demographics. It takes seconds to connect and receive an offer from a lender.

There can also be mentioned financing platforms that also act as a middleman between retail customers and lenders collecting fees per process. The platform focuses on retailers delivering loans at the offline point of sale.

For example, Greensky provides a financing platform for constructors. It's already partners with over 18,000 retailers in the U.S. Greensky allows home improvement companies to offer loans at the point of sale and divide payments into 12 months.
How to Start Point of Sale Financing Business
If you consider developing your point of sale financing platform, HES FinTech offers a configurable solution that can be adapted to your business needs. We allow providing instant financing to customers and expand your business. Based on HES Core, the team can launch or transform your current system into a top-notch solution in just 90 days.

HES FinTech software is an intuitive interface, AI-powered decisioning, 100% of processes automation, low credit risks, integrated solutions, and more. What you might need for your platform:

Marketplace features to match borrowers and lenders automatically.
Statistics and reporting to analyze your performance, profitability, and percent of NPLs.
Payment and money transfer to drive financial transactions between users.
Notification center to remind your customers about delays and mind your business tasks.
Credit scoring to reduce non-performing loans and find out customers who're more likely to pay back.
Feature-rich personal account to let borrowers track their loan activities and others.
HES FinTech has up to ten years of experience in lending and digital servicing. Working with banking experts, we know how to create perfect-fit software solutions for any market and demographics. Point of sale lending software by HES is a great contribution to a successful business.
Read also
Wrapping it Up
Point of sale consumer financing is the next generation of unsecured lending. Soon we'll get away from credit cards in favor of a fully digital experience. It's just a soft inquiry so customers won't worry about their credit score going down. Your goal as a lender is to find a reliable developer and business partner to implement your business ideas. If so, you can expect success in the field.

Would like to discuss POS financing? Don't hesitate to get in touch with the HES team. We're happy to answer any of your questions.