The COVID-19 pandemic announced by the World Health Organization in March this year changed the way the global financial system has been operating for years. Along with other business domains, the lending market has entered the mode of adaptation and (sometimes) uncertainty. However, the incomes of both citizens and companies will most likely decrease, despite the efforts of European governments or the CARES Act in the US. What this basically means is that the demand for credit will be higher than ever. Crisis or not, businesses still need funds to operate, and people still resort to loans. In light of the pandemic, the work of the collection sector will also change – there's a strong probability that borrowers will expect difficulties in returning funds than they did, say, three months ago. Therefore, lenders must rearrange their processes to avoid possible defaults and further complications with debtors.

In its abundance in the market, automated debt collection solutions minimize sometimes inevitable losses. Widely used in various industries, automation offers tools that significantly improve the collection process leaving no room for human error. Ideally, a digital collection center represents a kind of an online portal that sends emails and makes calls in a fully automated mode.
Read also
What is a Proper Debt Collection System?

If you want a quick answer, well, it's the one that solves the goals of debt collection automation. Let's dive in detail, shall we? When talking about technology-driven debt collection, automation improves two major areas within the debt collection industry. The first one is the automation of processes that takes the productivity of a company to a whole new level and frees up human resources. The second aspect is the process of algorithms-powered decision making that offers a specific kind of a settlement to a debtor depending on various factors.

However, to maximize the effect of automation, the system that a collector uses must contain integrations with external systems. In particular, it's advisable to integrate with:

banking systems – to automatically receive information about payments made by the debtor, changes in financial indicators, the period of delay, and other important data;
SMS and automatic mailing service providers;
automatic mailing systems in instant messengers – Whatsapp, Skype, Facebook Messenger, and other similar programs;
telephony systems used for auto redial;
external service providers – for example, providing mail sending services.
The Benefits of Automation

As said earlier, the most important benefit of an automated solution is that it fights repetitiveness. Debt collection is a process that requires dozens of clerical actions to repeat over and over again. These tasks are time-consuming (blame good old spreadsheets for it), prone to human error, and ask for manual work in the Age of Tech. The outcome? One can easily damage relationships with clients. You could ask anyone in the industry, and they will tell you: the proper customer relationship is the cornerstone of the collection business.

The second best benefit of automation collection programs is the data and various types of information in a single format. I couldn't emphasize more the importance of its availability within the system. How much effort does it take to load debtor data? Are there mechanisms in place to quickly reconfigure the system if the bank changes the format or when a new client appears? Automation puts the data at employees' very fingertips, so they are fully equipped when calling debtors.

So, how automation improves the debt collection process:
1) Optimization of communication strategies to increase responses
By providing a multichannel experience to users, lenders increase customer satisfaction and build long-lasting relationships with them. Allow them to choose between communication channels like chatbots, outbound calling systems, website online applications through a personal account, communication with officers via a smartphone, and traditional visits to a brick-and-mortar branch. By having this multichannel system at hand, you provide customers with a flexible way to reach out to you.
2) Increase in customer satisfaction and loyalty
To deliver an exceptional customer experience, we should start with the first stages of a customer journey – awareness and evaluation. The goal is to present your business in a good way. Let your customers find information about you on social networks and review platforms including Google Reviews. This will help them to know more about you, gain interest and visit your website (don't forget to add a link to the website on platforms). Work on your brand presentation:

Create a user-responsive website with easy-to-navigate UX/UI. The simpler your solution is, the more informative information you provide, the better customer onboarding experience customers gain.
Think about a dedicated debt collection platform to automate your back-office tasks. It can help reduce your time-to-response as well as automate manual tasks and cut off human errors.
Use customer analytics to understand your audience. With this information at hand, you can understand how to set up email marketing campaigns, what solutions and testimonials to offer customers, how to engage with them, etc.
3) Automatic payment notifications
Reminding your borrowers about the payment due date is an opportunity to decrease the number of overdue debts. Although some think that borrowers can't forget the payment date, nobody can eliminate the human factor. Send phone prompts asking them to maintain a sufficient balance in their accounts. You can create your notification strategy by dividing messages into groups by data. For example, start with sending the first reminder a month before the due date. If borrowers don't fulfill the request, remind them two weeks and then a week before as well as five, three, one day before the debt payment date. This can help build a more effective customer engagement and let them know that the payment date is coming. We also recommend adding options to your phone prompts like "If you're going to make a payment now, press the [link]" or "If you want to pay the debts by the end of the week, press the [link]". This is an effective way to reach out to already overdue debtors to understand whether they're going to pay or not.
4) Resource optimization through automation
Improved automation of the decision-making and KPI analysis can increase profitability and reduce the number of overdue debts. AI-driven software is able to analyze your historical data to make predictions on the probability of loan and debt repayment. As a result, a company needs seconds to build a scoring model and then score applications to have an expanded analysis of possible borrowers. Based on the result, a user needs to decide whether to approve or decline the application.
5) Ensures compliance through KYC and AML
Compliance policies ensure that the company follows KYC and AML guidelines. It allows identifying a counterparty before conducting a financial transaction. KYC or Know Your Customer policy helps better understand customers and their motives, monitor transactions, reduce customer risks, and prevent corruption. While AML or Anti-Money Laundering policy ensures that companies are able to detect and prevent fraud and money laundering. So, compliance allows protecting companies themselves, financial systems they use as well as existing borrowers.

General Requirements for the Functionality of a Debt Collection System

When choosing software, here at HES FinTech, we advise you to stick to the following features. A decent collection system should contain:

1. Tools that provide the opportunity to get analytical information on the effectiveness of work with debt in particular and the overall performance of the company as a whole (scoring, reporting system, etc.).
2. A convenient work environment for users (workstations, user-friendly interfaces and search tools, etc.).
3. Tools for the implementation of management activities (for example, a system for distributing debt obligations by employees).
4. Means of exchanging data with the outside world.

In case new changes or tools are needed, the cloud makes it possible to introduce quick adjustments in no time. However, many organizations adhere to the on-premise model to keep infrastructure in-house. One way or another, if an automation debt collection software vendor can keep up with these basic requirements, then chances are the software will be easily integrated into a collector's business system resulting in quick payback.
Read also
Conclusion
The report by Reports and Data claims that the debt collection software market is forecasted to hit 4,49 billion dollars by 2026. This is part of the global wave of digitalization in banking and finance.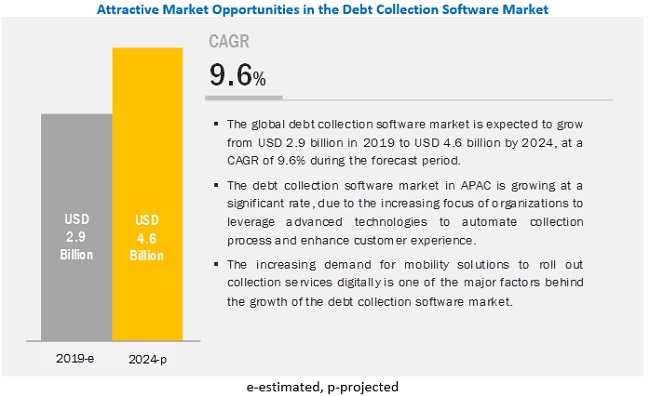 Due to the pandemic, it takes time to assess the depth of the changes to adapt to and outline new trends in the collection. Don't get me wrong: automated collection software doesn't contain a magic wand effect inside, and it won't certainly make human debt collectors obsolete in the near future. The collection industry still relies on human touch and judgments, and it's only natural in regard to the essence of the business. However, technology is able to improve both performance and productivity.

The nature of a debt collection process asks for a very sensitive approach. BCFP Annual Report 2019 reports about 80,000 complaints related to debt collection in the USA back in 2018. This way, concerning all the scandals within the industry, collectors must become more customer-centric. Especially during hard times of today. With automation, the domain of collection can smooth the process of debt recovery and make it more humanistic.
Let's automate your debt collection endeavors. Contact us to discuss how HES FinTech may help you in this regard.