E-signatures in business increase efficiency, allow business to be done across borders and are environmentally friendly too, saving on the paper trail. Valued at an estimated $16.8 billion by 2026, it's an industry that continues to develop and its list of applications is only growing. In the financial industry, digital signatures in banking and other fintech businesses e signature banking solutions are solving the challenges of implementing a remote service, while still adhering to strict regulatory measures.
Fast Facts about E-signatures in Banking and more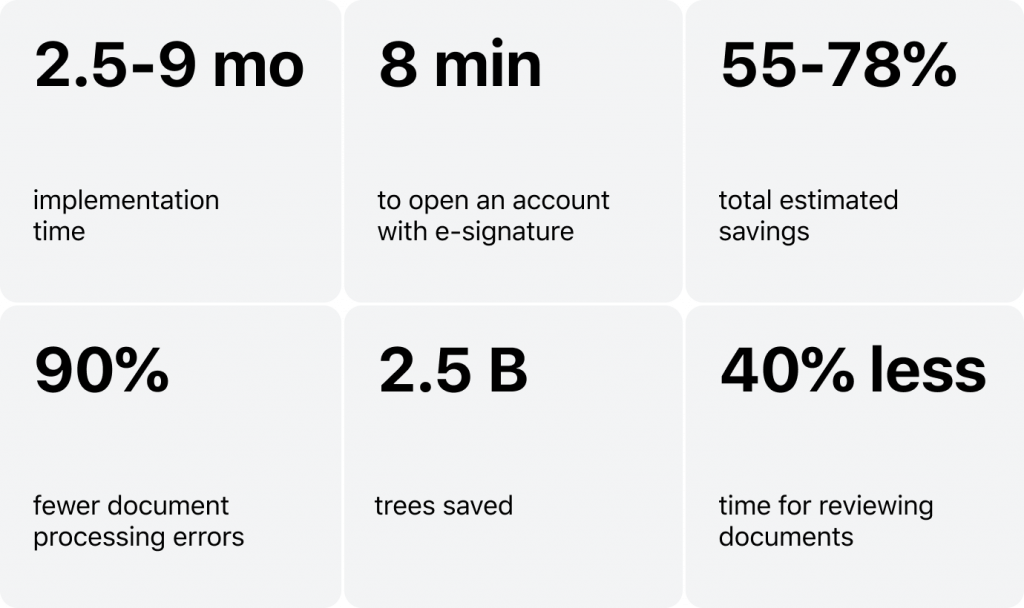 2.5 to 9 months. That's how long it could take to implement digital signatures into your business. For smaller businesses, it will take less time. For larger enterprises, this can extend to almost a year.
55-78.62%. The total estimated savings made by introducing e-signatures into your business. This includes paper costs, waiting times, subscriptions, materials, etc., making switching to digital quite profitable.
8 minutes. The time it could potentially take to open an account with an e-signature in banking.
90% reduction. Document processing errors are reduced by approximately 90% when digital signatures are introduced.
Top 6 Fintech Trends in 2022: What You Need to Know 2.5 billion trees saved. In less than 20 years, over two and a half billion trees can be saved if companies switch to e-signatures.
40% less time reviewing. Customers and clients spend 40% less time reviewing documents when they are digital.
LENDING SOFTWARE
Looking for a loan platform with e-signatures?
Book a personal demo tour to explore our fintech powers.
Digital Signatures in Banking FAQ
Onboarding any new software can be a challenge, whether it's loan origination software or an e-signature in banking solution. Below, we'll take a look at some of the most frequently asked questions that our clients ask when thinking about digital signatures in banking solutions.
Do banks accept electronic signatures?
Loan Management Software: What You Need to Know Whether or not your financial business or bank can accept digital signatures in lieu of a wet (real-life) signature depends entirely on the laws in operation in your locality. The digital signature industry took off after the start of the pandemic, however, not all jurisdictions across the world have effectively onboarded e-signatures as the norm. Many countries have specific regulations about who can and cannot sign or implement e-signatures.
In the US, this is regulated by the Uniform Electronic Transactions Act (UETA), whereas the EU operates under eIDAS. However, there are many more regulations across the world, each with their own nuances.
Digital Lending in Banks 2.0: Unobvious Opportunities and Stumbling Blocks In addition, some e-signatures, particularly in the US, may be subject to federal banking regulation, so it's vital that they are implemented in the correct way to follow this legislation.
Which other issues should I consider when adopting e-signature technology?
For financial businesses and the wider commercial world, the question "do banks accept electronic signatures?" is just the tip of the iceberg. To fully understand how useful e-signatures will be in your specific case, explore the issue though the following:

Validity—do these e-signatures meet the requirements to be legally valid and legally binding in your region?
Witnessing laws—how will e-signatures be witnessed, or can they be witnessed?
Admissibility—can these e-signatures stand up in court?
Enforceability—will your e-signatures for your financial institution be enforced as valid in a court or legal body?
Usability—which document types can e-signatures be applied to?
Registration—how will these e-signatures be registered and reported on for legal purposes.
What are the security issues around e-signatures in banking?
Banking Cyber Security: How to Provide Safe Online Loans If not implemented correctly, e-signatures can put banks and their clients at risk. That's why, one of the first steps to consider when creating an e-signature program is to do an electronic signature risk assessment.
This should take into account the risk of e-signature software hacks, fraud, database leaks, lost documents and much more. It's important to note, that for banks implementing consumer lending software, care should be taken to ensure that proper electronic signature risk assessments account for the risk of false loans, the risk of a diverange in state laws—for example, it may be enforceable in Kansas but not in Montana—and taking into account that a wet signature may be required for some types of loans, particularly large amounts, in any case.
Furthermore, when it comes to consumer lending, businesses may have a responsibility beyond ease-of-service to ensure commercial lenders do not fall prey to pay-day-lending schemes due to the ease of e-signatures and lack of understanding of interest rates.

Quick electronic signature risk assessment checklist:
Does it meet the legal requirements for your industry and location?
Have you taken measures to ensure data security?
What systems do you have in place to protect against fraud?
How will your documents be stored and managed?
What is your contingency plan if systems fail to work?

How should I select an e-signature in a banking provider?
When deciding to onboard any solution, it's essential you find one that directly works for your business needs. In regard to e-signatures, it's vital that you confirm that their product offering meets the legal requirements in your region first and foremost. From there examine their levels of security and how well they align with your overall processes (or the ones that you're hoping to achieve).
Some of the top e-signature providers on the market today include:
Do you have an e-signature solution?
Yes, it's really needed now
readers voted
How can I integrate e-signature software into my wider software solutions?
Depending on how you choose to use your electronic signature solution, part of the overall strategy may be to implement it into a wider ecosystem. For example, if we take the case of consumer loan origination software, electronic signature loan documents form an integral part of the overall strategy. So, what would that process look like?
1. Contact a consumer loan software provider and learn the requirements for your system and jurisdiction. You may also tackle this task in house providing you have sufficient resources.
2. Choose a lending solution that fits your needs.
3. Consider which e-signature banking provider you want to use. Some may be more fitting to your specific needs than others.
4. Next, create a prototype of your solution, an MVP, and test it out.
5. Reiterate along with your team and ensure it is as perfect and efficient as it can be before the final release.
HES LOANBOX
Psss… Wanna start lending within 45 days?
Book a personal demo tour to know more about our e-signature integrations.
E-signatures for the Financial Industry Next Steps
Once you've decided to implement e-signatures in your bank or financial services, the next step is to seek out a reliable provider that can help you do so the right way. Having a digital signature solution that does integrate well with your current software is only going to cause headaches for you and your clients, that's why, when looking for a provider it may be best to take a comprehensive approach and examine how e-signatures fit into your overall digital transformation strategy.

Interested in transforming your processes with e signature banking ? Get in touch with the HES team to start.