The automobile — a symbol of freedom, independence, and choice. When selecting a new vehicle (or an upgrade), clients are looking for a stress-free experience that allows them to drive home in their chosen car. That's why it's no surprise that the auto loan industry is growing. In the US alone, the auto leasing market is valued at $2.2 billion for the coming 2023 year, representing a 7.4% growth on the previous year. Considering how competitive the industry is and this massive growth, many dealers are now considering upgrading their auto loan origination software or other financing tools—or they've already done so.
That's why if you haven't looked at your lending strategy yet. Now's the time to start. For those embarking on the journey of leveling up their auto loan financing software—we've gathered the must-haves from our years of experience in the lending industry.
Frequently asking questions about auto loan origination
What is the vehicle loan origination?

Auto loan origination is the process of issuing a new auto loan. It covers the very beginning of lending management. In a nutshell, auto loan origination includes application for a car financing, borrower profile scoring, approval or declining of an application and, in case of positive decision, disbursement.
What the auto loan origination process look like?

The auto loan origination process typically involves several steps:

Application: The borrower fills out an application with personal and financial information.
Credit check: The lender checks the borrower's credit score and credit history to determine their creditworthiness.
Approval: If the borrower's credit meets the lender's requirements, the loan is approved.
Documentation: The lender and borrower review and sign loan documents, such as the loan agreement and promissory note.
Funding: The lender disburses the loan funds to the borrower or to the car dealership where the borrower is purchasing the vehicle.
What features car loan origination software must have?

Online onboarding platform
Borrower portal with the omnichannel access
Know Your Customer (KYC) system
Automated application processing module
Credit scoring system
Payment and debt servicing engine
Product and product lines management
Compliance
Reporting and analytics tools
Essential factors of auto loan origination: statistics
Auto Dealership Finance Software: Guide For a Digital TransformationWhether you're a dealership owner, project manager, or looking to build your own car loan origination software for business, then you need to know the must-haves for any platform that you're thinking of creating. Customer satisfaction is key in the auto industry, as in any business, so that's why before setting off on your digital transformation journey, it's vital to understand a few facts first.
Although car sales are slower in early 2023, potentially due to concerns about recession, auto purchases still account for 23.7% of all US retail sales—making them a significant section of the retail market.
Only one third of car buyers know exactly what they want to purchase. That means they may not have a clear idea of the finances they require upfront. Offering competitive lending solutions can boost their potential to buy and drive away as satisfied customers.
According to the AA, 26% of drivers opted for a new car, 29% sought out a nearly new vehicle, and over 25% choose one that was over five years old. This indicated that any lending solution needs to offer complex options for old and new vehicles in a way that is accessible to clients.
The in-person experience matters. While over 92% of potential clients window shop online, decisions by and large are made in the showroom. 75% of buyers prefer to purchase in the showroom, 17% partially virtually, while just 6% prefer a fully virtual experience. That means that businesses need to integrate the digital experience with the real-world one.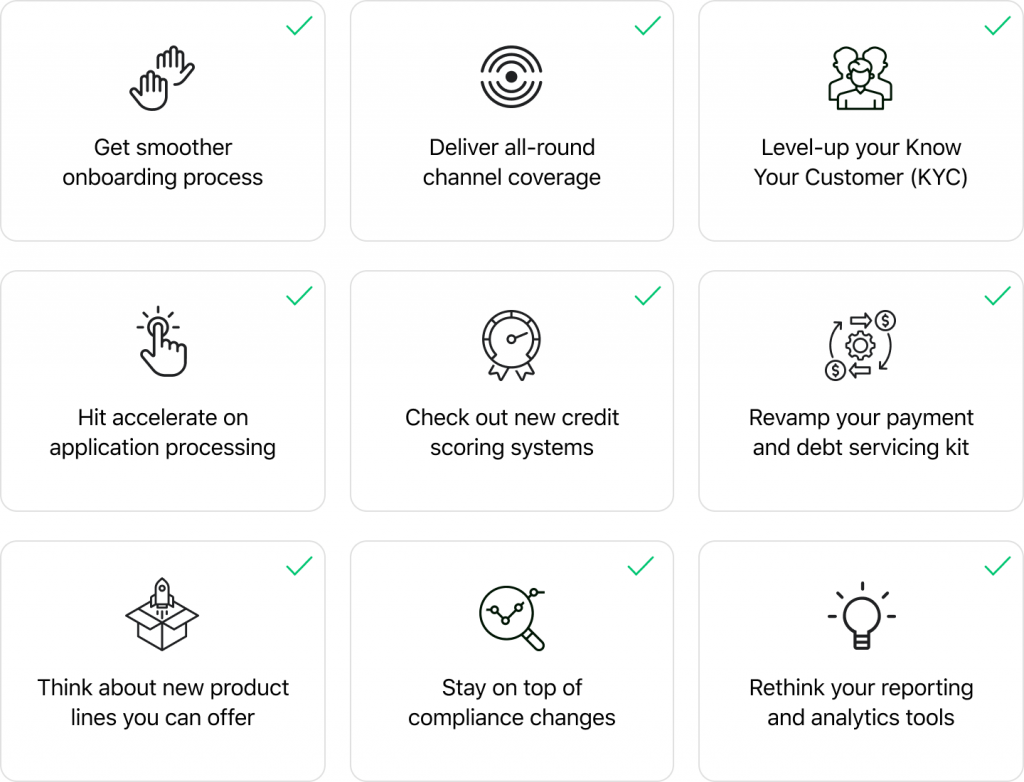 9 must-haves for developing an auto loan software platform
So now that we know the basics, let's lift up the hood and explore the top tools that need to create a functional auto loan software platform that meets your consumers' needs with the 9 must-haves your next upgrade needs to have.
#1 Smooth onboarding process
Whether it's in-house or digital, your clients don't want to waste their valuable time on paperwork—even more so considering the car purchase experience should be enjoyable. So, what steps could you take to improve this?
Be sure to include tools that allow your customers to manage their own onboarding and car loan origination process via a mobile or web app. You should also be sure to include accessible information, such as terms and conditions, pre-saving options, and loan management tools so they can have a clearer picture of your offering and how it will work for them.
#2 All-round channel coverage
Think of cross-platform functionalities that allow clients to interact with your brand seamlessly, whether in the showroom or at home. Although it's true that 75% of clients want to purchase in the showroom, that doesn't mean they want their entire experience to be in person. Instead, variety is the fruit of life.
Your clients need to have the option to cross over between platforms to suit their needs—be this in the showroom, on their phone, or on their desktop. To do so, you'll need to create a personal borrower portal, unique to every user, that allows them to manage their loan from start to finish. This can mean starting with one device and continuing from another, or monitoring their progress via a personal borrower portal.
#3 Know Your Customer (KYC/KYB)
Regulations are there for a reason, and a good one at that, but it doesn't mean that because you must follow the rules you have to create a prohibitive experience for your clients. Instead, it's time to up your game and create an experience that gets the job done, without interfering with client satisfaction.
KYC starts with ID verification, so that's why you need your loan origination system to be able to read documents and identify your users. All in line? Great. But of course, the work doesn't stop there. You'll need to implement systems that allow you to monitor your client's data, finances, and prevent risk as much as possible—ID verification tools, alongside smart analytics help you ensure that your client is who they say they are and are acting in good faith when taking out a loan. In addition, you may consider counterparty risk software that can migrate risks associated with the borrower. Adding all these tools or some of them to your stack will improve your capabilities as a business to manage risk and protect your business.
#4 Accelerated application processing
How To Choose Top Loan Origination SystemYou may think faster application processes equals more risk when it comes to car loan origination software, right? Well, it doesn't have to be the case. In fact, it's often a case of getting tools on board and using them to your advantage.
Consider adding verification, scoring, underwriting, and four-eye checks to your current stack. These will allow you to access the creditworthiness of your potential client quickly without incurring additional risks to your business. If employed correctly, you could boost satisfaction and manage digital loan origination processes with increased ease, and most importantly, speed.
#5 Credit scoring system
The financial industry is changing, and a lot of that is due to the new types of consumers we see entering the market. Millennials and Gen Z buyers are increasing in power, and those seeking to sell to their need to keep up. But what's this got to do with credit scoring?
Well, since its inception, not much about credit scoring has changed. It's a pretty stagnant system, that while it works well, does not leave much room for deviance from the 'norm.' Fortunately, and unfortunately, Millennials and Gen Z are breaking the mold when it comes to work and finances. The way they work and save differs from previous generations.
This, among numerous other reasons, is why integrating updated credit systems could allow you to expand your auto loan empire, while reducing risk, and making profitable loans. For example, consider automated decision-making technology, stop factor analysis, and internal and external scoring that results in NPL elimination, among other technologies that can lower your risk while increasing your ability to lend effectively.
#6 Payment and debt servicing kit
Life doesn't stop with auto loan origination software. Instead, this is just one part of your auto loan financing software kit. Or, at least, it should be. Any modern solution you make needs to be seamlessly integrated into your overall ecosystem for lending and loan management. That's why it's vital you consider adding such tools as calculation engines for loan repayments, loan operation tools, custom terms and conditions settings (where applicable), interest rate changes, and payment rescheduling to help your team and clients better manage the debt.
In doing so, not only is your system more interactive, keeping your clients involved at every step of the process, but this can also lead to improvement in debt collection and ensuring payments are made on time, every time.
#7 Possibility to add new product lines
The worlds of automobile and lending are constantly evolving. And while this is a good thing for the world, it presents unique challenges to businesses seeking to stay ahead of the market. This is why your business might consider expanding its financial repertoire and looking at alternative ways to lend—new product lines within your business (after all, there's no need to reinvent the wheel to be successful).
These may include, but are definitely not limited to, offering secured or unsecured loans, leases, loans, or lines of credit, setting custom financing terms and conditions, changing interest rates, and rescheduling payments. All of these work to find a suitable compromise that allows you to lend to your client, for them to purchase a vehicle, and for your company, you get a profitable return. None of them should require a major overhaul, but can add an impactful addition to your current offerings, allowing your business to adapt to the modern market.
#8 Compliance
Compliance is primed for a shake-up, and this is one of the trend financial providers will have to watch out for this year. But this doesn't have to be a bad thing—in fact, it could add a lot of credibility to the industry as a whole.
So, what can you do to make sure your business is not only prepared but thrives when updated regulations come into play? The solution aside from ensuring legal is involved from step one, is to ensure your company's software is compliant. This means starting with your auto loan origination system and going all the way up to management tools. To do so, consider onboarding trusted technology, which can include auditable automated decision-making software, ensuring documentation is available, and much more.
#9 Reporting and analytics tools
Data is king, and this coming year is no different. If your business isn't data-focused already, it's time to change all that before it's too late. Moving ahead, you'll need to make sure that analytics and automation form an integral part of everything you do—decision-making, planning, etc.
To make this a reality, you'll need the right technology behind your back. For example, this should include integrated analytics reporting dashboards, visualization tools, and results tracking features that allow you to manage your business in real time. That way, your decisions will be based on facts, not gut feelings.
Does auto loan origination need to go online?
Sure, the future stands for it
No, prefer to meet face-to-face
readers voted
5 good reasons to upgrade your auto loan software platform now
Any type of digital transformation is a major investment. We understand. But when it comes to auto loan origination software, there is no better time than the present to get started. Here's why.
It saves you time
The latest stats show that clients save up to 3x on average when they onboarded automated software. That means your team has more time to concentrate on the things that really matter—your clients.
It reduces risk
It might seem scary but adding the right technology can eliminate NPLs and flag potential risks in auto loans or in human error, such as typos, etc. Instead, smart technology can help automate this process, reduce the risk, and increase client satisfaction.
It boosts user engagement
Fast processes and interactive systems always please clients. It allows them to onboard and manage their loan seamlessly without any extra hassle. This is key if you hope to take the edge over your competitors.
It saves on costs
Fewer loan officers are required, and manual costs drop when dealing with automated software. That's why the investment is almost always worth the risk when it comes to upgrading your loan technology.
It makes decisions off data
Gone are the days when gut feelings rule. Instead, smart, automated decision-making is always based on the latest available data. Advanced analytic features and visuals help the team make those tough decisions armed with the right from the start.
Getting started? Here's what next
If you're already considering your next steps, good for you. First things first, it's time to get a strategy in place and talk to some providers about getting the right auto loan software platform kit to meet your unique business needs. Don't know where to start? Get in touch with HES and we'll talk you through it.
AUTO FINANCE SOFTWARE
Psss… Wanna start lending within 2 weeks?
Book a personal demo tour to explore our fintech powers.