The software development industry has come a long way since its early days. Years ago, software testing was based on running a solution and comparing its outputs with the product documentation. Nothing more. However, the modern fintech software market requires broader skill sets from QA engineers. They do not only design, run, and validate tests, but have significant insight into the development and business process and business. Software testing specialists exchange their knowledge on equal footing with the rest of the team.

In this article, we want to explain the importance of bank software testing for business security and customer protection. Having up to 10 years of experience in the lending field, we'll show the aspect our QA testing team covers and unveil 4 foundations of banking application testing at HES FinTech.
Read also
What is QA in IT Field?
Quality assurance or QA is a practice that focuses on preventing errors and defects in software. So if you still doubt why QA is necessary, note that enables not putting people's money and data at risk.

The goal of a software tester is to release the best possible product. During the workflow, a QA engineer attempts to "break" future software to detect errors, potential security breaches and loopholes for the unscrupulous, and other bugs. Apart from bug uncoverage, QAs improve and fasten the software development cycle. They track the product's compliance with regulations and improve the quality of final fintech software overall.
What Does Software Testing Measure?
Testing processes should be performed at every stage of a software development cycle. It allows developers to address bugs early and release error-free products and applications. Thus, software QA testing measures the following: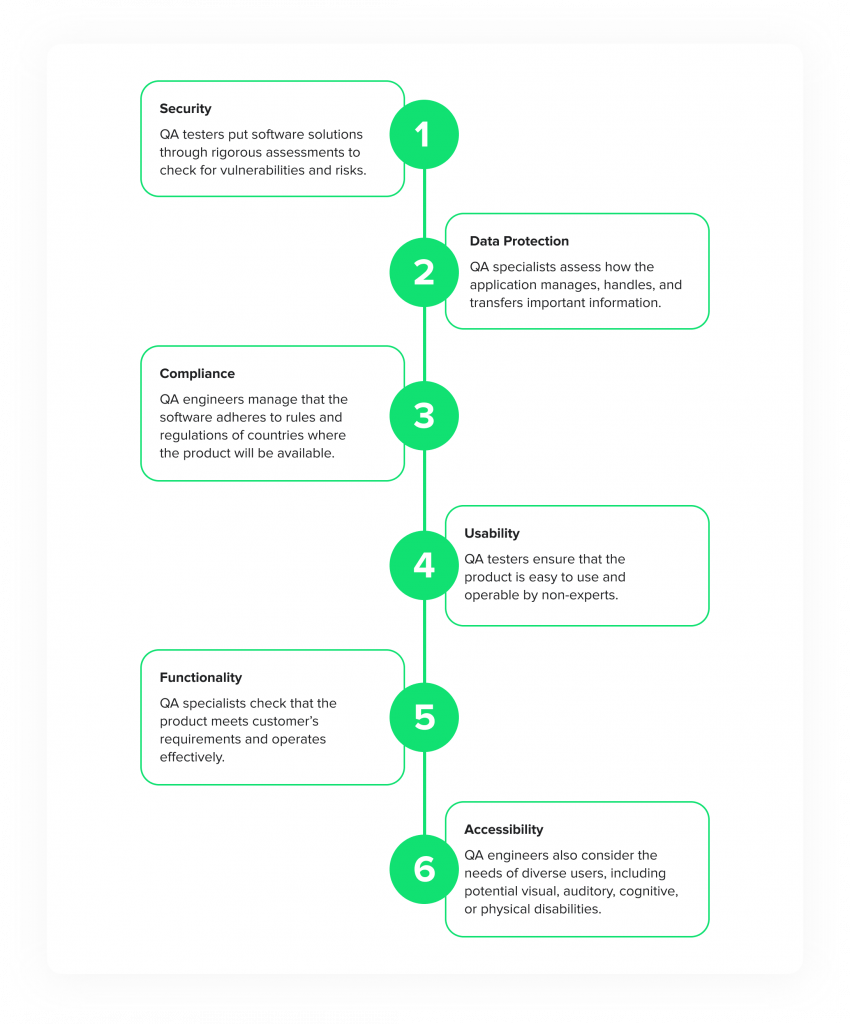 Four Foundations of QA Testing at HES FinTech
Ultimately, the job of the QA team has expanded from finding issues to understanding the essence of business processes and preventing issues from happening altogether. At HES FinTech, we meet this challenge by building QA work on four foundations: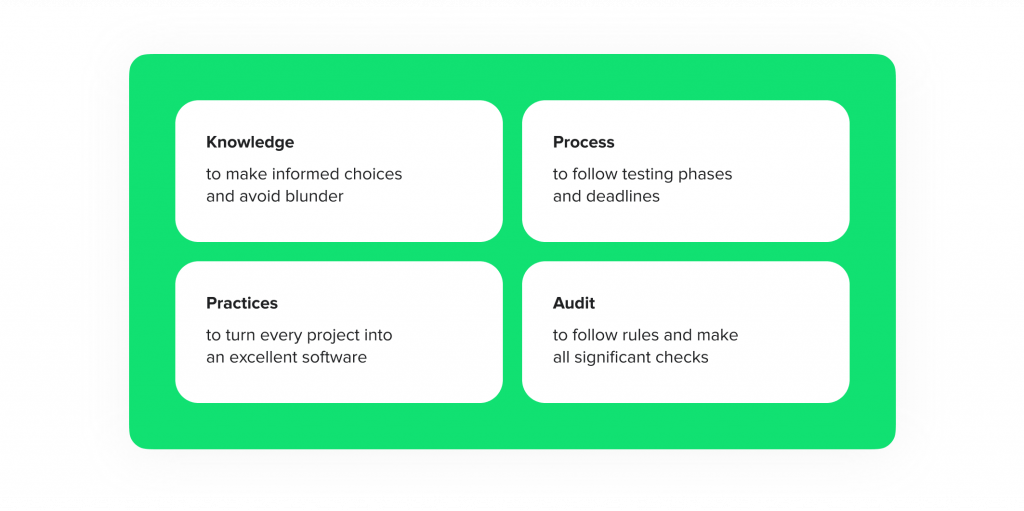 Knowledge
Knowledge is essential. It enables QA engineers to make informed choices, which in turn means fewer mistakes and better business decisions. The HES QA team draws knowledge from three important sources:

Project knowledge base. Unique experience gathered in numerous bank software testing projects completed over the years. The knowledge base includes process findings, business knowledge, and best practices.
Team experience. Each team member is both a qualified professional in QA and a financial or banking expert.
Mistake analysis. As a team, we discuss our mistakes openly. Our main goal is to figure out how to prevent them and document the changes to avoid blunders again in the future.
Process
The QA process at HES FinTech is founded on the industry-standard Software Testing Life Cycle (STLC). The STLC defines testing phases and then lists the activities and deliverables within each phase of any software project. Our team runs these activities on Agile practices and methodologies.

Practical project experience brought us to understand the importance of each fintech testing phase as well as the value it brings. Knowing this value, we can tailor our approach to each project's needs and increase the QA efficiency for the client by excluding unnecessary steps. On the other hand, we apply our knowledge to identify missing steps or checkpoints on projects and suggest how to address them.
Practice
Knowledge and process definitions are valuable by themselves, but practice is what makes them work. Here are a few techniques we use at HES FinTech, where we utilize both the knowledge and the process foundations:

Weekly team meetings, where we share industry news, project findings, mistakes, and lessons learned to make sure that everyone is on the same page, and that our knowledge base and processes remain current.
Documentation of processes, best practices, and rules. When documented, processes and rules provide a framework shared by all members of the team and let engineers concentrate on solving business problems rather than figuring out processes.
Standard set of QA documentation and checklists. These documents are based on our experience in the financial domain, are improved constantly, and can be reused on any fintech testing project, giving it a considerable head start.
Audit
And last but not least, we audit projects (and even ourselves, so to speak) in several ways:

Project efficiency metrics. The Head of QA regularly reviews key performance metrics on banking application testing projects and recommends approach adjustments, if necessary.
Process control. Processes and deliverables are audited to make sure rules are followed, all-important checks are made, and bottlenecks are either resolved promptly or utilized to full capacity,
Test documentation reviews. Team members review each other's documentation to improve the result and learn from each other.
Read also
Wrapping it Up
Fintech drives opportunities to banks and lenders that come with significant responsibility. That's why every company which develops new software or updates existing applications needs to work with a dedicated QA team as HES FinTech has. All of the above-mentioned software testing measures and QA foundations help us lower project costs and maintain a high standard of quality. While a generic QA team may spend some of the client's money learning, we spend that money doing the work.

Looking for a skilled fintech partner? Contact HES FinTech for quality services.