Work on HES LoanBox improvement never stops. That's why we decided to introduce a series of blog posts to highlight the most recent and interesting updates so that you can keep an eye on the newest releases. Today, we'll make a quick overview of new features released in September.
No time to read? Request a 15-minute demo, and our experts will show you around at your convenience.
#1. New loan calculation types
The new version of HES LoanBox was powered by two new loan calculator types:
Pay Day Loan (PDL). Now, you can set a daily interest rate and charge daily interest due.
Linear principal repayment installment. With the new version of the platform, you can offer loans with consistent monthly payments.
Also, we updated the back office, so the amortization schedule is now available for your managers.
#2. Grace period and early repayment fee
You asked for it – and we did it. Now, you can set up a grace period with custom rates when creating your loan products and create more flexible offers for your clients. Just as well you can configure an early repayment fee in case your borrowers often pay off the loan ahead of schedule.
#3. Updated product engine
In this release, we fully reviewed the process of creating new loan products to provide you with as much flexibility as possible. Here is a brief overview of the new product creation process:
Step 1. Create a product group. Now, you have all the tools to create new loan offers in your hands. You can create product groups with different calculation types, verification types, interest rates, terms, and application structures.
Step 2. Set up new products. Next, you can create an unlimited number of loan products inside the product group. They all will have the same calculation types and application structure but may have different payment frequencies, minimal and maximal loan amounts, terms, fees, and rates. Thus, you can, for example, set different interest rates for different loan amounts.
As a result, you provide potential borrowers with flexible offers and scale your business by adding new loan types whenever you need them.
#4. Flexible payment dates and frequency
The updated HES LoanBox, allows your clients to schedule automatic payments for a specific day of the month.
Also, your borrowers can choose the desired payment frequency, for example, weekly or monthly.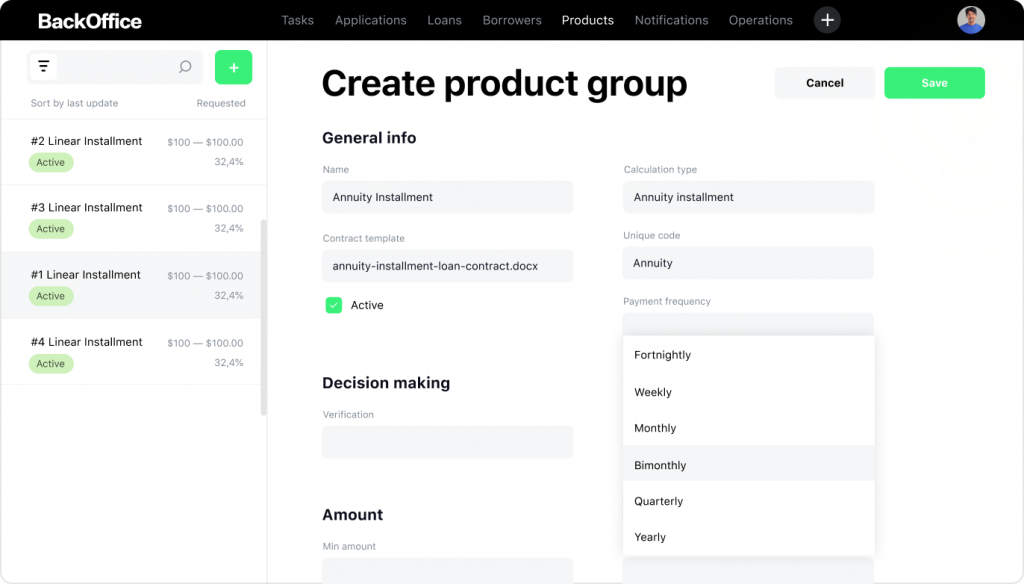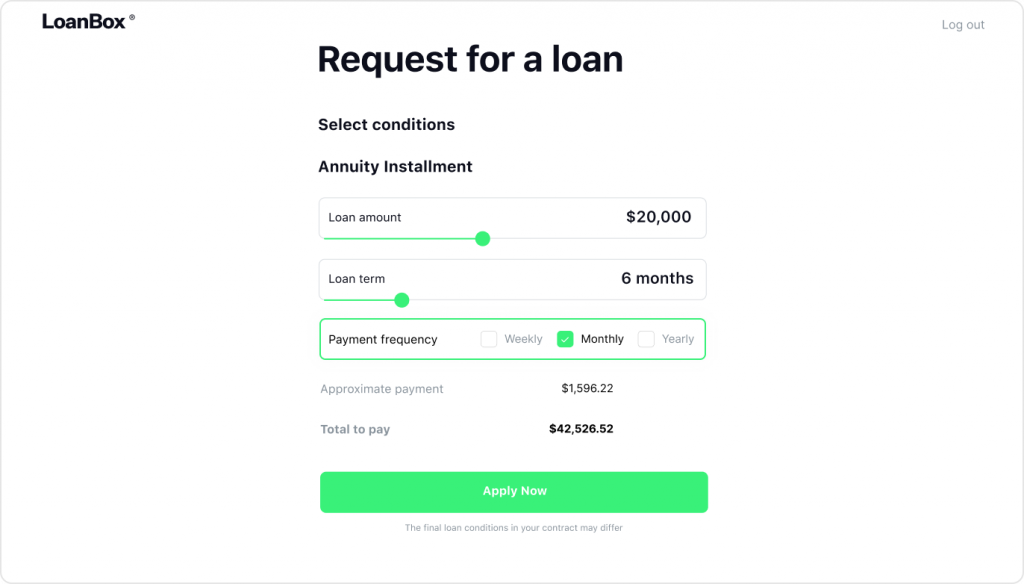 Based on this data, the decision-making algorithm will automatically suggest the most suitable loan product for this borrower.
#5. Fully automated decision making
Thanks to the updated product engine, you can now set up a fully- or semi-automated decision-making process. When creating a product group, you can choose the verification type between manual, semi-automated, and fully automated.
Fully automated decision-making requires your attention only in case the program fails due to mistakes during the application process. Otherwise, the software automatically verifies the customer, approves or declines the loan application, and assigns a suitable loan product.
The semi-automated process requires user involvement at the final stage of decision-making.
LoanBox can run all these processes in a fully automated mode unless you decide to participate in decision-making on your own.
#6. Integration with EveryData (ex CreditInfo)
The integration with EveryData helps you know your potential borrowers better, as it provides high-quality data and analytics. EveryData can be integrated into the automatic decision-making process to detect potential risks. You can define your stop factors based on which the application should be declined immediately.
EveryData allows analyzing borrowers' credit history and, based on this information, offers the most appropriate loan amount. This also helps you manage risks and avoid non-performing loans.
HES LOANBOX
Psss… Wanna start lending within 45 days?
Book a personal demo tour to explore our ready-made lending platform.
#7. Updated reports
You may already know about our integration with QuickSight – a BA service powered by Amazon. However, we updated available tools with four visual dashboards:
Cash flow. This dashboard allows you to analyze the structure of your transactions and see the ratio of repayments and disbursements. Also, users get access to the chart of daily transaction amounts.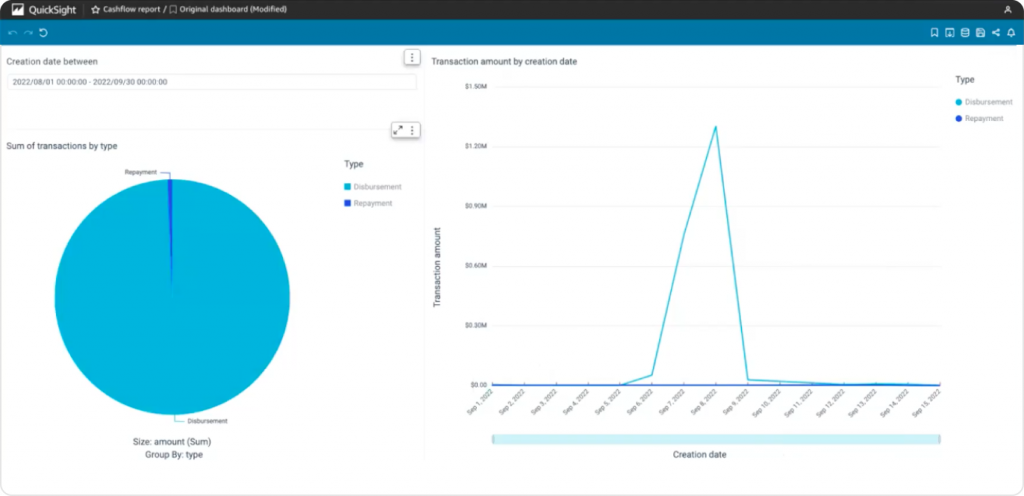 Most performing loan product. Using this report, you can dive deeper into your loan products' performance. Users can track the number of active loans for each product and see the requested amounts in total.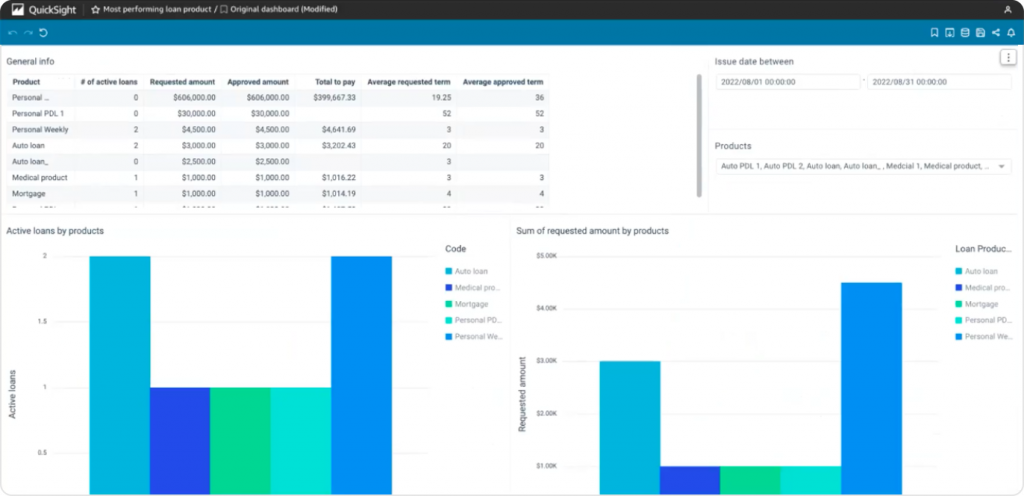 Incoming application statistics. The dashboard demonstrates the dynamics of incoming applications: approved or declined and allows comparing requested amounts with approved ones.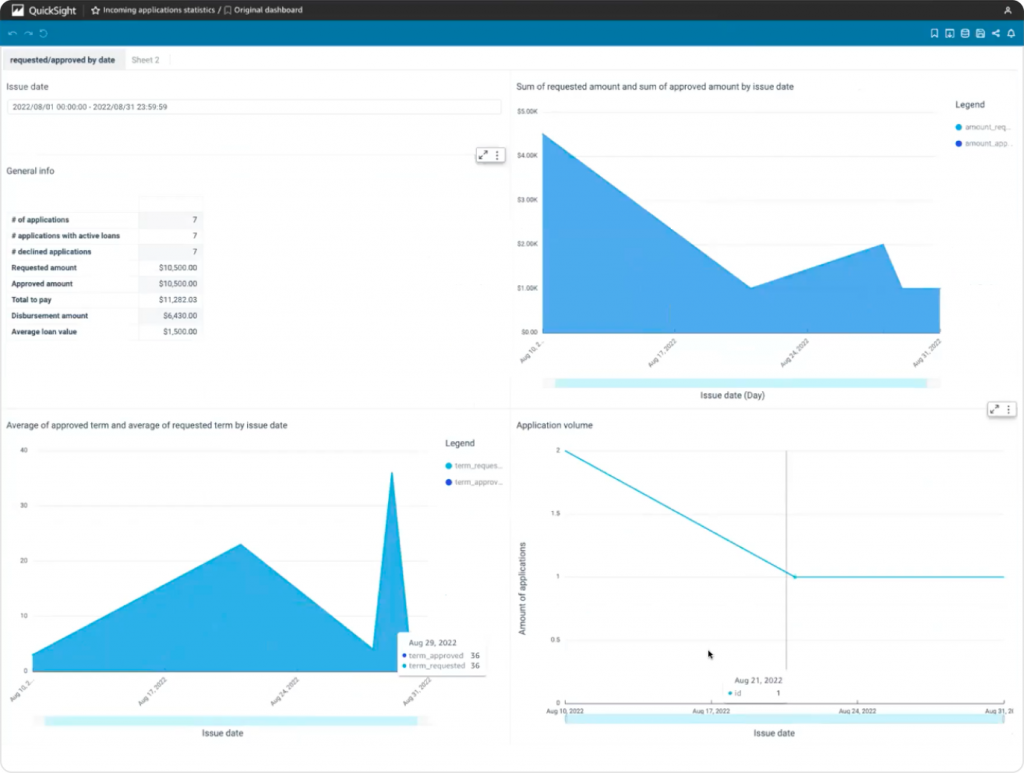 Loan portfolio. This report allows you to keep an eye on loan portfolio performance, compare approved amounts with outstanding sums, and see loan status and dynamics by day.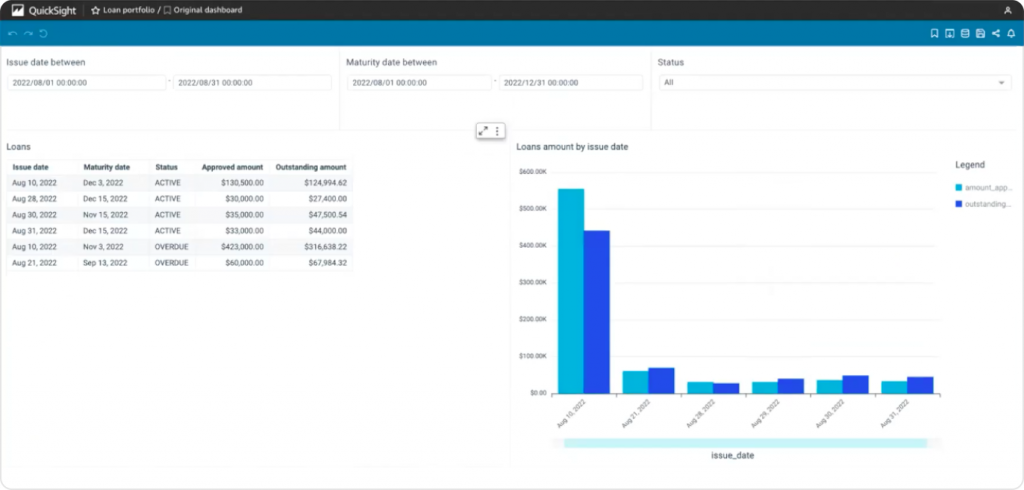 That's it for today, but our development team is always working on improving HES LoanBox and making it even better. So stay tuned not to miss new updates!
If you have any questions or want to see LoanBox in action, just drop us a line, and our experts will give you a demo tour.